New medical office center planned near Chinatown
The office market is tight, and for medical offices even tighter
A Seattle-based company announced yesterday it has acquired a Beretania street lot across from Aala Park to build a new medical office center.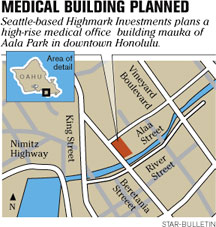 HighMark Investments LLC bought the 65,000-square-foot lot at 230 N. Beretania St. from Excel Equity LLC and Maalaea Harbor Associates LLC for an undisclosed price.
The deal closed two weeks ago, according to Andrew Friedlander of Colliers Monroe Friedlander, who brokered the transaction.
HighMark plans to build a medical facility measuring 225,000-square-foot, which would include a surgery center, orthopedic facility, retail space and more than 750 parking spaces.
The lot is currently occupied by several low-rise commercial buildings. Though HighMark plans to demolish the buildings to make way for the new medical center, all tenant leases will be honored, said Friedlander.
On HighMark's company Web site, a newsletter describes it as a 20-story, orthopedic medical facility.
"It's difficult to find great locations (for medical buildings)," said Friedlander, "and this is one of the great locations because the physicians who go into these buildings want to be close to all the hospitals, and be easy for their patients to get to."
Colliers Monroe Friedlander has already been fielding calls from potential tenants for the new medical center. The office market is tight, with vacancy rates last recorded at 7.7 percent, but medical offices can be even more difficult to come by.
Usually, they're tucked into a professional center or retail center, but are typically more costly to build out.
The lot, zoned commercial with a 200-foot height limit, sits on the fringe of the city's Chinatown redevelopment district across from Aala Park.
A new residential tower, 215 N. King St., recently went up on the other side of the park, offering 250 condominiums at lower prices than the luxury towers in Kakaako.
HighMark is a Washington-based real estate and investment firm owned and run by Mark W. Robison, the former owner of RCI Pacific.
Robison formed HighMark after RCI Pacific -- operating in Hawaii since 1992 -- was purchased last year by Parsons Corp. of Pasadena, Calif.* Robison formed HighMark, with Mike Kerby, who was formerly the RCI chief financial officer.
"Our experience in development partnerships, construction management and finan- cing is perfectly suited for this project," said Kerby. "We anticipate substantial interest in our concept for a Class A building that focuses on medical practices, with easy access from all areas of metropolitan Honolulu and which will also provide ample parking."
The company has been involved in a number of developments throughout the Pacific Northwest and Hawaii -- which include mixed-use projects, distribution centers, office buildings and industrial spaces.
HighMark manages a site currently used as an equipment holding and distribution facility at Campbell Industrial Park, which it plans to develop into a combination warehouse-office space.
HighMark currently has more than $225 million worth of investment properties in Washington, Idaho and Hawaii.
CORRECTION
Tuesday, September 26, 2006
» Highmark Investments LLC was formed by Mark Robison after RCI Pacific was purchased last year by Parsons Corp. of Pasadena, Calif. A story on Page C1 Saturday incorrectly reported that RCI Pacific was purchased by Parsons Brinckerhoff Inc. The two companies are not related.