U.S. REP. ED CASE
Personal connections a priority in maverick campaign
It is still dark as U.S. Senate hopeful Ed Case takes up his post several feet from the H-1 exit on Fort Barrette Road and extends his arm in an enthusiastic wave to Kapolei motorists just beginning their day.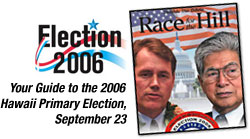 He can barely make out the faces, but he zeroes in on the dark shadows behind the driver and passenger seats, trying to make some connection.
Occasionally, he will be rewarded with a toot of the horn and a reciprocal wave. "Thank you!" he calls out as a passenger in a midsize sedan yells out, "Hi, Mr. Case!"
And so begins a typical day on the campaign trail for the 53-year-old Case, whose surprise announcement early this year to unseat the 82-year-old Dan Akaka rocked the Democratic Party.
While some might call it political suicide, Case says he feels strongly that public service is his calling and that he can truly make a difference for Hawaii and protect its interests and its people.
"He's one of those people who like to pursue every facet of a problem to its conclusion, and I think that's why some detractors say he's too blunt," said his wife, Audrey. With the primary a week away, Case feels it is imperative that he remain as accessible and visible as possible.
"You can go months and months of the campaign, but people focus on the campaign when they want to focus, and then all of a sudden they want to see you, give you the opportunity to talk. And you need to try to do as many of those as possible," he said.
On this day last week, he was scheduled to meet with employees at small businesses in Kapolei and Kalihi, greet residents in Aiea and Pearl City, and speak to the Building Owners & Managers Association during lunch and later to seniors at the One Kalakaua retirement home. At the last minute, he is notified he needs to record a radio spot for his campaign at a nearby recording studio.
This campaign marks Case's 20th anniversary of getting up early and waving signs at 5 a.m. He started sign waving 20 years ago in Manoa, when Kapolei did not even exist.
"Some people say sign waving doesn't have much merit other than to say hi," he says with a laugh. "That's when I decided traffic was going to be a top priority."
Case says he never viewed his role in Congress as limited to national and international issues. It is also about ensuring the federal government is contributing fairly to solving the individual challenges to the state, county and communities in Hawaii "because the federal government is 5,000 miles away, and they don't understand how it is to wake up in Kapolei at 5 in the morning and face a 1 1/2-hour commute plus. ... If you wait till 6, it's two hours."
Such local concerns, he says, are why he has conducted 172 "talk story" sessions in various communities from Kapolei to Wahiawa in the last three years as a congressman.
"I've always believed in direct contact with those that I'm asking to vote for me or those I'm representing," he says. "I don't believe in spokespersons or a censored, controlled communication. I think it's indispensable to give people the opportunity and for me to have the opportunity to interact one on one."
It is easy for politicians, especially for a U.S. senator, to become overly protected with the trappings of the office, their age and public relations team, he says.
"That doesn't work for me," he says. "I don't want it, and I don't think the voters want it."
It is a trait he admired in the late Sen. Spark Matsunaga, his political mentor, who never lost that "one-on-one" touch. Case has held onto that philosophy as he went from neighborhood board member to state legislator and U.S. representative.
Each campaign has a certain rhythm, he says, and this one is comparable to the governor's race in 2002 when he fell short of beating then- Lt. Gov. Mazie Hirono in the Democratic primary.
Campaigning is like planting grass, he says: "You put little tufts here and there at separate intervals around the dirt, and at some point they grow together and then it's boom, you got it. That's about what's happening right now."
Despite his hectic schedule, Case says his health is excellent and that he is in better shape now than he was 10 years ago. When he can, he squeezes in a 45-minute run or goes swimming to keep his energy up or counteract jet lag.
He makes roughly 20 to 25 round trips a year when Congress is in session, and spends about 5 1/2 months in Washington and another two weeks overseas as part of congressional delegations. He has gone to Iraq twice, Afghanistan, China, Israel, the Palestinian territories and Hong Kong.
"With all the stuff that you deal with all the time, you have to be not only in good mental shape, you have to be in good physical shape, otherwise you can't do the job well," he said.
When he is at home or during the campaign, unwinding is as simple as clearing his schedule to have lunch with his children -- a sophomore and a senior in high school -- or having dinner with his wife.
For Case campaign worker Skip Lambert, the U.S. Senate race is the most exciting political race in Hawaii since Linda Lingle ran for governor. Feelings are running high on both sides, he said.
A local man who has voted for Akaka all his life, Lambert says it has come down to this: "Do we want two 82-year-old senators going in for the next term when we can bring in a real smart 53-year-old that knows his way around Washington to start building seniority and relationships?"
"Akaka, he's the nicest guy in the world, but my feeling is -- and I've heard this from a lot of other people -- Come home and spend your sunset years with your grandchildren. Come home and enjoy the honored retirement you deserve," Lambert said. "I don't think he has another six years left in terms of being able to vigorously take care of our interests."
Former Cayetano appointee Jimmy Nakatani* first met Case in the Legislature at agriculture and land-use hearings. Shintani was director of the state Department of Agriculture, and Case would attend the hearings.
"I thought among everybody he was the most qualified," Shintani said. "Ed was the one everybody would sit up for, and he'd ask hard policy questions. He prepared well. I thought he was a good candidate for governor."
Case has grown a lot since then and since he began serving Hawaii in Congress, Shintani said.
"He enjoys his work. He works hard, and he keeps accelerating in his learning and his intelligence and in his growth. I don't know if people realize that to be a U.S. senator, you need to be a statesman, a leader, and that's what he's gotten out of Congress."
Audrey Case pooh-poohs detractors who call her husband stiff or robotic. "I don't think you're robotic," she teases as they head out the door of campaign headquarters on South King Street to cast their ballots at Honolulu Hale.
As the couple walks briskly up King Street, Case reaches for her hand as they reminisce about their younger days. "Did you know Ed was a competitive swimmer since he was 7 years old?" she asks a reporter.
"I was never the best, but good," Case says, adding that he has a few gold medals stashed somewhere.
He still holds the Big Island record for the 100 individual medley at 1:27:06. "The reason why is they no longer swim the 100 individual medley," he explains as his wife laughs. "It's just too short."
CORRECTION
Tuesday, September 19, 2006
» Jimmy Nakatani is a former director of the state Department of Agriculture. A Page A1 story yesterday about the Ed Case campaign for U.S. Senate incorrectly identified him as Jimmy Shintani.