LEGISLATOR DIRECTORY
Searchable database


ELECTION 2004



CALENDARS
Happening around town



MOVIES
First-run film listings




PAST WEEK:





GENERAL
Phones, email, advertising



WHERE TO BUY IT
Stores and newsstands



SUBSCRIBE
Have the paper delivered



SUBSCRIBER FEEDBACK
Circulation contacts



HEADLINES BY EMAIL
Let Starbulletin.com come to you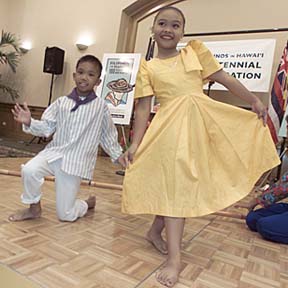 J.J. Sanbay and Renalyn Gascon, both 9 years old, paused yesterday for applause after performing a traditional Filipino bamboo dance at the Filipino Community Center. The entertainment was part of the kickoff ceremony for the Filipino Centennial Celebration, which will be a year-long celebration commemorating Filipinos' immigration, culture, historical contributions and advancements in the United States.
[ MORE INSIDE ]
| | |
| --- | --- |
| Partner site: | Featured on: |
Starbulletin.com publishes online editions Monday through Sunday. New editions normally posted online between 2:00 and 5:00 a.m. Starbulletin.com publishes articles written by our staff and selected articles of particular interest to our readers. Entire contents of this Web site © copyright 2005 Honolulu Star-Bulletin. All rights reserved.
State sues pharmacy school
»Man gets 10 years for ticket fraud
»Remaking Makapuu Point
»Isle high court upholds ID policy
»Most isle schools deemed safe
»Tripler mistake prompts suit
»Liquor panel wants ex-chief to work
»Resolution seeks control of fireworks
»Stryker brigade will grow by 200
»Filipinos celebrate centennial
»WWII vet told story of AJA soldiers
»Hit-and-run victim sees supect
»No jail time for dog owner

Surviving Hollywood
»Elite hair treatment attracting women

UH's last line of defense
»Wie takes final shot before school
»Viloria's title bout on Sept. 10
»WAC not ready for instant replay
»Cabbage, Junk want to cash in
»PAL reaches out

Bye bye Yum Yum
»Feds aim to block sale of Mahalo stations
»A&B's net drops 2.3% on real estate sales

Block meth smuggling into U.S.
»Letters to the Editor



— ADVERTISEMENTS —

— ADVERTISEMENTS —