[UH FOOTBALL]
---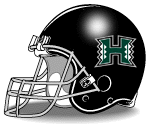 UH gets another
tall wide receiver
No one knows yet who will be Tim Chang's successor.
But the next Hawaii quarterback should have some tall receivers to throw to.
Jordan Slye, who is 6-foot-4 1/2, orally committed to the Warriors yesterday.
Slye will join 6-4 Antwan Mahaley, another receiver recruit who is expected to enroll at UH in the fall.
"I loved the total surroundings, the atmosphere, the people," Slye said of his recruiting visit. "And playing at UH is a big deal in Hawaii."
Central Florida, UNLV, Mississippi and Nebraska were also in the recruiting picture for Slye, who transferred from Washington to Compton College (Calif.) last year.
He said he is the fifth receiver from his Compton team to commit to a Division I college this year.
"We ran a spread offense so I love the (Hawaii) offense," he said.
The Warriors have also received another offensive line commitment, their fifth of this recruiting season.
Once again, a local connection with a mainland athlete paid off for UH.
John Estes, an offensive lineman from Stockton, Calif. (St. Mary's High School), said he told UH offensive line coach Mike Cavanaugh on Monday he will join the Warriors.
Estes said he also had offers from Boise State, San Jose State and Utah State, but he turned them down because he has family on Oahu -- and on the UH team.
"My Mom's side of the family is from Kailua," Estes said in a phone interview yesterday. "(Defensive tackle) Kahai LaCount is my cousin, and we're pretty close."
Estes (6-3, 280 pounds) visited Hawaii in December on the weekend the Warriors beat Michigan State.
"I turned down a bunch of visits after that because I kind of knew it would be Hawaii," Estes said.
Several other recruits who visited last weekend are expected to commit to UH coaches today.
On the local recruiting scene, UH coaches were scheduled to pay a home visit to Saint Louis all-state defensive tackle Tyson Alualu last night.