---
A century ago, they came to
Hawaii, contributing to our islands'
diverse immigrant culture. Today,
we celebrate their journey in search of ...


Timeline, celebrations
Family profiles
The leaders By Mary Adamski
madamski@starbulletin.com

The arrival of 102 Korean immigrants aboard the SS Gaelic when it docked Jan. 13, 1903, in Honolulu was front-page news in the Hawaiian Star that day.

"The advent of the party was of special interest for the reason that they are the first large party of immigrants to ever leave Korea for the western hemisphere," reported the daily newspaper. Citing the need for laborers in island sugar plantations, the writer predicted, "The Koreans should do well in these islands."

Descendants of those pioneers are celebrating the Korean Centennial this month in Hawaii and on the mainland. The public festivities begin today with dedication of a memorial at Pawaa City Park and a Centennial Parade through Waikiki this afternoon.

The doctors, lawyers, teachers, business entrepreneurs and government leaders among the second, third and fourth generations are proof of the newspaper's prediction.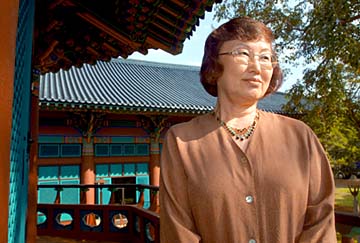 GEORGE F. LEE / GLEE@STARBULLETIN.COM
Duk Hee Lee Murabayashi, vice general chairwoman of the Korean Centennial committee, stood recently on the balcony of the Korean Studies Center on the University of Hawaii at Manoa campus.
---
Today their prominent offspring include Hawaii Chief Justice Ronald Tae Yang Moon, Big Island Mayor Harry Kim, state Schools Superintendent Patricia Lee Hamamoto and Honolulu Police Chief Lee Donohue.

"They brought a very, very good work ethic," said Moon, whose grandfathers Man Kee Lee and Chung Hurn Moon arrived in the first wave of immigrants. Lee brought his wife Si On to Hawaii 15 years later, and Bok Dok Moon came as a picture bride in the second wave.

"Because my folks were so busy, my grandmother Lee spent a lot of time raising her grandchildren. She was very significant in our early life. I remember stories she would tell; there was a great deal of suffering there.

"It was a blessing they were able to come here. It gave them and us the opportunity to better our lives," said Moon.

Elaine Min remembers that "from the time when we were really young, my mother, Soon Nam Kim, would put us all around her and tell us, 'You are going to be my schoolteacher,' 'You are going to be my doctor,' 'You are going to be my lawyer.' It was ingrained in us from the time we were 5 years old.

"We had great respect for my mother, who was very concerned that we would make something of ourselves," said Min, who taught at Kapiolani Community College for 25 years and now works with her husband, Frank, who founded Min Plastic and Supply more than 50 years ago.

Korean immigrants were free from the restraints of the plantation contracts, which bound earlier arrivals from China and Japan to long-term stints as laborers, said Duk Hee Lee Murabayashi, a first-generation immigrant and vice general chairwoman of the 2003 Centennial Committee of Korean Immigration to the United States.

Murabayashi said the lack of contracts freed the immigrants to pursue careers outside of the plantation and it was a key reason for their early achievements.

A city planner, Murabayashi began full-time work on the centennial project six years ago. She has a master's degree in sociology and city planning from the University of Southern California and the University of California, Berkeley. Her research covered the national archives of U.S. immigration, Territory of Hawaii records, Japanese consulate compilations of visas and passports, church records and individual families' memorabilia.

She found that the early Korean arrivals had major differences from other immigrant groups, including:

>> Earlier "urban acculturation. Unlike the Japanese, they were not farmers; most of the recruits were from urban seaports," she said. And they didn't have to stay down on the farm. "By this time, Hawaii was a territory and U.S. law prevailed -- it didn't allow signing the contract document. They moved from one plantation to another or moved on and there were more urban jobs available."

>> A head start in "Westernization." Many of the first arrivals had converted to Christianity in Korea. "They already had a step into the Western culture," said Murabayashi.

>> Immediate and continuing political and patriotic activism. "They didn't have a country to return to," she said. "Korea was a country in decline in 1903 and by 1905, it was a Japan protectorate."

Hawaii was the birthplace of international organizations that worked for decades to restore Korean sovereignty, including Kook Min Hur (Korean National Association).

Dongji Hoi was organized to support Syngman Rhee's Korean Independence Movement. (Rhee was chosen first president of the Republic of Korea in 1948. His regime was toppled in a 1960 student revolution. He died here in 1965.)

Murabayashi said that most scholarly research on the Korean immigration in the past has focused on the nationalistic movements. Her research focuses on the social history.

"There has been a lot of wrong information passed along," she said. "One of the myths was that the women who came were illiterate. The 600 wives who came with their husbands would not have come if they were not of a pioneering spirit. They started working together with husbands from the beginning. They were cooks, did the laundry for others on the plantations, and joined the men when they moved into their own businesses.

"History showed that women and the family play an important role in education. By 1907, the first women's organization was formed and, in 1909, Korean Women's Educational Association. Their interest for their children was education, education, education," Murabayashi said.

"They had lost their country and they saw education as the only means they had to regain their country's sovereignty."

In 1905, a group of Koreans petitioned the Methodist superintendent to form a boarding school that would bring their children into the mainstream. The Korean Central Institute opened in 1906 at the site of the current Kalanimoku Building on Punchbowl Street, a government-sanctioned elementary school with Korean language and Bible studies classes in the afternoon.

"Many laborers contributed money for scholarships, 25 cents here, $1 there. You must remember these were people getting 75 cents a day in pay," Murabayashi said. "They were looking beyond their own personal success from the day they arrived."

---

BACK TO TOP


|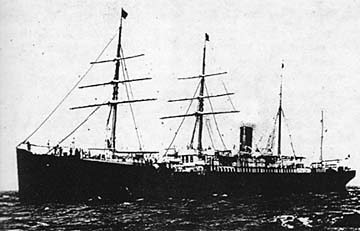 COURTESY "THEIR FOOTSTEPS"
The SS Gaelic brought the first Korean immigrants to Hawaii on Jan. 13, 1903.
---
Korean immigration
to Hawaii at a glance:

Jan. 13, 1903 >> First group of immigrants included 56 men, 21 women and 25 children.

1903-1905 >> The "first wave" of about 7,200 people, including 600 women, arrived before Japan halted emigration from Korea. About 2,000 went on to the mainland.

1910 >> Census for Territory of Hawaii shows 4,500 Koreans in Hawaii.

1910-1924 >> In the "second wave," Hawaii workers brought in about 700 picture brides, ages 17 to 20, a generation younger than their husbands. Another 1,500 family members of earlier immigrants came on Japanese passports. The U.S. Congress stopped the arrivals with the Oriental Exclusion Act of 1924.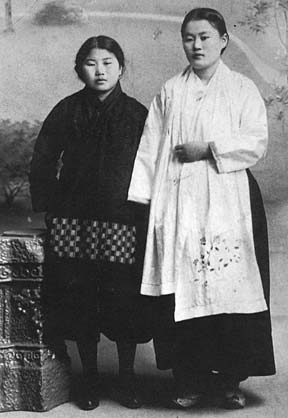 COURTESY "THEIR FOOTSTEPS"
Bok Dok Sur and sister arrived here as picture brides in 1924.
---
1947-1967 >> The "third wave" came after World War II, when America again was open to immigration. After the Korean War ended in 1953, the arrivals included Korean brides of American servicemen and orphans adopted by U.S. families.

Since 1967 >> The "fourth wave" of students, professionals and business people continue to move to the United States.

2000 >> The U.S. Census shows more than 23,000 people who identified themselves as being of Korean ancestry in Hawaii. This does not include mixed-race residents whose ethnicity includes Korean. (Centennial officials estimate another 20,000 Korean-speaking non-residents live here.)

---

Celebrations

Korean centennial events on Oahu include:

Today >> 1 p.m.: Pawaa City Park, 1400 S. King St. Dedication of a memorial sculpture by Korean artist Bou-Chan Pak.

3 p.m.: Waikiki. About 2,000 people will join the Korean Navy Marching Band in the Centennial Parade on Kalakaua Avenue from Fort DeRussy to Kapiolani Park.

Tomorrow >> 5:30 p.m.: The Centennial Banquet at the Hilton Hawaiian Village Coral Ballroom. Tickets are $125. For information call 864-9812.

Tuesday >> 10 a.m.: Opening of Korean Cultural Center, 2736 Rooke Ave.

6:30 p.m.: Waikiki Shell. A free concert featuring Korean entertainers and the Makaha Sons. Tickets required. For information call KBFD-TV, 521-8066, or check the Web site: www.koreancentennial.org.

Wednesday >> 10 a.m.: State Capitol. A Korean program will be featured at the opening of the state Legislature.

Saturday >> 9 a.m.-9 p.m.: Kapiolani Park Bandstand. The second annual Korean Festival will feature food, entertainment, cultural exhibits and sales booths.

Jan. 19 >> 5:30 p.m.: Nanimau Gardens, Hilo, Centennial banquet. Tickets are $100. Call 808-933-8809.

In addition: Several cultural events are under way, including the Incheon-Hawaii Art Exhibit at Honolulu Academy of Arts, open through Jan. 28 and showing of documentary film "Arirang: the Korean-American Journey" at 7:30 p.m. tomorrow on KHET-TV and 7:30 p.m. Wednesday at the Academy of Arts theater. A Bishop Museum exhibit, "Century of the Tiger," will open Jan. 24.

For information: See www.koreancentennial.org
| | | PRINTER-FRIENDLY VERSION
E-mail to City Desk
---
© 2003 Honolulu Star-Bulletin -- https://archives.starbulletin.com
---
-Advertisement-