---




Newswatch
Police, Fire, Courts
By Star-Bulletin Staff
---
Raw sewage spills into Maunawili Stream

An estimated 3,350 gallons of raw sewage spilled into Maunawili Stream yesterday morning because of a blocked 8-inch sewer line.

State Department of Environmental Services personnel cleared the line at 10:13 a.m., nearly two hours after their arrival. They also cleaned and disinfected areas affected by the spill.

Warning signs have been posted along the stream and affected waters will be tested for contamination.

Zoo animals get their presents 3 days early

Christmas comes early this year for Honolulu Zoo animals that will open their gifts today.

Zoo-goers can watch the chimpanzees open their gifts at 10 a.m., the tiger at 10:45 a.m., the primates in the primate islands at 11:05 a.m., and the elephants at 11:30 a.m.

For more information, call the zoo at 926-3191.

Library hours cut for Christmas, New Year's

In observance of Christmas Day, Dec. 25, and New Year's Day, Jan. 1, 2003, all public libraries will be closed.

In addition, on Christmas Eve, Dec. 24, and New Year's Eve, Dec. 31, libraries that are usually open on Tuesday evenings will close at 5 p.m. Libraries will reopen Thursday.

Kids' program features balloon sculptor

Balloon Monsoon is the featured performer in a free holiday program at the Hawaii Kai Public Library at 6:30 p.m. tomorrow.

Balloon Monsoon twists balloons into animals and other fun sculptures. A session will follow in which children can make a Christmas ornament to take home. The library is at 249 Lunalilo Home Road.

Support group gets $5,000 in donations

More than $5,000 has been donated to NAMI OAHU, the local affiliate of the National Alliance for the Mentally Ill, for its support, education and advocacy programs.

Donors are AstraZeneca Pharmaceuticals, $2,000; Eli Lilly and Co., $1,000; General Growth Properties, Inc., $1,000; Pfizer, Inc., $500; Kahi Mohala Behavioral Health Inc., $400; AlohaCare, Inc., $250; and Psychiatric Associates, Inc., $250.

|





Corrections and clarifications

The Honolulu Star-Bulletin strives to make its news report fair and accurate. If you have a question or comment about news coverage, call Managing Editor Frank Bridgewater at 529-4791 or email him at fbridgewater@starbulletin.com.








---




Police, Fire, Courts



By Star-Bulletin staff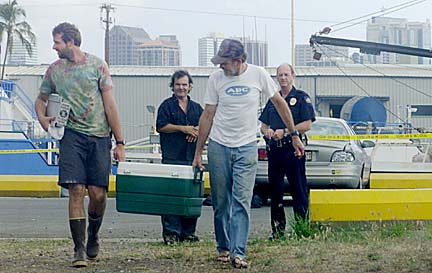 DENNIS ODA / DODA@STARBULLETIN.COM
Several men unloaded items from the longline fishing vessel Pacific Horizon yesterday, where a crewmember was stabbed while the boat was at sea. A man suspected in the stabbing was arrested yesterday.
---
HONOLULU

Suspect in stabbing at sea is in custody

A man suspected in the stabbing of a fellow crew member aboard a U.S.-flagged longline fishing vessel was arrested yesterday, officials said.

Hercules Bocpot, 45, was taken into custody when the Pacific Horizon reached port, FBI Special Agent Daniel Dzwilewski said.

The victim, identified as a 30-year-old Filipino national, remained in guarded condition at Maui Memorial Medical Center.

He was transported to Maui on Friday aboard a U.S. Coast Guard helicopter following the stabbing 143 miles east of the Valley Isle.

Coast Guard officials said the stabbing apparently occurred during a quarrel, and that Bocpot was separated from the rest of the crew while the vessel was en route to Honolulu.

The FBI's investigation was continuing with the assistance of the Coast Guard, the U.S. Immigration and Naturalization Service, the U.S. Customs Service and state harbor police, Dzwilewski said.

Man allegedly makes threats using a gun

Police arrested a 33-year-old Big Island man at 12:30 a.m. yesterday after he allegedly shot a gun in the air and verbally threatened people at Kewalo Basin.

Harbor patrol detained the suspect until police arrived.

The man was arrested on second-degree reckless endangering and weapons violations.

NORTH SHORE

Townhouse fire leaves family of 4 homeless

A fire at a townhouse at the Kuilima Estates West left a family of four homeless yesterday.

The fire caused "heavy damage" to unit 98 at 57-101 Kuilima Drive, said fire department spokesman Capt. Kenison Tejada.

The American Red Cross was assisting a husband and wife and their two teenage children -- a 14-year-old boy and a 17-year-old girl -- with housing.

No one was home at the time of the fire, which was reported at 4:08 p.m.

The fire was under control by 4:31 p.m. and extinguished by 5 p.m., Tejada said.

The cause is under investigation. Damages were estimated at about $130,000.
| | | PRINTER-FRIENDLY VERSION
E-mail to City Desk
---
< © 2002 Honolulu Star-Bulletin -- https://archives.starbulletin.com
---
-Advertisement-