CLICK TO SUPPORT OUR SPONSORS

---

---
Sunday, October 14, 2001
[ SUNDAY TRAVEL ]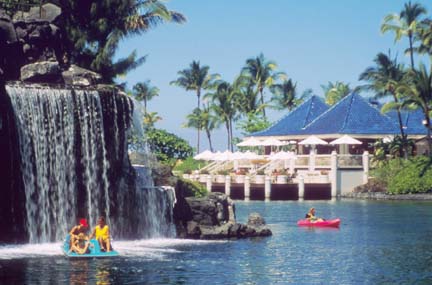 COURTESY HILTON WAIKOLOA VILLAGE
Guests at the Hilton Waikoloa Village can choose
from a variety of extras as part of the hotel's
Mixed Plate Special.
---
Kamaaina steal deals
all across Hawaii


In an effort to boost business,
many resorts are offering big
discounts on rates

---

By Cheryl Chee Tsutsumi
Special to the Star-Bulletin

My neighbors were supposed to be vacationing in France this week. Instead, they've chosen to see Paris in the spring and are enjoying a Kauai getaway that was so attractively priced, they were able to take their three children with them.

In an effort to boost sagging customer counts in the wake of the Sept. 11 tragedy, hotels, restaurants and other businesses statewide are offering incredible savings to local residents. Here's a sampling of the latest, greatest deals; be prepared to show valid Hawaii identification, and be aware blackout dates and other restrictions may apply.

Oahu

>> At Sheraton Princess Kaiulani Hotel, buy one Pikake Terrace Seafood Dinner adult buffet at the regular price of $28.95, and receive the second one at 50 percent off through Nov. 30. Even better, one child aged 12 and younger dines free with each paying adult. Call 922-5811.

>> The following Atlantis Adventures are slashing 50 percent off kamaaina prices through Oct. 31:

Atlantis Submarines' tour (973-9811) is now $20 for adults, $10 for children 12 and under (must be 3 feet tall).

Navatek Cruises (973-1311): $22 for adults, $14.50 for children 2-11.

Waimea Falls Park (638-8511): $6 for adults, $3 for children 4-12.

Sea Life Park (259-7933): $6 for adults, $4.50 (reflects a 25 percent discount) for children 4-12.

>> Greens fees at the Koolau Golf Club are $27 Monday through Thursday and $29 Friday through Sunday, including a cart, through Dec. 31. Call 247-7088.

>> Dole Plantation is offering two-for-one admission to its Pineapple Garden Maze, deemed the World's Largest Maze in the 2001 Guinness Book of Records, through Dec. 31. Admission is $4 for adults and $3 for children 4-12. You'll also receive 15 percent off purchases at the Plantation Center gift shop (excluding food and beverages). Call 621-0166.

Maui

>> The Kaanapali Beach Hotel pairs partial oceanview, oceanview or oceanfront category accommodations with your choice of daily buffet breakfast or a rental car. Nightly rates start at $139 through Dec. 31. Call 808-661-0011 or 800-262-8450.

>> At the Hyatt Regency Maui, you can reserve a room for $129 per night through Dec. 24, which includes complimentary in-room tea and coffee; daily newspaper; local calls; and access to Spa Moana's sauna, steam room, Jacuzzi, exercise room and relaxation lounge. Call 808-661-1234.

>> Kapalua's Kamaaina Appreciation Program allows Hawaii residents to play all three of the resort's championship golf courses for $130, plus take advantage of a 20 percent merchandise discount at select shops on the day of play. Good through Dec. 21. Call 808-669-8044 or 877-KAPALUA.

>> Sansei is treating kamaaina to 50 percent off food ordered between 5:30 and 6 p.m. on Sundays and Mondays through Dec. 31. Call 808-669-6286.

>> Through Oct. 28, I'o Restaurant will reduce entree prices by 50 percent until 8 p.m. Martinis at the bar also are half off for local guests until 7 p.m. Call 808-661-8422.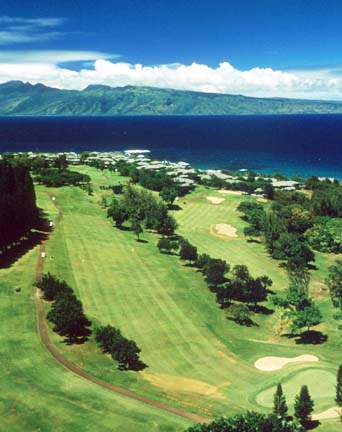 COURTESY KAPALUA BAY RESORT
Golfers can play all three of Kapalua's championship
courses for $130 during the resort's Kamaaina
Appreciation Program.
---
Big Island

>> The Hilton Waikoloa Village eases the budget with a $189-per-room-per-night Kamaaina Mixed Plate Special, which invites guests to choose one of the following each day: unlimited golf for one, full breakfast for two, complimentary entree at select resort restaurants when one entree is purchased at the regular price, Big Island Healing Ritual for two at the Kohala Spa, pedicure for one, or one-hour "hit with the pro" tennis session for two. Good through Jan. 31, 2002. Call 808-886-1234 or 800-HILTONS.

>> The Outrigger Waikoloa Beach is offering a $99-per-room-per-night deal that snips 20 percent off the price of food and nonalcoholic beverages for room service and at select restaurants and lounges through Dec. 18. Call 800-OUTRIGGER.

>> Kona Village entices kamaaina with a nightly rate of $375, double, including airport transportation, meals, activities such as glass-bottom boat excursions and petroglyph tours, and use of recreational facilities and equipment. Good through Dec. 2. Call 808-325-5555 or 800-432-5450.

>> Stay two nights at the Hapuna Beach Prince Hotel with the Kamaaina Endless Summer Package, and you'll get one night free on your next visit. The $195-per-night promotion also features daily breakfast for two, early check-in and late check-out upon availability, and free meals for kids under 12. Good through Dec. 16. Call 808-880-1111. Travelers also can log on to www.bigislandkamaaina.com to learn about other Big Island bargains.

Kauai

>> Kilauea Lakeside Estate, a private luxury resort surrounded by a 20-acre freshwater lake, welcomes kamaaina to enjoy two complimentary nights when five consecutive nights are booked at $495 per night. Included is a gift package containing the glossy coffee-table book "Reflections of Kauai," fresh fruit, a variety of made-on-Kauai products and other goodies. In addition, guests have unlimited use of kayaks, fishing boats, a three-par golf hole and putting green. The resort's beautifully decorated three-bedroom, three-bath house accommodates six and is furnished with a fully equipped kitchen, entertainment center and soaking tub. Good through Jan. 31. Call 310-379-7842.

>> For $109 per night, "You Make the Choice" at the Radisson Kauai. This package includes accommodations and free airport shuttle service, valet parking and nightly Happy Hour plus your choice of either a rental car, $25 dining credit or second room at $55 per night. Good through Dec. 22. Call 808-245-1955 or 800-333-3333. Many other attractive Kauai deals are listed on the newly launched Web site www.kauaikamaaina.com.

Molokai

>> Molokai Ranch's Kamaaina Adventure Getaway Package provides accommodations, meals and one of the following activities each day: mountain biking, guided cultural walk, kayaking, archery, children's program, fishing expedition, a $30 credit toward another activity or a 50-minute massage. The cost is $129 per person per night, double, through Dec. 21. Call 877-PANIOLO.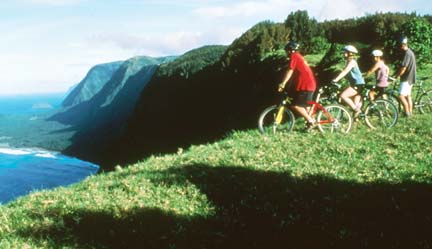 COURTESY MOLOKAI RANCH
Mountain biking at Molokai Ranch provides
breathtaking views of the Molokai coastline.
---
Statewide

>> Local residents receive every other night free when they book a stay at a Marc resort through Dec. 21. Nightly rates start at $76. Call 800-535-0085.

>> Aston Hotels & Resorts is offering 50 percent off rack rates and a 4 p.m. late check-out through Dec. 22. Sample discounted nightly prices include $45 at Aston Honolulu Prince on Oahu, $88 at Waimea Plantation Cottages on Kauai, $118 at Aston Paki Maui on Maui and $160 at Aston Kona by the Sea on the Big Island. Call 800-922-7866.

>> Shop at Hilo Hattie through Oct. 31 and save 40 percent on all Hilo Hattie-labeled garments for men, women and children. Hilo Hattie has stores on Oahu (535-6500), Kauai (245-4724), Maui (667-7911 and 875-4545) and the Big Island (961-3077 and 329-7200).
E-mail to City Desk
---
---
© 2001 Honolulu Star-Bulletin
https://archives.starbulletin.com