CLICK TO SUPPORT OUR SPONSORS

---

---
Friday, October 5, 2001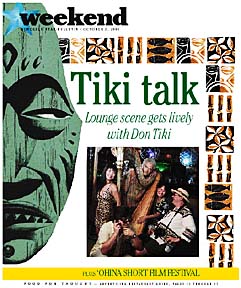 ---




Grass hut splendor


Tiki culture blooms anew in a
bold, rollicking revue

---

By Gary C. W. Chun
gchun@starbulletin.com

Fluid Floyd and Perry Coma have a dream. The determined duo of Don Tiki, the middle-aged men clothed in tacky alohawear who weave enchanting spell of exotica, have long sought the perfect venue for their lush and languid music. A venue perhaps with a grotto, a small tropical pool, and topless maidens splashing about, the kind of magical place depicted on the cover of their just-released sophomore CD, "Skinny Dip with Don Tiki."

Well, they've finally got their perfect venue (sorry, no grotto) in the Hawaiian Hut at the Ala Moana Hotel, and tomorrow night, those lucky enough to gather there will be moved, astounded and left slack-jawed by the splendiferous "The Forbidden World of Don Tiki" floor show.

It's one that Floyd and Coma (aka Lloyd Kandell and Kit Ebersbach) talked about two-and-a-half years ago. "(We want to do) a fun floor show, complete with dancers," Kandell said back then, "but reverent, not revivalist or kitschy."

The event's being billed as "an alternative Polynesian revue (featuring) Hawaii's best loved tropical fantasy band."

Hype is one thing, but with the talent being gathered for this show (18 musicians on stage! A dozen of the island's loveliest dancers!!), this does promise to demonstrate tiki culture in all its glorious bloom, thanks, in part, to veteran musicians and entertainers like Ebersbach, percussionists Carlinhos de Oliveira and Noel Okimoto, guitarist Harry Koizumi, harpist Sharene Boulos, singers Teresa Bright, Rachel Gonzales and Ellsworth Simeona, expatriates Frank Orrall, Hai-Jung and Fritz Hasenpusch (all back home specifically for this gig) and the show's producer/director, Pam Sandridge.

Some of the Don Tiki gang were gathered together for a photo shoot and interview Tuesday at the faux-Polynesian La Mariana to wax enthusiastic about tomorrow's extravaganza.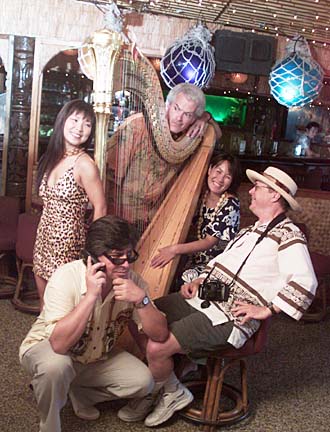 CRAIG T. KOJIMA / CKOJIMA@STARBULLETIN.COM
With Fluid Floyd (Lloyd Kandell) cutting some last-minute
deals for Don Tiki via cell phone, Fritz Hasenpusch (head
above harp) peers over at Hai-Jung (left), while harpist Sharene
Boulos keeps Perry Coma (Kit Ebersbach) entertained.
---
"The idea for the show started in August," Kandell said. "In doing this revue, we wanted to take ideas from floor shows like Magic of Polynesia and Cirque du Soleil."

"Keeping that tiki lounge aspect," added Sandridge.

"A modern interpretation, if you well," said Kandell.

"Adding a little TLC in your life!" quipped Hasenpusch (meaning, of course, "Tiki Lounge Culture").

Hawaiian Hut seems tailor-made for a show like Don Tiki's. "The place is a classically designed Polynesian showroom that's been taken for granted for years," Sandridge said. "We're perfect for the room!"

The Hut opened in August 1970 when the Queen's Surf nightclub closed and the long-lived Tavana Polynesian Revue relocated there. The Hawaiian Hut is the last Spencecliff establishment -- which included such late, lamented watering holes as the Tahitian Lanai, South Seas Village, Coco's and Trader Vic's -- still standing. With the Hut's display of Polynesian spears and masks, four hanging koa canoes and chandelier of shells over the dance floor, "it's a great room," enthused Sandridge. "And we were able to get it because its manager, who's been with Spencecliff for over 30 years, understands what we're trying to do."

The show's going through a final rehearsal tonight, the first to gather the entire troupe in one place. The show has been developed piecemeal in various rehearsal spaces around town, with constant e-mailing between Sandridge, Ebersbach and Kandell to flesh out the concept.

The showroom dancers who will be captivating the audience will be under the tutelage of Tunui Tully, whose uncle was Tavana, the man who helped design the Hut.

Sandridge and Tully once worked together on the long-running Queen's Surf revue. "This show, for Tunui, is an antidote to the showroom blues," she said, about allowing him to be as creative with his choreography as he wants to.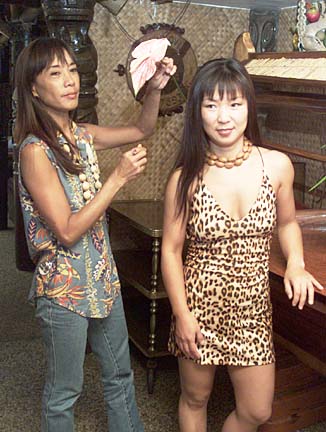 CRAIG T. KOJIMA / CKOJIMA@STARBULLETIN.COM
Producer/director Pam Sandridge helps Hai -Jung with her costume.
---
Ebersbach is "the musical director of Don Tiki," according to Kandell. It seems that all of the musicians have played with him, or "Perry Coma," on stage or in the recording studio. Ebersbach met Sandridge through their work on the Magic of Polynesia revue and his friendship with Hasenpusch dates back to Fritz's days as lead vocalist for the local band Schnazz from the mid-'70s to early '80s.

But it's Fritz's alter-ego -- lounge lizard (or "more of a komodo dragon" as he puts it) DelMar de Wilde -- who audiences will be seeing. The two songs he'll be performing from the new CD, "The Natives Are Restless" and "That Hypnotizing Man," are prime jungle kitsch and DelMar should be quite the spectacle.

Hasenpusch said he and Ebersbach share a history, "working together on a syndicated radio show in Osaka, Japan, and a brotherhood in the love of arcane films, beers and Scotch whiskeys. Our musical sensibilities run in tandem."

"I wanted Fritz to sing a couple of my songs on the new album because I thought his low voice and attitude would effectively sell them," Ebersbach said.

Hasenpusch introduced an earlier version of DelMar at a Schnazz reunion several years ago. Television producer Mike Keesling was there, and wanted the character to appear on a John Stamos Halloween special he was working on.




'The Forbidden World of Don Tiki'

Where: Hawaiian Hut at the Ala Moana Hotel, corner of Kona and Atkinson

When: 9 p.m. tomorrow

Admission: $16 advance/$20 at the door/$40 VIP seating (includes copy of the new CD)

Call: 528-0506




"On 'John Stamos' Halloween Brouhaha,' DelMar did a lounge medley of Jimi Hendrix's songs, calling him 'Seattle's greatest left-handed vocalist,'" he said. "I describe DelMar as Robert Goulet on really bad medication!"

Another artistic comrade-in-tikidom of Ebersbach's is the "lovely and provocative Hai-Jung, fresh off a cargo ship from Pago Pago," said Kandell. The diminutive bassist and singer actually is from Phoenix, Ariz., but adds a perfect "exotic" touch to Don Tiki's vision.

Ebersbach met Hai-Jung "working together at this non-union Korean bar and later at a place called Club Baron."

Knocked out by what he calls "this tiny Korean girl who can play her ass off," they continued their musical relationship doing more experimental and performance art gigs at Tenney Theatre and the Honolulu Academy of Arts Theatre, "throwing things at her by composers like John Cage and her understanding it," before she left for Phoenix in 1985.

Kandell and Ebersbach's friendship dates back to 1977, as Kandell remembers "taking piano lessons from Kit in Princeville, Kauai, and turning him on to punk acts like the Sex Pistols, the Ramones, Elvis Costello, Devo and Talking Heads." In fact, the music Kandell played for Ebersbach inspired him so much that he moved to Oahu to start up what was first the punk band The Tourists, which morphed into the new wave band The Squids.

"I finally heard music that fit my attitude," Ebersbach said.

Another momentous moment in the development of Don Tiki was Kandell's meeting -- in his workday guise as an adman -- and befriending the don of exotica, Martin Denny, at an 1994 Ellen Masaki piano recital. "(Denny) later told me his life story, of how his 'Quiet Village' was on top of the charts for nearly the entire year of 1959, keeping other acts like Frank Sinatra and Elvis Presley at bay, and all of this happening when he was 49 ... oh, excuse me, 39!

"After I heard this, I saw Kit, grabbed him by the shoulders and shook him, saying 'Look! We can do this too, at our age!' And the tiki culture has sort of evolved out of the punk culture, where both have this outsider attitude.

"Along the lines of Cirque du Soleil," Ebersbach said, "we wanted to do a show that wouldn't have a star, no focal point, and just showcase a bunch of skillful performers. It's a little bit of a challenge to us because we're so used to providing just the backdrop and backbeat for an entertainer."

And for what hopes to be one single magical night, the men of Don Tiki also hope their escapist fantasy will be captivating enough so that future shows will spread the aloha of exotica throughout the land.





Click for online
calendars and events.
E-mail to Features Editor
---
---
© 2001 Honolulu Star-Bulletin
https://archives.starbulletin.com