CLICK TO SUPPORT OUR SPONSORS

---

---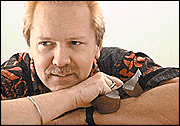 Island Mele



Friday, October 5, 2001
By John Berger
---
"Awihilima: Reflections"

Willie K (Maui Tribe Productions - WKE 1984)

Does anyone doubt that Willie K is the king of versatility in Hawaiian music these days? Check out his three most recent new albums: There's his imaginative 1999 "Willie Kalikimaka" Christmas album; his Y2K live rock and blues double-CD, "Live at Hapa's"; and now this beautiful collection of classic Hawaiian songs. Traditionalists, this one's for you!

Willie and his musicians evoke memories of Gabby Pahinui, Sonny Chillingworth and the Sons of Hawaii but never fall into arrangements that simply copy those of the kupuna. Willie's distinctive stamp in on each song. His rendition of "Meleana E" is particularly sweet.

And, in addition to bringing forward these great old songs, Willie also observes his responsibilities as an "uncle" to younger musicians by sharing the lyrics and other information. Willie continues to amaze!

http://www.williek.com

---

"Skinny Dip With Don Tiki"

Don Tiki (Taboo - TAB 8889)

It's been almost exactly four years since Don Tiki debuted with "The Forbidden Sounds of Don Tiki." To describe this celebration of classic "exotica" music as Don Tiki's "sophomore album" would be indulging in a cliché unworthy of the music. Don Tiki bandleader/producer Kit Ebersbach has done a perfect job of nurturing the exotica tradition created by Martin Denny almost 50 years ago.

There was much more to Denny's music than "jungle noises." The Don Tiki "tribe" addresses an equally broad musical spectrum. Tribe member Teresa Bright is delightfully sultry on featured vocalist on "Heat." Hai Jung is likewise appealing on "The Other Side of the Moon."

Some songs flirt with stereotypical tropical images, but each is a great addition to the modern "lounge music" catalog. "Primativa," the title song of one of Denny's early albums, is updated in fine style. In short, Don Tiki has fun with exotica but never mocks or patronizes it.

See the Star-Bulletin Weekend section for concer details.

http://www.dontiki.com

---

---

"Souvenirs"

Wiki Waki Woo
(Wiki Waki Woo Music - WWW003)

Hawaiian music was so popular across the mainland in the first decades of the 20th century that American pop music tunesmiths wrote dozens of pseudo-Hawaiian songs with fanciful titles like "Yaaka Hula Hickey Dula." Wiki Waki Woo brings that tradition into 2001 with this lighthearted hodgepodge of Tin Pan Alley Hawaiiana, other songs of the era, legit Hawaiian hapa-haole classics and originals of similar style. Half are newly recorded; others are from the two vinyl albums released in the mid-'80s.

A zany, kitschy mood generally prevails. The group really camps it up on an original steel-guitar blues number, but their "Yellow Bird"/"Surfin' Bird" medley is a clever idea. So is the Walter Brennan parody that opens "Johnny Brings Leilani Home." Wiki Waki Woo clearly doesn't take itself too seriously, but does a great job perpetuating the vintage Tin Pan Alley Hawaiiana sound.

http://www.angelfire.com/hi4/WhikiWakiWoo





---




John Berger, who has covered the local
entertainment scene since 1972, writes reviews of recordings
produced by Hawaii artists. See the Star-Bulletin's Today
section on Fridays for the latest reviews.
E-mail to Features Editor
---
---
© 2001 Honolulu Star-Bulletin
https://archives.starbulletin.com