CLICK TO SUPPORT OUR SPONSORS

---

---
Sunday, July 8, 2001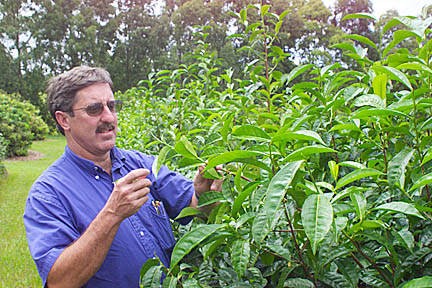 FL MORRIS / FMORRIS@STARBULLETIN.COM
John Cross inspects tea plants on his family farm in Hakalau on
the Big Island. The plants here are overgrown and unpruned.
Cross will harvest the plants later this year, a step in
determining whether they can be commercially grown.
---
Time for tea


A few growers try to start an
island industry in an
ancient crop

---

By Lyn Danninger
ldanninger@starbulletin.com

Even if you're a confirmed coffee lover, there's no escaping the fact that tea is increasing in popularity.

But in recent years there has been a growing demand for herbal teas, in large part due to an increased interest in perceived health benefits of the product.

Herbal teas are not really tea in the strictest sense. They contain no leaves from the tea plant known as Camellia sinensis. Instead herbal teas are created from the leaves of herbs, such as chamomile or mint. Herbal teas are known as tisanes -- a French word used to describe herbal tea blends.

The herbal tea company Celestial Seasonings played a big part in popularizing the drink. The company began in Aspen in 1969 selling herbal teas to a local health food store.

Celestial Seasonings was acquired by Kraft Inc. in 1984 and was the subject of a successful management buyout four years later. It received a Nasdaq listing in 1993, and merged with the Hain Food Group last year. It is now estimated to be the second largest tea brand in the United States, behind Lipton, with more than 65 varieties of natural herbal and specialty black teas.

In Hawaii, herbal teas made of local products are gradually gaining popularity. They are also proving popular with visitors.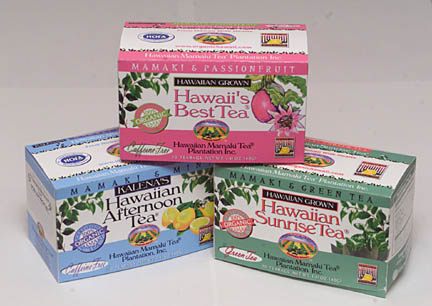 FL MORRIS / FMORRIS@STARBULLETIN.COM
Hawaii tea packages.
---
Big Island resident Herbert Kamiyama has been growing the Hawaiian herb mamaki at his 16-acre certified organic Hawaiian Mamaki Tea Plantation in the Ka'u district since 1998.

He began blending mamaki with other local ingredients such as mango, passionfruit, pineapple and ginger. There are now seven different flavors with names like Hawaiian Sunrise Tea, Hawaiian Afternoon Tea and Hawaii's Best Tea.

While mamaki is sold dried and packaged at Longs Drugs, Kamiyama found it was the small packets of mamaki blended with other ingredients that sold well with visitors.

With that in mind, Kamiyama recently completed a redesign of his tea packages. Now with a heavy emphasis on the tea's Hawaiian origins, Kamiyama is getting ready to launch his product to a wider audience.

Starting in September, the teas will be distributed in Washington state, initially at smaller supermarkets.

But Kamiyama says there is a wider world market for his Hawaiian herbal teas and he would eventually like to export his teas to countries where tea is popular.

Tea is not Kamiyama's first business venture. For years, his range of Hawaiian small tropical plants, such as anthuriums and orchids, packed for transportation, have been traveling back home in the bags of Hawaii visitors. Kamiyama believes his herbal teas can be equally successful.
E-mail to Business Editor
---
---
© 2001 Honolulu Star-Bulletin
https://archives.starbulletin.com