CLICK TO SUPPORT OUR SPONSORS

---

---
Sunday, July 8, 2001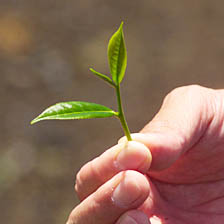 FL MORRIS / FMORRIS@STARBULLETIN.COM
Francis Zee shows a tea plant.
---
Growing a new
industry in the
back yard


With some help and luck,
Big Island tea may be,
well, the next coffee

---

By Lyn Danninger
ldanninger@starbulletin.com

An ancient crop may get a new lease on life if revival efforts on the Big Island prove successful.

For several years, U.S. Department of Agriculture researcher and horticulturist Francis Zee has been experimenting with different varieties of tea on a half-acre plot at the University of Hawaii's Waiakea Agricultural Experiment Station. He also has test patches under way at different elevations in Volcano and Waimea.

Zee is convinced the Big Island, especially East Hawaii, offers just the right conditions to grow tea.

Tea, like grapes or coffee, varies in flavor and characteristics according to the type of soil, altitude and climate conditions where it is grown. But how tea is processed determines whether it will become green tea, black tea or the more intermediate in flavor, oolong tea.

The crop requires conditions such as acidic soil, adequate rainfall, cool nights, plenty of sunshine mixed with cloudy skies -- all climatic attributes the Big Island has in abundance. Given those conditions, tea will grow from sea level up to altitudes as high as about 6,500 feet.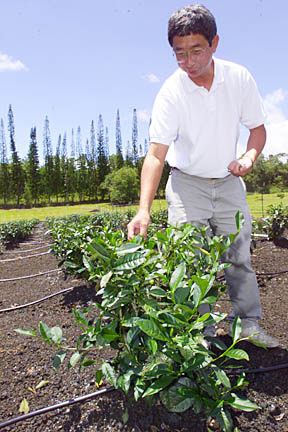 FL MORRIS / FMORRIS@STARBULLETIN.COM
Francis Zee shows a tea plant in the half-acre plot of pruned
and manicured tea plants growing at the University of Hawaii
Waiakea Agricultural Experiment Station outside
Hilo on the Big Island.
---
It takes about five pounds of fresh leaf to make one pound of processed tea and about 2,000 pounds of tea can be grown per acre, though not all of that will be top grade tea.

But it is a crop that just about anyone can grow. For that reason, Zee envisions a budding tea industry that could start off on a small scale in Big Island backyards.

"Anyone can do it. I believe many times these things start out in the backyard. It has to become a hobby first," he said.

But there are challenges. There is an art as well as a science to creating the perfect tea, Zee said. Moreover, timing is everything, so fine tuning and refining the process to produce a consistent taste is perhaps the biggest hurdle to be faced in the immediate future.

But Zee believes he may be close to doing that, at least on a small scale. He went to Taiwan in early April to observe tea processing and pick up some tips. In trying to mimic the process he observed in Taiwan, Zee has developed a method to dry the tea in a microwave oven.

On the Hamakua coast, John Cross, president of C. Brewer subsidiary Mauna Kea Agribusiness Co. has been growing tea on a larger scale at his 13.5-acre family farm for several years.

If all goes well, Cross will take the first step toward the crop's commercial revival later this year when he harvests the acre of tea on his property. But like Zee, Cross too has been challenged by the refining process.

"From the same plant you can make green tea, oolong or black tea; or you can make compost. Right now, each batch is different," Cross said.

He agrees with Zee that when it comes to successfully processing tea, timing is everything.

"When you process it, you want to make sure it's fired then and there to preserve the flavor," he said.

Cross also recognizes that while it's one thing to grow tea, it's a big jump to finding the right niche in the market that will allow producers to sell the product at the right price.

Byron Goo of the Tea Chest, a Honolulu company that distributes and manufactures premium teas, is enthusiastic about the potential for a Hawaiian-grown tea industry.

Goo has created a line of flavored, scented and herbal teas from imported raw tea products.

One day, he hopes to add Hawaii-grown tea to his line of products, but he recognizes there is still a way to go.

"We will have an industry when we can successfully manufacture world class product consistently," Goo said. "Then marketing takes over and we'll need to create the demand for it."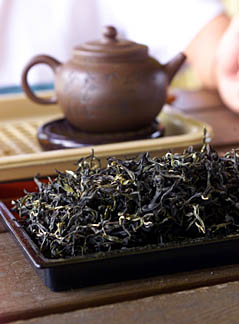 FL MORRIS / FMORRIS@STARBULLETIN.COM
Tea could become the next "coffee" for Hawaii.
---



KEEPING TRACK

It's difficult to know how much tea is being grown in Hawaii today.

Because the crop is still in its infancy here, neither the state's Department of Agriculture nor the University of Hawaii School of Tropical Agriculture and Human Resources officially keeps track.

The U.S. Department of Agriculture's Francis Zee has three test patches of tea growing on the Big Island of about half an acre each. The patches are in Waiakea, Waimea and Volcano.

Mauna Kea Agribusiness' John Cross, the closest to producing a commercial tea crop, has about one acre of tea growing on part of his family's 13.5-acre farm on the Big Island's Hamakua Coast.

Hawaii residents are likely already growing tea in small quantities their backyards, observers say.

As a statewide industry, tea occupies no more than five acres, said Byron Goo of the Tea Chest, a Honolulu company that distributes and manufactures premium teas.




Creating an awareness and educating people about tea will be an important first step, he said.

"People who already know about (tea) are very enthusiastic.

"Tea is the most consumed beverage on the planet after water," Goo said.

The first step to acceptance of local teas will be when they becomes available in Hawaii's fine dining restaurants, he said.

"I think it will follow the same kind of evolution of any other gourmet product like wine or coffee. You have to develop an appreciation of the product first," he said.

Cross and Zee say research and history shows that a Hawaii-produced tea crop has good commercial potential.

A marketing plan must be developed that places Hawaii-produced tea on the worldwide tea map among high quality teas, they say.

Locally produced tea would have difficulty competing worldwide at commodity grade prices. Last year global tea production increased nearly 9 percent to reach its highest level ever. The International Tea Committee, which gathers data on the main tea importing and exporting countries, put 1998 world output at 2,963 million metric tons, surpassing the previous year's record. Key producers of tea include India, Sri Lanka and Kenya.

That's why it will be important for Hawaii to establish a reputation for high quality specialty tea if a local industry is to succeed, said Cross and Zee.

Specialty tea includes flavored and blended teas, as well as those grown in specific regions of the world known for high quality. Prices for specialty tea can be exceptionally high. For example, tea from a particular estate in Darjeeling, India, established a world record price at $95 per pound in 1987.

It is into this specialty niche that a Hawaii product would ideally fit.

Tea is not a new crop for the islands. The plant, known by its botanical name as Camellia sinensis, was first introduced into Hawaii in 1887.

Records show that Hawaiian Coffee and Tea Co. established a five-acre plantation in Kona as early 1892.

While it is not clear why the crop was eventually discontinued, historians believe higher wages compared to other prime tea growing areas in Asia and Africa were among the deciding factors. Lower production costs of tea's main rival, coffee, also helped prevent it from establishing a foothold in the islands.

Interest in tea revived again in the 1960s when University of Hawaii researchers planted several varieties of tea.

With the demise of sugar, three of Hawaii's Big Five companies even considered tea as the next potential big crop. Alexander & Baldwin, C. Brewer and Amfac all flirted with the idea of establishing tea as a commodity.

A&B even formed a partnership with the Thomas J. Lipton company and began some test plantings. But as happened before, the cost of production and time involved made the crop commercially unattractive. Coffee was cheaper to plant and had a shorter timeline. There was also some indication that the joint project came to end as Lipton became more interested in lower-cost areas in Mexico.

Like A&B, C. Brewer eventually decided not to go forward with commercial tea production. But it was during the 1980s when the company tested the crop that Cross became impressed with tea's potential. Seeing how well tea was suited to Hawaii's climate, Cross began planting it on his own farm, envisioning a cottage industry where individual farmers grew their own tea. He also purchased a mini cut-tear-curl machine from A&B when the company ended the project and has since added a two-person hand-held Japanese automatic harvester and a dryer.

With the days of plantation farming now almost over and the idea of developing high value niche crops gradually taking hold among Hawaii's farmers, specialty tea may provide another farming alternative.

If Cross and Zee's reading of the tea leaves is correct, it's possible the crop could one day occupy a niche similar to another Big Island agricultural star, Kona coffee.
E-mail to Business Editor
---
---
© 2001 Honolulu Star-Bulletin
https://archives.starbulletin.com