CLICK TO SUPPORT OUR SPONSORS

---

---
Island Images



Thursday, June 21, 2001
---
TONS OF TEDDIES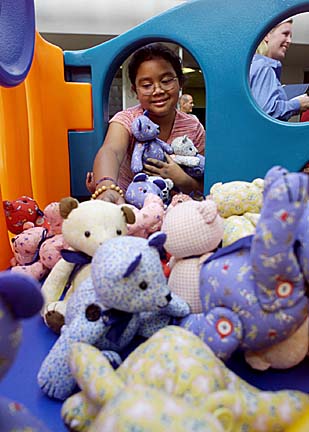 GEORGE F. LEE / GLEE@STARBULLETIN.COM
Elena Munoz, a patient at Kapiolani Medical Center for Women
and Children, helped herself yesterday afternoon to teddy bears
donated by the Tokyo West Rotary Club and West
Honolulu Rotary Club.
---
JAPANESE FISHING SHIP
MAKES STOP IN HONOLULU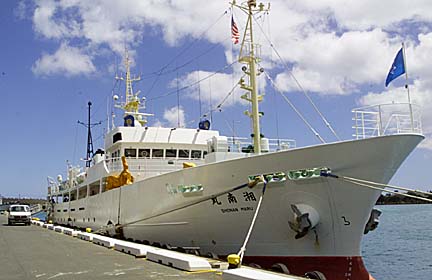 CRAIG T. KOJIMA / CKOJIMA@STARBULLETIN.COM
The Japanese training fishing ship Shonan Maru was docked at Honolulu Harbor earlier this week. The Shonan Maru and another training vessel, the Ashu Maru, left the harbor Tuesday to return to Japan. The two ships left Japan in April on their training mission for high school students. At least 10 Japanese training fishing vessels have made stops in Honolulu since the nuclear submarine USS Greeneville sank the Ehime Maru nine miles south of Diamond Head on Feb. 9.
---
WHERE'S THE FIRE?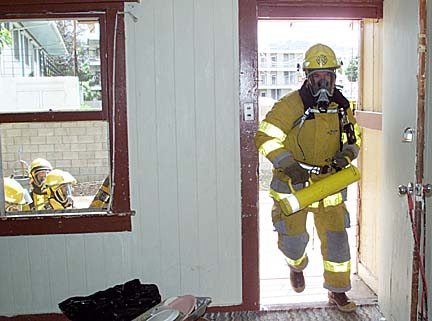 CRAIG T. KOJIMA / CKOJIMA@STARBULLETIN.COM
At 2823 K Winam Ave. in Kapahulu yesterday, a house
donated by Barry Langlieb was used as a training site for
firefighters from the Waikiki and McCully fire stations.
Above, a firefighter rushes into the house after battering
down the door with a ram. The house was damaged during
the training, but it was going to be torn down anyway. The
fire department hopes local propery owners will donate
other structures for future training use.
---
E-mail to City Desk
---
---
© 2001 Honolulu Star-Bulletin
https://archives.starbulletin.com