CLICK TO SUPPORT OUR SPONSORS

---

---
Saturday, May 5, 2001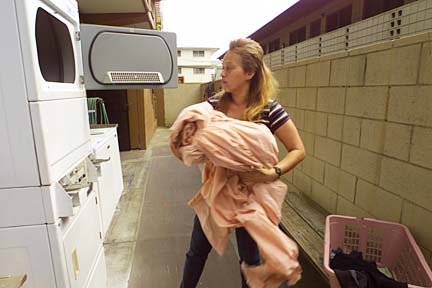 GEORGE F. LEE / STAR-BULLETIN
Matlock Hale resident Veronica Montalbo does the laundry
as part of her regular chores at the treatment facility.
---
Female offenders
learn to fulfill
their potential


They learn life skills and get
much-needed counseling in
Matlock Hale

---

By Helen Altonn
Star-Bulletin

The carefully tended flowers and neatly kept apartment building on Matlock Street say a lot about the occupants who are trying to reshape their troubled lives.

T.J. Mahoney & Associates operates the 36-bed work furlough and treatment facility for female offenders preparing to return to the community from the Women's Community Correctional Center.

Matlock Hale, established under contract to the state Department of Public Safety, exemplifies the type of transitional programs the agency is advocating to help women stay out of prison.

Lorraine Robinson, facility director, recently was named Social Worker of the Year for Corrections and Justice by the National Association of Social Workers. She has been at Matlock Hale for six of its nine years.

She said she receives stacks of letters from incarcerated Hawaii women wanting to be transferred to Matlock Hale, or T.J.'s, as the residents call it.

"They say, 'Here I am, sitting in my cell, asking myself, how did I get here? What did I do to wreck my life like this and disappoint my family? I really want the chance to get my life back together. I need to change, to work on myself, and I can't do it here.'"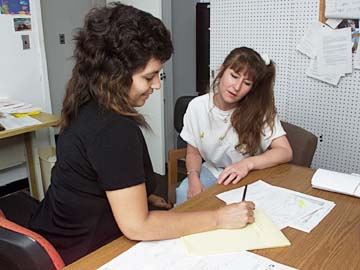 GEORGE F. LEE / STAR-BULLETIN
Former Matlock Hale resident Serena Camara, who now works
as a counselor at the facility, helped resident Julianne Hill fill
out an application to Kapiolani Community College yesterday.
---
She said the facility provides a gender-responsive, supportive environment for female offenders. They pose no community threat, she said. On the contrary, each performs eight hours per month of community service.

Besides caring for their own facility and rooms, the women have adopted two nearby parks. They pick up litter in the area, and they patrol the neighborhood.

"It's the only ex-offender police unit in the country," Robinson said.

Most of the women are in their early 30s, and nearly all are substance abusers with histories of domestic violence, sexual and emotional abuse and trauma, Robinson said. They have a lot of physical and mental health issues.

Intensive counseling focuses on their needs, problems and relationships -- "the No. 1 thing that causes them to get back to drugs," Robinson said.

The women are taught life skills, such as how to manage money, and an employment counselor helps them prepare resumes and get jobs. Some go to school. Several are in medical assistant programs, and one just graduated from a culinary arts program.

"They push your potential, make you go to school and everything," said Laura Streiver, a resident who graduated from Kapiolani Community College and now is housekeeping manager at a resort hotel. "There is lots of positive energy, lots of support."

Robinson said it is a very structured program that helps the women learn to be more responsible. They earn privileges and more freedom as they show responsibility.

When released to Matlock Hale from prison, the women usually have six to nine months before their minimum sentence ends and they are due for parole, she said.

"When they transition (from prison to parole) is when they lose it because they have no more support." They get overwhelmed by the responsibilities and pressure of old friends wanting to get high, and they relapse, she said.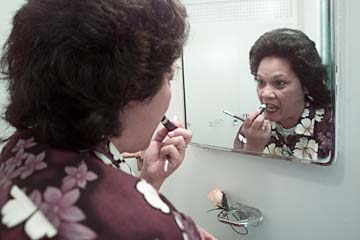 GEORGE F. LEE / STAR-BULLETIN
Another resident readied herself for her job as
a concierge at The Cab Co.
---
Robinson is seeking a grant to monitor women in a home environment to help them adjust to the community. "If it's not a good environment, we'll bring them back, so it's not like throwing them out there and they're on their own."

She said the women "have been victims of all kind of abuse," and they lack self-esteem and self-respect. They are expected to meet high standards at Matlock Hale, but consequences are not punitive and they are treated with respect.

Only two or three women have been sent back to WCCC for new crimes, and they were minor offenses, Robinson said. Occasionally, a woman is returned because of a urine analysis that detects drugs, she said.

One of Matlock Hale's big success stories is Serena Camara, the first female and first ex-offender appointed to the state Corrections Population Management Commission.

Camara, 31, is one of two ex-offenders among the facility's 18 paid staff members, working as a prison population management counselor.

"I am very picky who I have work here," Robinson said. "They must be established in recovery and good role models."

Camara first was incarcerated in September 1992. She left WCCC's Therapeutic Community Treatment Program in July 1994 and was transferred to Matlock Hale.

She had never had a legitimate job, so trying to get one was "the most ominous obstacle" she faced.

She said T.J. Mahoney's provided her with a safe, drug-free environment and gave her the skills and courage to seek a job and face inevitable rejection.

She has since graduated from college with honors and is working "to help others in their quest for a better life."
E-mail to City Desk
---
---
© 2001 Honolulu Star-Bulletin
https://archives.starbulletin.com