[News]
[Business]
[Features]
[Sports]
[Editorial]
[Calendars]
[Info]
[Home]
[Nation/World]
[Obituaries]
[Weather]
PALM PILOT PAGE
CLASSIFIED ADS

STAR-BULLETIN RETAIL LOCATIONS







To March 18, 1996
PAST WEEK:
| M | T | W | T | F | S | S |




Most recent columns




Calendars & Events








Aloha Worldwide

Join SETI team

2000 Election

Legislature

SAT Scores

Pet Quarantine



Phones, email, subscriptions


Email notifier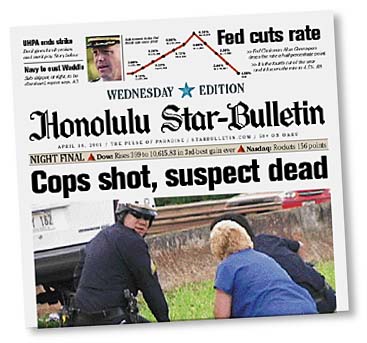 >>SUBSCRIBE TO THE NEW STAR-BULLETIN!
>>REPORT SUBSCRIPTION PROBLEMS

Sign up for our headlines by email list


Advertisement - Click to support our sponsors.

---
Starbulletin.com publishes online editions Monday through Sunday.
New editions normally posted online between 2:00 and 5:00 p.m.
Starbulletin.com publishes articles written by our staff and
selected articles of particular interest to our readers.
Entire contents of this Web site © copyright 2001
Honolulu Star-Bulletin. All rights reserved.

---
Featured on:


[NEWS]
Officers shot, suspect dead; UH strike over; HSTA talks resume; Report -- Discharge for Waddle; Sakae Takahashi dies at 81; Mansho pays $40K fine; Officials laud mercury cleanup; Native birds to get better home; Young filmmakers celebrated; Driving course crunch seen; Bail revoked in firearms case; Navy sonar plans hit; Moiliili park measure passes; Newswatch; Raising Cane by Rob Perez; Kokua Line by June Watanabe; Corky's Hawaii; Island Images; Obituaries; Whatever Happened To...



[LATE/BREAKING]
Late evening, breaking stories, early morning stories



[FEATURES]
Taking a chance on chocolate; Chicken champs; How to speak Geek; The Electric Kitchen; Hawaii's Kitchen; Stuffs; Hawaii by Dave Donnelly; My Kind of Town by Don Chapman; Honolulu Lite by Charles Memminger; By Request by Betty Shimabukuro; Health Options by Joannie Dobbs & Alan Titchenal; Key Ingredient by Eleanor Nakama-Mitsunaga



[SPORTS]
Lacrosse 'a cool game'; Work pays off for Scalabrini; Dwight Carter going Euro; Prep roundup; Strike threatens seasons; Sports Notebook; Prep Notebook; Hawaii Beat; Scoreboard; Sports Broadcasts



[BUSINESS]
St. Francis to cut 150 jobs; Golden Week downturn forecast; Credit union expanding; Lower taxes, higher growth; Taking Notice; Business Briefs; The Buzz By Erika Engle ; Hawaii Stocks; Live Stock Quotes; Closing Market Report; Dilbert!; Meetings



[EDITORIAL]
Why so much surveillance? Legislature should pass bottle bill; Russian president silences critical press; Editor's Scratchpad; Letters to the Editor; Corky Editorial Cartoon