[News]
[Business]
[Features]
[Sports]
[Editorial]
[Calendars]
[Info]
[Home]
[Nation/World]
[Obituaries]
[Weather]
PALM PILOT PAGE
CLASSIFIED ADS

STAR-BULLETIN RETAIL LOCATIONS







To March 18, 1996
PAST WEEK:
| M | T | W | T | F | S | S |




Most recent columns




Calendars & Events








Aloha Worldwide

Join SETI team

2000 Election

Legislature

SAT Scores

Pet Quarantine



Phones, email, subscriptions


Email notifier


Chat up HSTA
Joan Lewis, vice president of the Hawaii State Teachers Association,
will be the guest in a starbulletin.com chat session tonight
from 8-9 p.m. HST. Follow this link to the chat page.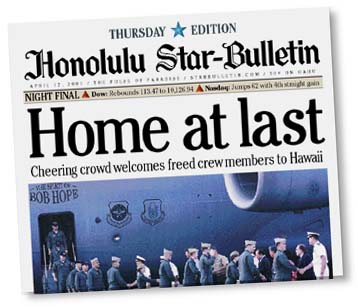 >>SUBSCRIBE TO THE NEW STAR-BULLETIN!
>>REPORT SUBSCRIPTION PROBLEMS

Sign up for our headlines by email list


Advertisement - Click to support our sponsors.

---
Starbulletin.com publishes online editions Monday through Sunday.
New editions normally posted online between 2:00 and 5:00 p.m.
Starbulletin.com publishes articles written by our staff and
selected articles of particular interest to our readers.
Entire contents of this Web site © copyright 2001
Honolulu Star-Bulletin. All rights reserved.

---
Featured on:


[NEWS]
Home at last; STRIKE -- Teachers to get health benefits; Chat up the HSTA; Gov shares strike goals; UH strike weakening; Mansho ouster petition starts; Renewed Diamond Head ready; SB brings home Pa'i; Audit: City transit agency deficient; Kauai to protect Mahaulepu; Officials: Make atoll pristine; Isle man wins achievement award; Home-invasion suspect surrenders; 3 indicted for bank fraud; Newswatch; Kokua Line by June Watanabe; Corky's Hawaii; Island Images; Obituaries; Weather



[LATE/BREAKING]
Late evening, breaking stories, early morning stories



[FEATURES]
'Cats' meow; Guitar slingers to play isles; Stuffs; Hawaii by Dave Donnelly; My Kind of Town by Don Chapman; Rant & Rave



[SPORTS]
Hula Bowl partnership still strong; Clinics key in Agena resignation; Baldwin's dynamic duo; Warrior season down to BYU; Sea Warriors turn tide on Seasiders; Bodytalk by Stephenie Karony; Sports Notebook; Hawaii Beat; Scoreboard; Sports Broadcasts



[BUSINESS]
Former isle resident gives up SEC license; Lenders help strikers; Taking Notice; Business Briefs; The Buzz By Erika Engle; Make It Easy By Beth Terry ; Hawaii Stocks; Live Stock Quotes; Closing Market Report; Dilbert!; Meetings



[EDITORIAL]
Air crews' return doesn't resolve collision incident; New rule might sound final buzzer on tourneys; Passing Parade By Guest Writers; Letters to the Editor; Corky Editorial Cartoon