Advertisement - Click to support our sponsors.

---

---
Friday, November 10, 2000
What the deal means
for paper and readers

Now it must thrive
Community reaction
Timeline

---


Question: As a Star-Bulletin reader, how will this affect or change my subscription? How will this affect my Sunday subscription?

Answer: Your subscription won't change. You will continue to get the Star-Bulletin Monday through Saturday. If you subscribe to the Sunday Advertiser, that won't change, either. But David Black, who is buying the Star-Bulletin, has set a target of March 18 to launch a Sunday edition.

Q: How does this deal affect the federal injunction that prohibits the current owners of the Star-Bulletin and Advertiser from doing anything to jeopardize the survival of the Star-Bulletin?

A: An injunction will remain in place, though in modified form, until the deal closes. It still prohibits Gannett and Liberty from doing anything that will hurt the Star-Bulletin's operations, including its circulation and advertising. The injunction still says the two companies can't do anything inconsistent with the joint operating agreement.

But the modified version permits the Advertiser to take steps for an orderly transition to a stand-alone newspaper and head-to-head competition with Black. The judge will continue to monitor whether the companies abide by the terms of the injunction.

If the sale doesn't close by March 15, the original injunction goes back into place.

Q: What should I expect to see in a new Star-Bulletin?

A: Expect design and content changes, especially with an eye toward a seven-day-a-week publication. Many new elements will be in the Sunday edition. Adding a Sunday paper likely will mean adjustments to the Monday-through-Saturday editions to give readers the best package throughout the week.

As an independent newspaper no longer tied to a joint operating agreement, the Star-Bulletin will be free to pursue new initiatives to benefit readers and advertisers.

As for your favorite comics and features, don't worry. There's no plans for now to change them.

Q: Who is David Black, the buyer of the Star-Bulletin?

A: He is the 54-year-old owner of Black Press Ltd., which is based in Victoria, British Columbia and which operates 80 community newspapers in western Canada and Washington state.

Q: What happens Nov. 30 -- could the deal unravel?

A: The deal is subject to contingencies, such as Black securing an adequate supply of newsprint and reaching a contract agreement with the Hawaii Newspaper Guild, which represents most of the Star-Bulletin's 97 editorial employees. If those contingencies aren't met by Nov. 30, Black can walk away from the deal. But he said he is confident the sale will be completed.

Q: Will the Star-Bulletin be more widely available on Oahu and the neighbor islands?

A: Definitely. Black has said the paper, which has only a minor presence on the neighbor islands, will be sold at many more locations there. It also will be sold at more places on Oahu.

Black's goal is to increase the Star-Bulletin's circulation from 63,500 to about 100,000.

---

By Rob Perez, Star-Bulletin

---

Part of Hawaii
for 118 years

A look at the Honolulu
Star-Bulletin's history

Feb. 1, 1882: James Robertson founds the Daily Bulletin, forerunner of the Star-Bulletin, thus laying the foundation for the claim that the Star-Bulletin is the oldest daily newspaper in Hawaii still alive today. Hawaii's first daily actually was the pioneer Daily Hawaiian Herald, which went in and out of business in Honolulu in 1866.

May 16, 1895: The Daily Bulletin becomes the Evening Bulletin.

June 13, 1898: The Evening Bulletin names Wallace Farrington its new editor.

July 1, 1912: The Hawaiian Star and Evening Bulletin merge to form the Honolulu Star-Bulletin. Riley Allen becomes editor. Frank Cooke Atherton becomes first Star-Bulletin president. Wallace Farrington becomes vice president and general business manager.

Jan. 1, 1924: Joseph Farrington, Wallace's son, becomes Star-Bulletin managing editor.

July 6, 1929: Frank Cooke Atherton turns over his title as Star-Bulletin president and control of the paper to Wallace Farrington, who is named president and publisher, just after Wallace Farrington completes eight years as territorial governor.

Oct. 6, 1933: Wallace Farrington dies at 62. The following year, son Joseph becomes Star-Bulletin president and general manager.

Dec. 7, 1941: On Pearl Harbor Day, the Star-Bulletin publishes its famous extras, as editor Riley Allen and staff get out the first paper in America and the only paper in Hawaii to report the Pearl Harbor attack the day it happened -- with papers on the street within three hours after the attack.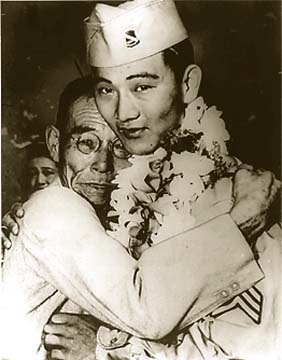 Aug. 9, 1946: The Star-Bulletin publishes the famed picture of aging Iuemon Kiyama tearfully embracing his son, the decorated Sgt. Howard Kiyama of the 442nd Regimental Combat Team, upon his return from Europe. The picture also occupies the entire front page of the New York Daily News and appears in Life magazine, Liberty magazine and other publications. Taken by Star-Bulletin photographer Robert Ebert, it wins the National Press Photographers Association "Spot News" award in 1946 and is nominated for a Pulitzer Prize.

June 19, 1954: Joseph Farrington dies at 56.

Aug. 21, 1957: Joseph Farrington's widow, Elizabeth, is elected president of the Star-Bulletin, the third Farrington among four presidents and the newspaper's first woman president.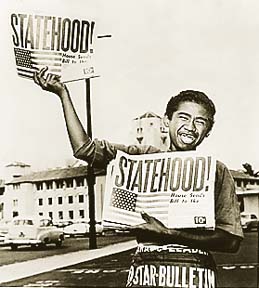 March 12 and Aug. 21, 1959: The Star-Bulletin publishes its statehood editions. The most famous statehood picture -- Chester Kahapea hawking statehood editions two days before his 13th birthday -- appears March 13. The picture, snapped by Murray Befeler of Photo Hawaii, graces the front pages of numerous newspapers, including the New York Times and New York Daily News.

Oct. 31, 1959: Publication of the first Sunday Star-Bulletin.

July 22, 1960: Riley Allen steps down as editor after 48 years. Star-Bulletin circulation in his time rose from about 4,000 in 1912 to 104,000 in 1960.

March 17, 1961: Star-Bulletin editor William H. Ewing wins a National Headliners award for his eyewitness reporting June 10, 1960 and after of demonstrations and riots in Japan in protest against a new U.S.-Japan security treaty and President Eisenhower's planned visit. Riots lead to cancellation of Eisenhower's stop in Japan.

Nov. 19, 1961: Honolulu businessmen Chinn Ho, Joseph Ballard Atherton, Alexander Atherton, William H. Hill and John T. Waterhouse announce plans to buy the paper from Farrington Estate.

Nov. 23, 1961: L. Porter Dickinson is named publisher.

April 30, 1962: Star-Bulletin sale becomes final.

June 1, 1962: The Star-Bulletin and its morning rival, the Honolulu Advertiser, set up a third company under a joint operating agreement, the Hawaii Newspaper Agency, to handle noneditorial and production functions of both papers.

June 24, 1962: It is announced that the Sunday Star-Bulletin and Advertiser will be combined.

March 10, 1963: The Star-Bulletin moves into its third home, the News Building at 605 Kapiolani Blvd., from its location since 1916 at 125 Merchant St. -- the headquarters that the Hawaiian Star established in 1893. Its earliest home had been on Alakea Street between King and Hotel streets, a business location originally occupied by the Daily Bulletin.

June 21, 1963: Newspaper strike begins, eventually shutting down the Star-Bulletin and Advertiser for 47 days.

March 7, 1966: "Kokua Line" begins. The popular feature is still going strong.

Oct. 2, 1966: Retired editor Riley Allen dies at 82.

Aug. 2, 1971: Announcement of Star-Bulletin purchase by Gannett Co. Star-Bulletin circulation is 128,000.

Aug. 23, 1971: Star-Bulletin reporter Arlene Lum begins a series of articles on "The New China," with datelines of Beijing, Shanghai and Canton. One of the few American journalists to travel inside China after the 1949 revolution, she spends five weeks touring China in August and September, some months before President Nixon's 1972 visit. She is named an Overseas Press Club award winner on April 21, 1972.

April 30, 1971: James Couey becomes Star-Bulletin publisher -- but on June 22 he dies of a heart attack.

Dec. 16, 1971: John A. Scott is named Star-Bulletin publisher.

Oct. 31, 1975: Philip T. Gialanella is named Star-Bulletin publisher.

Sept. 5, 1986: Catherine Shen becomes Star-Bulletin publisher.

May 3, 1989: Former Star-Bulletin reporter Arlene Lum is named Star-Bulletin publisher.

Jan. 7, 1993: Gannett announces it has reached an agreement to sell the Star-Bulletin to Liberty Newspapers Limited Partnership in a move that will allow Gannett to complete its acquisition of the Honolulu Advertiser. Star-Bulletin circulation is 88,000. John Flanagan, executive editor, is named Star-Bulletin editor and publisher.

Jan. 31, 1993: It is announced that the Advertiser will control all of the Sunday paper starting at the end of February. The Star-Bulletin, which for years produced the Sunday features and real estate sections, no longer will be involved in the Sunday paper.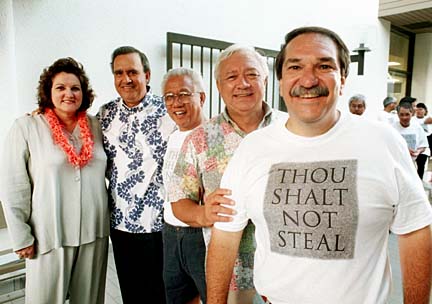 Aug. 9, 1997: The Star-Bulletin publishes the "Broken Trust" essay by five community leaders critical of Bishop Estate trustees, which leads to investigations, court actions and statewide soul-searching to bring about corrective action. In the process, the $1 million-a-year Bishop Estate trustees are toppled and reforms are set in motion.

Sept. 16, 1999: Star-Bulletin owner Liberty Newspapers Limited Partnership announces it will shut down the 117-year-old afternoon newspaper on Oct. 30. Liberty agreed to close the Star-Bulletin and terminate its joint operating agreement with Gannett Co., owner of the Honolulu Advertiser, in exchange for a $26.5 million payment.

Oct. 6, 1999: The Attorney General's Office and a local community group, Save Our Star-Bulletin, file separate suits in U.S. District Court to block the closing. The state and SOS argue that Gannett's $26.5 million payment to Liberty violates federal antitrust laws.

Oct. 13, 1999: U.S. District Judge Alan Kay grants a preliminary injunction halting the shutdown of the Star-Bulletin. Kay's order forbids Gannett and Liberty from harming the business operations of the Star-Bulletin while the injunction is in place.

Oct. 20, 1999: Liberty and Gannett file a notice of appeal with the 9th U.S. Circuit Court of Appeals in San Francisco to overturn Kay's preliminary injunction. The newspaper owners argue that the First Amendment gives the paper the right to publish or not to publish.

Nov. 15, 1999: A three-judge panel with the 9th Circuit upholds Kay's preliminary injunction.

April 22, 2000: Liberty and Gannett agree to put the Star-Bulletin up for sale, under a court-supervised process approved by Judge Kay. The sale is supervised by Federal Magistrate Barry Kurren.

May 5: Kurren approves Liberty's hiring of brokers Dirks Van Essen & Murray to market the Star-Bulletin.

Sept. 1: Three groups submit formal bids for the Star-Bulletin. They include Black Press Ltd., which operates 80 community newspapers in western Canada and Washington state; Hadland Communications Inc., which owns five weekly publications in the Los Angeles area; and a local group that includes former Congressman Cecil Heftel, Kauai publishers Peter and Jane McClaran and Kauai investor Jeff Lindner.

Sept. 27: Magistrate Kurren approves Black Press Ltd. as the sole qualified bidder for the Star-Bulletin.

Nov. 9: The federal court approves Black Press Ltd.'s purchase of the Star-Bulletin. The order comes after Black Press reaches agreement with Liberty and Gannett over the terms of the Star-Bulletin's takeover.

---



E-mail to City Desk
---
---
© 2000 Honolulu Star-Bulletin
https://archives.starbulletin.com