[News] [Business]
[Features][Sports]
[Editorial] [Do It!]
[Info] [Home]
[Nation/World]
OBITUARIES and
WEATHER in the
news section daily.
PALM PILOT PAGE




Calendars & Events







Most recent columns



To March 18, 1996
PAST WEEK:
| M | T | W | T | F | S |






Aloha Worldwide

Join SETI team

1998 Election

Legislature

SAT Scores

Pet Quarantine



Phone numbers, e-mail addresses, subscription info


E-mail notifier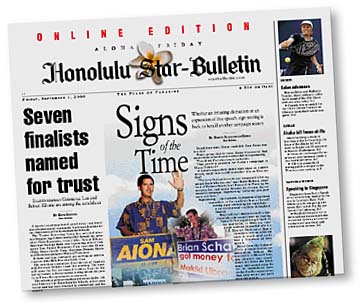 Notice: Sections of this site produced by the Hawaii Newspaper
Agency will be unavailable from Friday, 6.p.m. to Saturday, 6 a.m.
The outage will specifically affect classified ads and HNA
advertorial sections, as well as Starbulletin.com banner ads.
We apologize for any inconvenience.


Sign up for our headlines by e-mail list
---
Starbulletin.com publishes online editions Monday through Saturday.
New editions normally posted online between 2:00 and 4:00 p.m.
Starbulletin.com publishes articles written by our staff and
selected articles of particular interest to our readers.
Entire contents of this Web site © copyright 2000 by
Honolulu Star-Bulletin. All rights reserved.

---
Featured on:




Seven finalists for Kamehameha trustee; Kauai may have serial killer; Signs of the political time; Akaka bill advances; Beanbag gun used on suspect; UHH ranked third; Anti-pot funds rejected; Big Isle mayor hopefuls; Downtown cultural district; Suspect blames codefendant; 3rd trial set in sex assault; Telemedicine symposium; Newswatch; Kokua Line by June Watanabe; Corky's Hawaii; Weather; Island Images; Obituaries




Late stories available after our print or online deadlines and breaking news items




Permanent Link; Conjugacion releases music video; Read All About It; Stuffs; Hawaii by Dave Donnelly; Honolulu Lite by Charles Memminger; Island Mele by John Berger; Dig This by Stephanie Kendrick; Stage; Music; Night Clubs; Books; Gardening




Dream Team too deep for Canada; Two faces of Jessica Sudduth; BIIF title will be up for grabs; Full Court Press by Paul Arnett; Hawaii Sumotori; Sports Notebook; Hawaii Beat; Scoreboard; Sports Broadcasts; Bullboard




Offers received for Star-Bulletin; Sia to be locked up for holiday; Drivers line up for new tires; Calif. firm buys Hawaii Kai land; Business Briefs; Air Fares; Hawaii Stocks; Live Stock Quotes; Closing Market Report; Dilbert!; Meetings




Grant for marijuana eradication rejected; 'Going postal' is bad rap; View Point By Guest Writers; Changing Hawaii By Diane Yukihiro Chang; Letters to the Editor; Corky Editorial Cartoon




National and International News