[News] [Business]
[Features][Sports]
[Editorial] [Do It!]
[Info] [Home]
[Nation/World]
OBITUARIES and
WEATHER in the
news section daily.
PALM PILOT PAGE




Calendars & Events







Most recent columns



To March 18, 1996
PAST WEEK:
| M | T | W | T | F | S |






Aloha Worldwide

Join SETI team

1998 Election

Legislature

SAT Scores

Pet Quarantine



Phone numbers, e-mail addresses, subscription info


E-mail notifier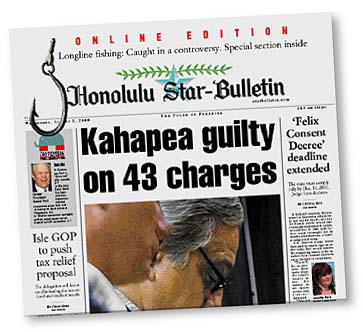 Sign up for our headlines by e-mail list

Advertisement - Click to support Starbulletin.com sponsor
---
Starbulletin.com publishes online editions Monday through Saturday.
New editions normally posted online between 2:00 and 4:00 p.m.
Starbulletin.com publishes articles written by our staff and
selected articles of particular interest to our readers.
Entire contents of this Web site © copyright 2000 by
Honolulu Star-Bulletin. All rights reserved.

---
Featured on:




Kahapea guilty; Special -- Longliners caught in controversy; Felix decree extended; Isle GOP to push tax relief; HPD goes to 3-day weeks; Hanneman, Harris spar; Twice-aborted flight tries again; Bangladeshi kids get medical help; Maui crash driver changes plea; Volcanoes Park plan criticized; Akaka in for surgery; Russ Francis fined; In the military; Newswatch; Kokua Line; Corky's Hawaii; Weather; Island Images; Obituaries; Whatever Happened To...




Late stories available after our print or online deadlines and breaking news items




Loco for coco; 4-H hunger project; Hawaii's Kitchen; Stuffs; Hawaii by Dave Donnelly; Honolulu Lite by Charles Memminger; By Request by Betty Shimabukuro; Health Options by Joannie Dobbs & Alan Titchenal




Brothers on a mission; Klemm copes with injury; Carter signs with Heat; Padres party island-style; Wakakuwa decides to retire; Open-water event coming; Bodytalk by Stephenie Karony; Hawaii Beat; Scoreboard; Sports Broadcasts




AT&T buys Big Isle cellular operation; 'H' spells '$' for UH store; Analysts bullish on Hilton; Business Briefs; Mortgage Rates; Hawaii Stocks; Live Stock Quotes; Closing Market Report




Storm was a reminder Hawaii is vulnerable; Piracy in cyberspace cannot be tolerated; View Point By Guest Writers; Letters to the Editor; Corky Editorial Cartoon




National and International News