[News] [Business]
[Features][Sports]
[Editorial] [Do It!]
[Info] [Home]
[Nation/World]
OBITUARIES and
WEATHER in the
news section daily.
PALM PILOT PAGE




Calendars & Events







Most recent columns



To March 18, 1996
PAST WEEK:
| M | T | W | T | F | S |






Aloha Worldwide

Join SETI team

1998 Election

Legislature

SAT Scores

Pet Quarantine



Phone numbers, e-mail addresses, subscription info


E-mail notifier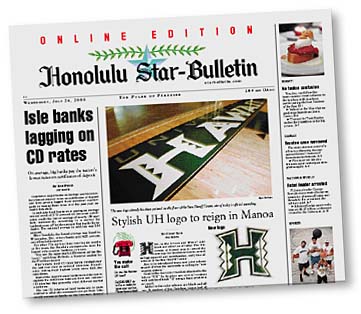 Sign up for our headlines by e-mail list

Advertisement - Click to support Starbulletin.com sponsor
---
Starbulletin.com publishes online editions Monday through Saturday.
New editions normally posted online between 2:00 and 4:00 p.m.
Starbulletin.com publishes articles written by our staff and
selected articles of particular interest to our readers.
Entire contents of this Web site © copyright 2000 by
Honolulu Star-Bulletin. All rights reserved.

---
Featured on:




Isle banks lag on rates; New UH logo debuts; Hanalei Bay yields treasures; Opportunity knocks, politicians answer; Kalaupapa's Kamaka dies at 94; State narrows Bishop case; Prosecutor: Kahapea took half; Alyshia has more surgery; New OHA challenge is filed; Disabled hail ADA; Tourist camp plan in trouble; Kona study criticized; Newswatch; Kokua Line by June Watanabe; Mon - Sat Corky's Hawaii; Weather; Island Images; Obituaries; Whatever Happened To...




Late stories available after our print or online deadlines and breaking news items




Foodie fusion; Fair for everyone; Values on the Vine; Hawaii's Kitchen; Stuffs; Hawaii by Dave Donnelly; Honolulu Lite by Charles Memminger; By Request by Betty Shimabukuro; Less Fat, Still Ono by Barbara Burke & Joanie Dobbs




Psychiatrist's mind on youth basketball; Richardson changes mind; Bodytalk by Stephenie Karony; Hawaii Sumotori; Prep Notebook; Hawaii Beat; Scoreboard; Sports Broadcasts




Schuler net surges; Kaiser to lease large space at Cannery; Cheap Tickets net soars, stock falls; Sugar growers seek help; Business Briefs; Mortgage Rates; Hawaii Stocks; Live Stock Quotes; Closing Market Report




Mideast peace effort hasn't been abandoned; Cheney brings strength to Republican ticket; View Point By Guest Writers; Letters to the Editor; Corky Editorial Cartoon




National and International News