Advertisement - Click to support our sponsors.

---

---
Friday, June 23, 2000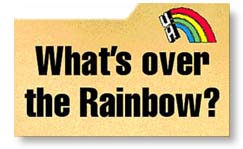 The University of Hawaii Athletic Department
may find a pot of gold with marketing deals
and an image makeover
Image


A prominent sports logo and
uniform designer from Kauai is
behind UH's forthcoming
bold, new look

By Nick Abramo
Star-Bulletin

A new logo and a complete image overhaul of University of Hawaii sports teams will be unveiled in early August.

The changes are being worked on by Osaki Design Inc. of Berkeley, Calif., which is run by UH alumnus Kurt Osaki, who was born and raised in Hawaii.

Osaki has created many logo designs and uniform color schemes for pro sports teams and leagues, most notably the Tampa Bay Buccaneers and Baltimore Ravens of the National Football League.

He is taking great care in getting the new UH identity just right.

"It will be a very exciting new look," Osaki said. "For the football team, it will reflect the new style of play and attitude brought in by June Jones."

Osaki has found this job to be the most challenging in his career, because he grew up here and feels a greater sense of responsibility in doing a quality job.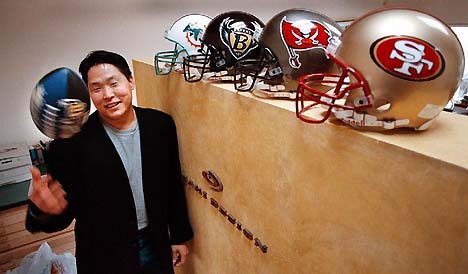 Special to the Star-Bulletin
Logo designer Kurt Osaki's clients have included
several NFL franchises.
---
"It's my (original) home, and I have lots of family and friends there, so I'm feeling extra pressure about getting it right," he said. "I'm excited that we're going to make a big splash and really represent the unique place that is Hawaii."

Osaki can't reveal full details of the new look, but said it's something timeless that people will see and be proud of.

"We're trying to appeal to a broad range of people," he said. "The aim is for people to be able to look at the new logo and the new image and say 'this is Hawaii,' and hopefully they'll want to get involved in supporting the teams."

Osaki discusses the progress of the project with Jones at least once a week, and he also is working closely with Leigh Steinberg, who was hired by UH for marketing purposes.

"Coach Jones has close ties to this design process," Osaki said. "He keeps a close eye on everything connected with his football team. He knows what he wants."

Osaki noticed that the success Jones brought to football has helped boost Hawaii's economy.

"Everything there revolves around UH football and UH sports. It's the only game in town," Osaki said. "I do a lot of business with companies in Hawaii, and I can feel the new winning attitude reflected in the economy."

Jones is excited about what Osaki has to offer for the football team.

"I think it's going to be a good thing," Jones said. "We knew last year's logos were a one-year deal because of the (25th) anniversary celebration.

"We just had our final meetings (with Osaki on Monday). It's a done deal. We'll be unveiling it around the beginning of August."

Osaki thinks the only bad thing about coming out with the new UH identity this year is that the football team's success of last year will be hard to top.

"We were lucky when we worked on the Tampa Bay Buccaneers project a few years ago, because they immediately began winning. We believe the uniforms helped them on the field. If UH doesn't do as well as they did last year, people might say it's because of the new uniforms."

Despite his high-powered mainland career, Osaki is still a big UH booster. He was involved in organizing a UH football tailgate party when the team travelled to play San Jose State last year.

"We had 3,000 fans there," he said. "It was amazing. We literally put San Jose State fans to shame. This year, we hope to make it even bigger when the team comes to play Fresno State."

Osaki said the unveiling for all of the UH sports teams in August will be a "dramatic public relations launch" and that the entire package includes "a new logo system, uniforms, field/arena graphics, and logo merchandise for a new and more unified look for the UH sports program."

Former Hawaii residents Brandt Fuse, Anthony Sebastien and Cori Miller are working as part of the creative team on the project.

Osaki graduated from Kapaa High School on Kauai in 1983 and from UH in 1989. He also went to the Art Center College of Design in Los Angeles before opening the business with San Jose's Rob Kawamura, another former UH student.

---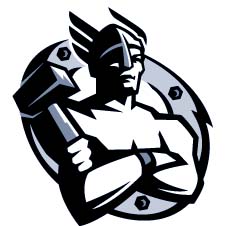 The Berlin Thunder logo is one of
Kurt Osaki's latest team designs.
---
XFL, Houston NFL team
up next for Osaki

By Nick Abramo
Star-Bulletin

The past couple of years have been a busy time for former Kauai resident Kurt Osaki and Osaki Design Inc.

The successful creator of pro sports team logos and identities is starting one of his most ambitious projects yet --the new XFL, which will start pro football competition with games televised on NBC in February 2001.

Osaki recently flew to Connecticut to meet Vince McMahon of Worldwide Wrestling Federation fame --the man who will run the XFL.

"The XFL will be a new brand of football," Osaki said. "Some people are getting tired of all the rules they're applying to the NFL. It's (the NFL) not as exciting as it used to be."

He'll be involved in creating the images and identities of at least three and as many as five of the nine XFL teams.

"This will be hard, because it's always hard to come up with something new," Osaki said. "You can only invent so many new logos. And the XFL is totally new. It's not even out there yet."

Although he can't give specifics, Osaki said the XFL's style of football and the uniforms and logos will be drastically different than anything fans have seen before.

Osaki didn't want to admit it, but he's been watching the WWF to help him get a better understanding of McMahon's successful enterprise.

Osaki's company also was heavily involved with marketing and logos for the NHL All-Star game in Toronto earlier this year.

"It was a big year for the NHL -- the 50th anniversary -- and it was in the heart of hockey country. We produced 600 banners and helped transform the city for their hosting of All-Star week."

The firm also did design and marketing work for the NHL All-Star game in Vancouver in 1998 and in Tampa Bay in 1999.

Osaki's other work in the past few years includes designs for the Carolina Hurricanes of the NHL and for the Berlin Thunder of NFL Europe.

The company also is working with the NFL's new Houston franchise, which will start play in 2002.

Osaki said the company may work for Major League Baseball teams in the future, possibly as soon as next season when the current hectic pace cools down a bit.

In the past, the company has created or updated team identities for the San Francisco 49ers, Miami Dolphins, Baltimore Ravens, Oakland Raiders, Tampa Bay Buccaneers and New York Jets.

---




UH Athletics
Ka Leo O Hawaii
E-mail to Sports Editor
---
---
© 2000 Honolulu Star-Bulletin
https://archives.starbulletin.com