Advertisement - Click to support our sponsors.

---

---
Friday, June 23, 2000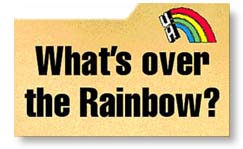 The University of Hawaii Athletic Department
may find a pot of gold with marketing deals
and an image makeover
Marketing


Renowned super agent Leigh Steinberg
has secured a half-million dollars
with football game sponsorships

By Dave Reardon
Star-Bulletin

After just a few weeks' work, Leigh Steinberg is hitting financial pay dirt for University of Hawaii sports.

Yesterday, UH announced that Steinberg, Moorad & Dunn Sports Management, riding the wave of last year's football success, had helped bring in corporate sponsorship for this year worth $515,000, almost all in cash.

Mango Moon, Ticket Plus and Anheuser-Busch each have donated $75,000 cash to sponsor football games this fall. Hawaiian Airlines has donated $75,000 in cash and trade to sponsor a game.

Also, Pepsi-Cola Hawaii donated $160,000 plus $170,000 in product and services for the first of a three- to 10-year deal, and Anheuser-Busch donated an additional $55,000 to support sports other than football.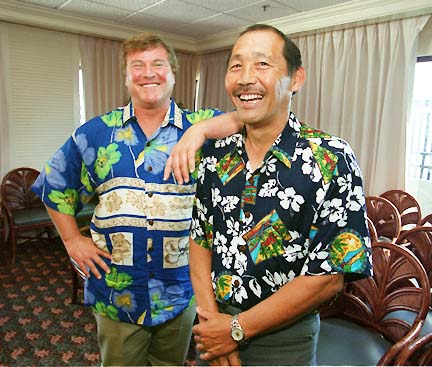 By Dennis Oda, Star-Bulletin
Leigh Steinberg and UH Athletic Director
Hugh Yoshida hit the jackpot.
---
"We've had the opportunity to do a lot of listening the past few months. We're happy to help take the uniqueness of Hawaii and meld it with the success (of the football team)," Steinberg told a gathering of sponsors and potential sponsors yesterday at the Plaza Club. "We have four more (home games) and they're going fast."

Steinberg's company signed a consulting deal with UH in April for $100,000, plus half of anything generated beyond $700,000.

"Last year, without marketing, we made $594,000," UH Associate Athletic Director Jim Donovan said. "We haven't even played our first football game yet and we're close to what we did all of last year. They're creating new revenue and I wouldn't be surprised to see more national deals in the future."

There are questions as to how much of the money would have gone to UH anyway, in the form of television and radio sponsorship.

"It probably might," said Damien Bonenfant, president of Anheuser-Busch Sales of Hawaii Inc., when asked if sponsoring a game might cut into other UH sponsorship by his company. "But a lot of other elements are built into the contract."

John Fink, vice president and general manager of KHNL and KFVE, which telecast UH sports, said he looks forward to partnering, not competing, with Steinberg.

"The university and the Steinberg group are very much aware of the needs of the local broadcast partners and the goal is to grow everyone's business," Fink said. "At the end of the day no one's going to win if the existing pie gets chopped up."

The hope is the pie gets bigger, as Hawaii appears on the verge of pulling out of an economic slump, and UH aggressively markets its fan base in all directions, including toward Asia.

"Things are looking up in a lot of ways in this state," Pepsi-Cola of Hawaii President Gary Yoshioka said. "We're proud to be supporting the University of Hawaii. We're tickled green."

Manny Sanchez, Ticket Plus chief executive officer, said he sees sponsorship as an investment in UH sports, and the state in general.

"It took us two seconds to decide to get involved," Sanchez said. "June Jones and Leigh Steinberg have raised the bar.

"It's not just about sports. It stimulates an environment that produces new doctors, new lawyers. Hawaii's had a tough go of it economically and educationally. We want to interact with the community and tell them we're behind you."

Steinberg's company also sealed an apparel deal June 1 between Reebok and the football program which UH Athletic Director Hugh Yoshida said is "the most lucrative in the history of the program."

Steinberg has said the financial benefits of the three-year Reebok deal would be around $300,000.

"It's not just the money, but service," Jones said yesterday of the Reebok deal.

"There are a lot of little things that add up.

"In the past, if you got shoes from the manufacturer and ended up not needing them, you couldn't return them. With Reebok, we just send them back and they get us what we need. It's little things, but it adds up."

---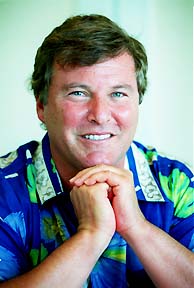 By Dennis Oda, Star-Bulletin
Leigh Steinberg looks forward
to his work with Hawaii.
---
Hawaii is a special
place for Steinberg

By Dave Reardon
Star-Bulletin

As Hugh Yoshida, Jim Donovan, June Jones and Leigh Steinberg posed together for a photo yesterday, the super agent cracked wise:

"Hey, it's the Four Horsemen of the Apocalypse."

Fitting, since a goal of the group is to turn Hawaii into the Notre Dame of the Pacific, sports-wise, anyway.

That doesn't necessarily mean becoming an independent like the Fighting Irish. But spend 15 minutes with Steinberg and you learn nothing is out of the question.

"It's time to think outside of the square. We're exploring every single aspect," Steinberg said. "There are no sacred cows."

Still, he knows enough about Hawaii to not trample through the terrain without getting a feel for it. That would be against his nature, anyway.

"He has a reputation for integrity," said Yoshida, the UH athletic director. "Who better to include in your program than Leigh Steinberg? You see the results already. He has credibility on the national level."

It's increasing locally, the more the following story gets around:

If Steinberg wasn't Jones' friend first and agent second, it's possible the UH football coach would have never turned down the San Diego Chargers and their $1 million offer to return to Hawaii.

"I called Leigh, and he said, 'For 20 years you've been talking about (the UH) job. Shouldn't you at least listen to what they say?' " Jones said.

"We think a lot alike, what's important is different for different players.

"He doesn't always place players where they'd make more money, but in cities that are better for them overall. He's very local in a way. He understands the community a lot better than many people."

Steinberg, who was introduced to the Honolulu media in eight separate interviews yesterday, has been here scores of times, for the Pro Bowl and annual vacations.

"Hawaii's always been a special place where I could find peace and focus," Steinberg said. "The water and the trees and the birds and just the look and the feel.

"The atmosphere here is intoxicating."

He hopes to help make University of Hawaii sports the same to sponsors, advertisers and fans worldwide.

---




UH Athletics
Ka Leo O Hawaii
E-mail to Sports Editor
---
---
© 2000 Honolulu Star-Bulletin
https://archives.starbulletin.com