[News]
[Business]
[Features]
[Sports]
[Editorial]
[Do It!]
[Info]
[Home]
[Nation/World]
Palm Pilot Page


OBITUARIES and
WEATHER in the
news section daily.




Calendars & Events







Most recent columns



To March 18, 1996
PAST WEEK:
| M | T | W | T | F | S |






Aloha Worldwide

Join SETI team

1998 Election

Legislature

SAT Scores

Pet Quarantine



Phone numbers, e-mail addresses, subscription info


E-mail notifier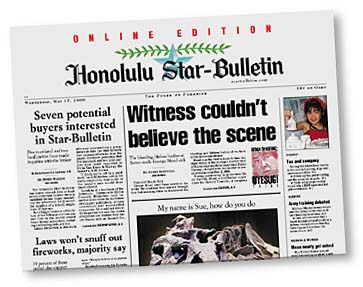 Sign up for our headlines by e-mail list

Advertisement - Click to support Starbulletin.com sponsor
---
Starbulletin.com publishes online editions Monday through Saturday.
New editions normally posted online between 2:00 and 4:00 p.m.
Starbulletin.com publishes articles written by our staff and
selected articles of particular interest to our readers.
Entire contents of this Web site © copyright 2000 by
Honolulu Star-Bulletin. All rights reserved.

---
Featured on:




Xerox: Witness couldn't believe scene; Seven potential buyers for Star-Bulletin; Poll: Laws won't snuff fireworks; Army training under fire; BOE focuses on school spending; OHA to discuss native-office proposal; Transplant patients doing well; Laser treatment lifts artist; Lanikai search expanded; Isles last in draft compliance; Kaluakoi settlement near; Officer to be sentenced over beating; Indictment over infant death; In the military; Newswatch; Kokua Line by June Watanabe; Corky's Hawaii; Weather; Island Images; Obituaries; Whatever Happened To...




Late stories available after our print or online deadlines and breaking news items




Tea time; Hoku home to work; Friends to fete Nabors; Hawaii's Kitchen; Stuffs; Hawaii by Dave Donnelly; Honolulu Lite by Charles Memminger; Wednesday By Request by Betty Shimabukuro; Good For You by Barbara Burke




Murakami: No pressure, no regrets; Everett leaving for ESPN; Punahou wins on water again; Top-seeded Kam looks to repeat; Hoe perfect from first serve to last; Salud in main event next week at Blaisdell; Keeping Score by Cindy Luis; Bodytalk by Stephenie Karony; Hawaii Sumotori; Prep Notebook; Hawaii Beat; Scoreboard; Sports Broadcasts




Isle ADA ruling sets new limits; GST selling to Time Warner unit; Little impact seen here from rate hike; Business Briefs; Mortgage Rates; Hawaii Stocks; Live Stock Quotes; Closing Market Report




Prison bill deserves governor's veto; Social Security plan; Capitol View By Richard Borreca; Letters to the Editor; Corky




National and International News