[News]
[Business]
[Features]
[Sports]
[Editorial]
[Do It!]
[Info]
[Home]
[Nation/World]


OBITUARIES and
WEATHER in the
news section daily.




Calendars & Events







Most recent columns



To March 18, 1996
PAST WEEK:
| M | T | W | T | F | S |






Aloha Worldwide

Join SETI team

1998 Election

Legislature

SAT Scores

Pet Quarantine



Phone numbers, e-mail addresses, subscription info


E-mail notifier




---

Britney Spears Waikiki Beach Concert

Pearl Harbor Movie: The Big Boom

Ikaika Kahoano Video Interview

Earth Day: Electric Car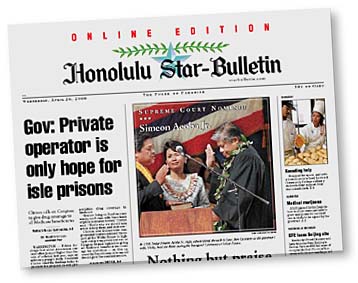 Sign up for our headlines by e-mail list

Advertisement - Click to support Starbulletin.com sponsor
---
Starbulletin.com publishes online editions Monday through Saturday.
Starbulletin.com publishes articles written by our staff and
selected articles of particular interest to our readers.
Entire contents of this Web site © copyright 2000 by
Honolulu Star-Bulletin. All rights reserved.

---
Featured on:




Cayetano -- Private prison a must; Acoba: Praise for a 'regular guy'; Medical marijuana bill to be law; LCC lets kids reach for stars; Groups cooperated on artifacts; Hawaiian convention gets funds; Slain baby's mother testifies; Auditor faults DLNR; Water wagon to supply subdivision; Pai PUC nomination advances; Ex-Mirikitni employee accused; Clinic bombing recalled; Prison guard gets probation; Newswatch; Kokua Line by June Watanabe; Corky's Hawaii; Weather; Island Images; Obituaries; Whatever Happened To...




Late stories available after our print or online deadlines and breaking news items




Bakeshop boundaries; Values On The Vine; Hawaii's Kitchen; Stuffs; Hawaii by Dave Donnelly; Honolulu Lite by Charles Memminger; By Request by Betty Shimabukuro; Health Options by Joannie Dobbs & Alan Titchenal; Community Calendar; Morsels; Health; Museums




Carter helps Heat over Pistons; Chun after ILH track title; Kalaheo may lose girls' star; All-State softball team; Athletes of the Week; Shoji lands Slovenian recruit; Keeping Score by Cindy Luis; Bodytalk by Stephenie Karony; Sports Notebook; Prep Notebook; Hawaii Beat; Scoreboard; Sports Broadcasts; Bullboard




Schuler Homes net raises roof; Cheap Tickets' net above estimates; Wal-Mart gets OK for Keeaumoku; Native Hawaiian bank aims for 2001; Jobless rate falls; Business Briefs; Mortgage Rates; Hawaii Stocks; Live Stock Quotes; Closing Market Report; Dilbert!; Meetings




Alternate energy bill isn't necessary; Juvenile justice; Capitol View By Richard Borreca; Letters to the Editor; Corky Editorial Cartoon




National and International News