Advertisement - Click to support our sponsors.

---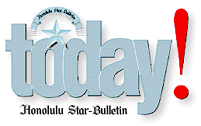 ---
Tuesday, April 25, 2000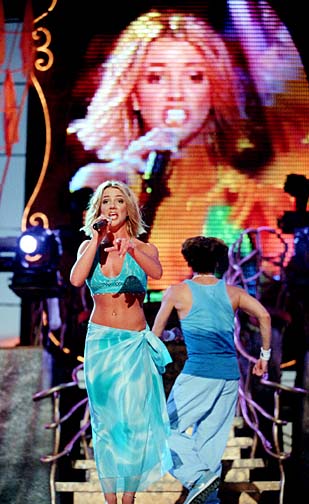 By George F. Lee, Star-Bulletin
A large screen gave fans a close-up look at Britney
Spears as she performed in last night's free
Waikiki concert.
---
Thousands of fans
pack Waikiki
to cheer Spears
By Tim Ryan
Star-Bulletin

Don Sentokski's aloha shirt is seriously damp. The 50-year-old Makakilo resident is standing about 8 feet from the Waikiki stage where pop sensation Britney Spears is screaming the words to her hit "Crazy!" and Sentokski and his daughter Layla, 16, are singing along.

The father-daughter team were two of hundreds of lucky radio listeners who won tickets from Oahu radio stations to view the concert from a fenced-off VIP area fronting the 120-foot wide, six-story-high stage at the Hilton Hawaiian Village.

Sentokski, an assistant manager at Wal-mart, seems to be trying to shake some serious booty while a grinning Spears puts on her own moves.

Earlier, Sentokski said his favorite Spears song is "Baby One More Time."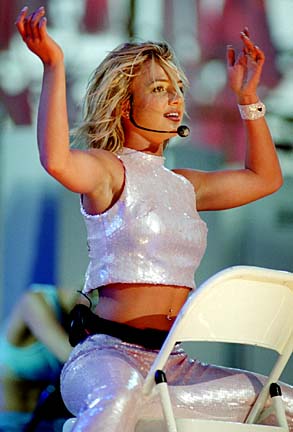 By George F. Lee, Star-Bulletin
Among the seven different costumes Spears wore
in the show was a shiny halter top and pants outfit.
---
"(My dad) is a cool person and likes all kinds of music so I like going to concerts with him sometimes," Layla said. "And this is way closer than I've ever been at any concert even 'N Sync."

Some 10,000 people packed the beach in what may be the largest concert ever staged there. Carol Ann Butan, 17, and friend Cecile Lazarous, 18, both of Pearl City, arrived at the Hilton at 7 a.m. yesterday to get the best spot they could find outside the VIP area.

Slated for 6 p.m., the concert started closer to 7, but they didn't seem to mind. The event was free after all, with segments being taped for a "Britney in Hawaii" special to air on Fox June 8.

"I think Britney is so much fun," Butan said. "She's my all-time favorite performer and to think she's doing this concert for free. We're so lucky."

Lazarous likes Spear's wholesome image.

"She just sings about love and heartache, not about anything mean," she said. "She's so wholesome."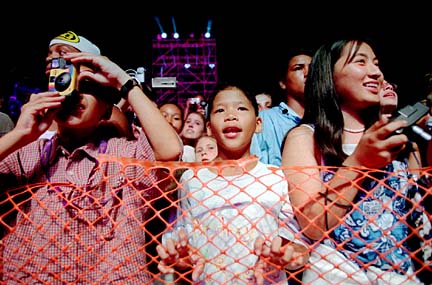 By George F. Lee, Star-Bulletin
Cameras were evident, as fans, including, from left,
Ricky Lam, Billy Lam and Stacy Fukui, waited
for the concert to begin.
---
The Hilton beach was jammed by early afternoon yesterday with the concert still several hours away. Two hours before the scheduled start time, roads in and out of the ewa end of Waikiki were jammed to near gridlock.

Hundreds of motorists parked at Ala Moana Center and Ala Moana Beach Park, trekking a mile to find a spot on the crowded beach.

Terri Sansky and Christy Ksenak are visiting Hawaii from upstate New York with their families but found the concert an added treat to vacationing in paradise. Asked how the pair, along with son Brian, 15 -- he prefers rap to pop -- got their VIP tags, Sansky joked, "We have connections."

Meanwhile, Melissa Ksenak, 18, admitted to some serious flirting with a security guard to get her backstage pass.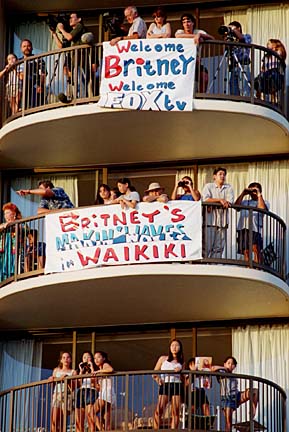 By George F. Lee, Star-Bulletin
Photographers, fans and welcome signs crowded the
lanais of the ninth, 10th and 11th floors of the Hilton
Hawaiian Village.
---
The Hilton's Rainbow Tower was turned into a Britney monument with dozens of signs strung from lanais: "Hawaii Loves Britney," "Aloha Britney," "We Love You Britney."

After her eight dancers performed 5 minutes of feverish dancing, Spears rose from a pedestal to the top of the stage amid explosions and fireworks. She wore a low-cut top and pants with a heart applique on her okole.

In two hours, Spears sang all or part of nearly a dozen songs, mostly from earlier albums, with a few from her yet to be released CD "Oops I Did It Again."

She also made seven costume changes, a couple with almost embarrassing results.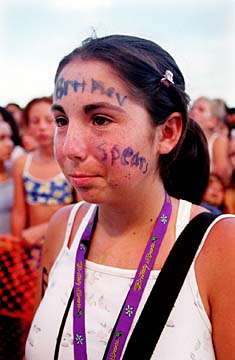 By George F. Lee, Star-Bulletin
Instead of carrying a sign, Keakealani Pestana, age 14,
of Kahala, showed her devotion by writing Britney
Spears' name on her face.
---
Early on, a zipped down halter top started to come undone until she was saved by a dancer. Hip-hugging, black skin-tight pants featured a zipper that slid through a bright red sequined heart on her buttocks but the zipper wouldn't stay put. Spears cut the song "And the Beat Goes On" short to flee back stage, using her hand to prevent most of the crowd from spying her black thong undies.

Spears repeatedly thanked her fans for their support, for attending the concert, and then talked about love and breaking hearts and being heartbroken.

"She's so real," said a teary-eyed Marsha Sakamoto, 14, of Manoa, "that's why so many people love her."

Stephanie Stoma, 7, of Mililani, in a black Britney Spears promotional T-shirt said she "loves" the pop singer because her "words are easy to understand and dance to.

"It's fun music," she said.






Click for online
calendars and events.
E-mail to Features Editor
---
---
© 2000 Honolulu Star-Bulletin
https://archives.starbulletin.com