[News]
[Business]
[Features]
[Sports]
[Editorial]
[Do It!]
[Info]
[Home]
[Nation/World]


OBITUARIES and
WEATHER in the
news section daily.




Calendars & Events







Most recent columns



To March 18, 1996
PAST WEEK:
| M | T | W | T | F | S |






Aloha Worldwide

Join SETI team

1998 Election

Legislature

SAT Scores

Pet Quarantine



Phone numbers, e-mail addresses, subscription info


E-mail notifier




---
Pearl Harbor: The Filming Begins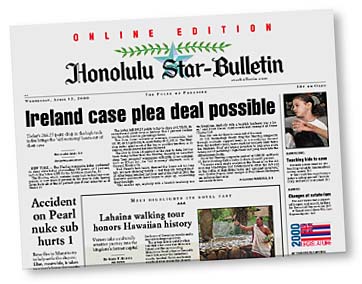 Sign up for our headlines by e-mail list

Advertisement - Click to support Starbulletin.com sponsor
---
Starbulletin.com publishes online editions Monday through Saturday.
Starbulletin.com publishes articles written by our staff and
selected articles of particular interest to our readers.
Entire contents of this Web site © copyright 2000 by
Honolulu Star-Bulletin. All rights reserved.

---
Featured on:




Plea deal possible in Ireland case; Nuke-sub accident injures 1 at Pearl; Lahaina tour honors history; Gay-rights bills die in House; 'No quality of life' for attack victim; Kauai vigil condemns domestic violence; Former USS Nimitz fueler linked to killings; Charities may take campaign funds; Prosecutors: Cop had side job while taking OT; Hepatitis C screening; Natatorium reopens soon; Cuts won't snuff tobacco stings; Tesoro fined for 1995 gas release; In the Military; Newswatch; Kokua Line by June Watanabe; Corky's Hawaii; Weather; Island Images; Obituaries; Whatever Happened To...




Sake supreme; Students gather national recipes; Kamaka in Hall of Fame; Stuffs; Hawaii by Dave Donnelly; Honolulu Lite by Charles Memminger; By Request by Betty Shimabukuro; Health Options by Joannie Dobbs & Alan Titchenal; Community Calenda; Morsels; Health; Museums




The biggest hurdle; White: NFL pick or free agent?; Rainbows expecting letters of intent; All-State Soccer Team; Sacred Hearts rocks Iolani; Punahou upsets Kamehameha; Hayashi has unfinished business; Bodytalk by Stephenie Karony; Sports Notebook; Prep Notebook; Hawaii Beat; Scoreboard; Sports Broadcasts; Bullboard




Experts: Chevron ruling unusual; Outrigger cuts ties in Polynesia; Business Briefs; Mortgage Rates; Hawaii Stocks; Live Stock Quotes; Closing Market Report; Dilbert!; Meetings




Tax breaks needed for sprinkler retrofit; Fiftieth anniversary of the Korean War; Capitol View By Richard Borreca; Letters to the Editor; Corky Editorial Cartoon




National and International News