[News]
[Business]
[Features]
[Sports]
[Editorial]
[Do It!]
[Info]
[Home]
[Nation/World]


OBITUARIES and
WEATHER in the
news section daily.




Calendars & Events







Most recent columns



To March 18, 1996
PAST WEEK:
| M | T | W | T | F | S |






Aloha Worldwide

Join SETI team

1998 Election

Legislature

SAT Scores

Pet Quarantine



Phone numbers, e-mail addresses, subscription info


E-mail notifier




---
Holo I Mua: Hawaiian Roundtable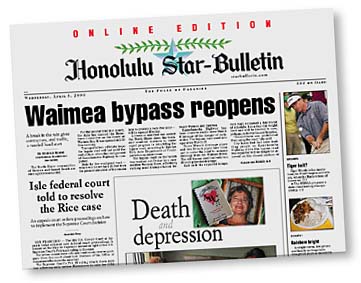 Sign up for our headlines by e-mail list

Advertisement - Click to support Starbulletin.com sponsor
---
Starbulletin.com publishes online editions Monday through Saturday.
Starbulletin.com publishes articles written by our staff and
selected articles of particular interest to our readers.
Entire contents of this Web site © copyright 2000 by
Honolulu Star-Bulletin. All rights reserved.

---
Featured on:




Waimea bypass reopens; Isle court to resolve Rice case; Death and depression; School's air-conditioning bill rises; Astronomy chief search down to two; Maui student wins national art contest; Kalihi health center expanding; Kauai FD wants more rescue money; State eyes Hemmeter Building; Isle Army National Guard restructuring; Newswatch; Kokua Line by June Watanabe; Corky's Hawaii; Weather; Island Images; Obituaries; Whatever Happened To...




Rainbow: Give plenty; quick service; Eating Las Vegas; Maury: A nation's best; Values on the Vine; 'Ohana Style' cookbook; Stuffs; Hawaii by Dave Donnelly; Honolulu Lite by Charles Memminger; By Request by Betty Shimabukuro; Less Fat, Still Ono by Barbara Burke & Joanie Dobbs; Community Calendar; Morsels; Health; Scholarships; Museums




Hawaii closer to changing of guard; June Jones and Bobby Dodd; Title IX progress outlined; Menehunes remain unbeaten; Bodytalk by Stephenie Karony; Sports Notebook; Prep Notebook; Hawaii Beat; Scoreboard; Sports Broadcasts; Bullboard




Hawaiian Tel's net up 33%; Auditor: State pensioners shortchanged; Business Briefs; Mortgage Rates




Sprinklers are needed in all high-rise buildings; State should expand gun restrictions; Capitol View By Richard Borreca; Letters to the Editor; Corky Editorial Cartoon




National and International News