[News]
[Business]
[Features]
[Sports]
[Editorial]
[Do It!]
[Info]
[Home]
[Nation/World]


OBITUARIES and
WEATHER in the
news section daily.




Calendars & Events







Most recent columns



To March 18, 1996
PAST WEEK:
| M | T | W | T | F | S |






Aloha Worldwide

Join SETI team

1998 Election

Legislature

SAT Scores

Pet Quarantine



Phone numbers, e-mail addresses, subscription info


E-mail notifier




---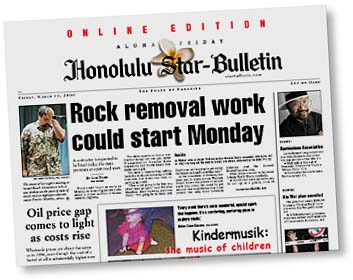 Sign up for our headlines by e-mail list

Advertisement - Click to support Starbulletin.com sponsor
---
Starbulletin.com publishes online editions Monday through Saturday.
Starbulletin.com publishes articles written by our staff and
selected articles of particular interest to our readers.
Entire contents of this Web site © copyright 2000 by
Honolulu Star-Bulletin. All rights reserved.

---
Featured on:



Rock removal could start Monday; Oil price gap apparent; Kindermusik; Ala Wai park; Smaller class sizes; Coco Palms to be torn down; Grand jury queries ex-Mirikitani aides; State tax revenues jump; Supplemental budget passed; Kauai committee named; Wearable life rafts; Neighborhood visions unveiled; Newswatch; Kokua Line by June Watanabe; Corky's Hawaii; Weather; Island Images; Obituaries




Larry Ramos: Fame by Association; HTY's serves satisfying 'Mixed Plate; 'Pacific Rainbow' tribute to Sony's Morita; Stuffs; Hawaii by Dave Donnelly; Honolulu Lite by Charles Memminger; Island Mele by John Berger; Dig This by Stephanie Kendrick; On Stage; Music; Night Clubs; Concerts; Gardening




'Bows drop Mustangs; Ching surprising starter; Scalabrini at home; Hula Bowl to prime time; Gomi leads at golf; Seasider season ends; Owls top Vulcans; Sea Warriors sweep; Sports Watch by Bill Kwon; Full Court Press by Paul Arnett; Hawaii Sumotori; Hawaii Beat; Scoreboard; Sports Broadcasts; Bullboard




Ex-Kodak Building gets sales push; ANA adding isle route; Molokai Ranch up for sale?; Atlantis buying Navatek I; Business Briefs; Air Fares; Hawaii Stocks; Live Stock Quotes; Closing Market Report; Dilbert!; Meetings




Highway blockage requires quick action; Letting Bosnian refugees go home; Changing Hawaii By Diane Yukihiro Chang; Letters to the Editor; Corky Editorial Cartoon




National and International News