---
Saturday, December 25, 1999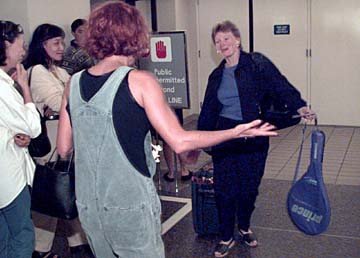 By Ken Sakamoto, Star-Bulletin
Kathleen Delvecchio, left, greets her friend Marlene
Courbet of Hong Kong, who flew in on Korean Air.
Courbet said, "They overreacted to the situation. It's
appalling. No toilet facilities. Absolutely disgraceful."
---
Dog's wrong call
shuts down airport


Though the luggage wasn't
a bomb, police stand by their
animal as caution prevails

By Pat Omandam and Jaymes K. Song
Star-Bulletin

A suspicious-looking orange piece of hard-sided luggage that arrived from Narita, Japan, triggered a chain of events that led to the three-hour closing of Honolulu Airport's international arrival terminal on a busy Christmas Eve day.

"This one just happened to be a bag, that when it went through the process, it stood out," said Joe Guyton, airlines security coordinator.

Airport officials said yesterday that an X-ray of the suspicious piece of luggage, which arrived on Northwest Airlines Flight 22 from Japan, showed a device inside with wires attached to it.

U.S. Customs officials alerted the airport's canine explosive detection unit, and officials thought they had a serious threat when Nina -- a 4-year-old Labrador retriever trained to detect bombs -- reacted to the suitcase at 7:40 a.m. yesterday.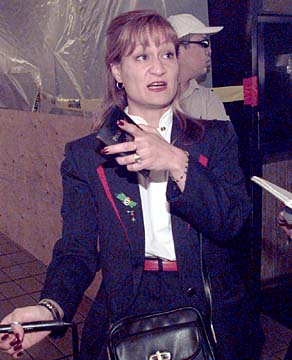 By Ken Sakamoto, Star-Bulletin
Northwest Airline flight attendant Hannah Bernard,
who was on Flight 22 from Narita, said passengers
were upset but mostly cooperative.
---
That prompted a call to the Honolulu Police Department's bomb squad, which took the luggage to a remote spot on the runway at 10:30 a.m. Once they did, the international terminal was re-opened.

The device turned out to be a battery charger.

Airports Administrator Jerry Matsuda said the security procedures in place at the airport overall worked "very, very well" in the incident even though it affected thousands of travelers and airport workers, as well as family and friends waiting for passengers from foreign flights to clear the customs area.

Honolulu Airport Manager Stanford N. Miyamoto said the suspicious suitcase belonged to a passenger on the flight from Narita. Miyamoto said the airport is one of just a few in the U.S that has a 100 percent certified canine unit, and personnel take it very seriously when one of the dogs "alerts" to a particular piece of luggage.

"We feel confident in the capabilities of the dog," Miyamoto said. "We need to take these things seriously. "

Miyamoto said the procedure for a bomb threat is to clear the area and remove any "danger element" from the situation.

Matsuda said he will work to improve communication with people who are stuck at the airport during a bomb threat.

"In this particular case, we have to remove people and evacuate the building where this suspected bomb may be. It's a long process. We have to be careful in handling the situation. And we just want to make sure that everyone is taken care of in a proper way," he said.

Nonetheless, those procedures inconvenienced many at the airport.

Passengers understood the need for the precautions, especially with the recent U.S. government warnings about heightened awareness of terroristic attacks in the U.S. during New Year's Eve.

"They were upset, but they were mostly cooperative because they didn't want anyone to get hurt. And now it's a very volatile time, I guess," said passenger Hannah Bernard.
E-mail to City Desk
---
---
© 1999 Honolulu Star-Bulletin
https://archives.starbulletin.com