[News]
[Sports]
[Editorial]
[Info]
[Do It Electric!]
[Home]


OBITUARIES and
WEATHER in the
news section daily.






Most recent columns




To March 18, 1996
PAST WEEK:
| M | T | W | T | F | S |








Aloha Worldwide

1998 Election

Legislature

'99 SAT Scores


[No-Frames]





Phone numbers, e-mail addresses, subscription info



E-mail notifier



---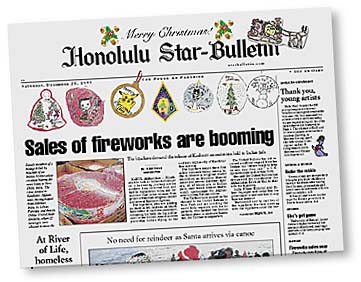 Sign up for our e-mail news notifier


Advertisement - Click to support Starbulletin.com sponsor


Celebration 2000 - Your guide to the party of the century

---
Starbulletin.com publishes online editions Monday through Saturday.
Starbulletin.com publishes articles written by our staff and
selected articles of particular interest to our readers.
Entire contents of this Web site © copyright 1999 by
Honolulu Star-Bulletin. All rights reserved.

---
Featured on:




Fireworks sales are booming; Where homeless have names; Many await 1999's last baby; Dog's error shuts air terminal; Last-minute shoppers merry; Nurses' talks down to last hospital; SPECIAL -- Knowledge of the Future: WCC 'opened minds,' Who counts with 7th-graders, Science turns into art, Tracking millennium's last days; UH Program helping world peace; Torture victim speaks; Two views of Y2K; Newswatch; Wood Craft; Kokua Line; Island Images; Obituaries; Weather; Religion Calendar






Calendars & Events




Hawaii wins Oahu Bowl -- greatest turnaround in history; Kylie Galloway: She's got game; Sports Watch; Water Ways; Hawaii Beat; Scoreboard; Hawaii Sports Broadcasts; Sports Bullboard




This one's special; Easing Philippine retail restrictions; Sexual harassment; To Our Readers; Volcanic Ash; View Point; Other Views; Letters to the Editor