---
Monday, December 13, 1999



H O N O L U L U _ M A R A T H O N
---



No fun run for
Lyau, Schnack


The wet and windy weather
made an already hard race more
difficult for Hawaii's
top finishers

By Aaron Custodio
Special to the Star-Bulletin

Hawaii's top finisher had more than terrible weather conditions and stiff competition on his mind during the 27th Honolulu Marathon yesterday.

Jonathan Lyau, the men's Kama'aina winner, was running for a cure for Hawaii's "Team in Training," which was raising money for the Leukemia Society of America.

"I got involved as a coach (for Team in Training)," said Lyau, 35. "A lot of people might not know that it is almost a curable disease but we just need more money for research."

About 3,000 runners came out and wore purple jerseys in support of L.S.A. "Team in Training" raised about $100,000 for research.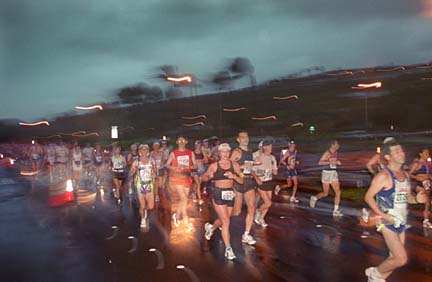 By Dennis Oda, Star-Bulletin
21,141 entrants completed yesterday's race. Racers had to
contend with windy, rainy conditions in pre-dawn Honolulu.
---
Lyau finished the 26.2-mile run in 2:40:45, ahead of Hawaii's top resident winner, John Smith, 38, who came in at 2:41:41.

The Kama'aina Award goes to the first male and female Hawaii-born finishers who are currently residing in Hawaii. The Resident Award is given to the top individual who has been a resident for at least seven years.

In women's competition, Cynthia Schnack won her third-straight Kama'aina title and seventh overall ('92-'95 and '97-'99) edging Heather Jorris by 47 seconds. Schnack finished in 3:01:00 while Jorris came in at 3:01:47.

By Dennis Oda, Star-Bulletin
Dana Eno, left,with her friend Veronica Avila are
overjoyed at the finish. They are both from Santa Cruz,
Calif. and belongto the 2,400-runner Leukemia
Society of America team.
---
It was Lyau's seventh consecutive Kama'aina Award. As for Smith, it was his fifth Resident Award and his first since '97.

"The headwinds were out on Kalaniana'ole Highway," Lyau said. "And I hate running in the rain, so I was kind of depressed.

"It was tough because I didn't have anyone to run with so I fought off the headwinds by myself -- I couldn't draft."

The rain and windy conditions made the race difficult.

"It's so tough because the wind made me sort of die out," Jorris said.

"It was really wet out there and that made it real uncomfortable."

Jorris passed Schnack after the fourth mile. Schnack finally overtook Jorris at about the 24-mile mark.

"(Schnack) didn't die out like me at the end," Jorris said. "She came on real strong and I just couldn't hang with her."

The Kama'aina and Resident Award winners were from Honolulu.

---



E-mail to Sports Editor
---
---
© 1999 Honolulu Star-Bulletin
https://archives.starbulletin.com