---
Monday, December 13, 1999



H O N O L U L U _ M A R A T H O N
---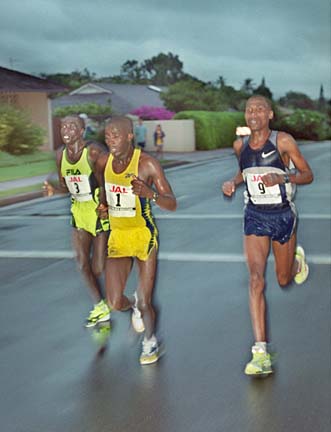 By Dennis Oda, Star-Bulletin
Erick Kimaiyo, Mbarak Hussein and Jimmy Muindi , left to right,
battle for the lead as they sprint up Diamond Head toward the
Honolulu Marathon finish. Muindi won the race.
---
Muindi's final
sprint finishes
fellow Kenyan


The 27-year-old outraces a
couple of familiar faces for
his first marathon win

By Pat Bigold
Star-Bulletin

For a while, it looked like "deja vu all over again" in the 27th Honolulu Marathon.

The 26.2-mile race was coming down to the same three Kenyan men for the second year in a row on the backside of Diamond Head.

That's rare for any marathon, but especially rare in Honolulu on a day when the humidity soared, the rain poured and the roads were slick.

But even with the same cast of characters, the outcome was different.




Men

1. Jimmy Muindi, Kenya, 2:16:45
2. Erick Kimaiyo, Kenya, 2:16:47
3. Mbarak Hussein, Kenya, 2:16:55
4. Douglas Wakiihuri, Kenya, 2:18:59
5. Belay Welasha, Ethiopia, 2:19:25

Women

1. Irina Bogacheva, Kyrgyzstan, 2:32:36
2. Svetlana Zakharova, Russia, 2:34:28
3. Derartu Tulu, Ethiopia, 2:40:51
4. Mari Tanigawa, Japan, 2:41:54
5. Eriko Asai, Japan, 2:46:47

Wheelchair

1. Krige Schabort, Cedartown Ga., 1:37:30
2. Jun Hiromichi, Japan, 1:39:41
3. Ben Lucas, New Zealand, 1:39:42
4. Saul Mendoza, Warm Springs Ga., 1:48:07
5. Jacob Heilveil, Bothell Wash., 1:49:27

See also http://www.honolulumarathon.org for complete results.




Jimmy Muindi sprinted past 1998 champion Mbarak Hussein in the last 20 meters inside Kapiolani Park to win the first marathon of his five-year career in 2 hours, 16 minutes, 45 seconds.

It was the 27-year-old Kenyan's sixth attempt at the Honolulu Marathon. He had finished fourth here in 1994, third in 1995, second in 1996 and 1997, and third in 1998.

"I am very happy," said Muindi, who won $15,000 for the victory. "It's a new start for me."

Irina Bogacheva of Kyrgyzstan retained her women's title with a 2:32:36 finish, a surprisingly fast time under the circumstances.

There were 21,141 official finishers.

"This was such an essential win for Jimmy," said Muindi's manager, Zane Branson. "If you're going to win for the first time, Honolulu is by far the best race to win because it teaches a lot of lessons. Look at the people who went on to do great things after winning here."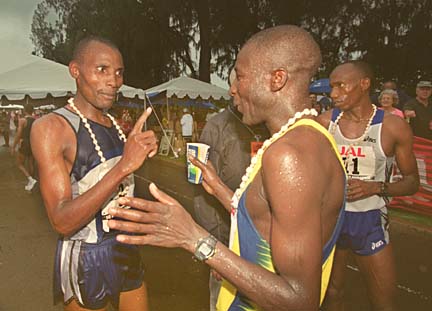 By Dennis Oda, Star-Bulletin
After the finish, winner Jimmy Muindi, right, discusses the
race with second-place winner Erick Kimaiyo. Douglas Wakihuri,
who finished fourth, is behind them to the right.
---
Branson referred to 1995 winner Josiah Thungwane (South Africa), who took the gold in Atlanta, 1993 winner Bong Ju Lee (South Korea), who took silver in Atlanta, and two Honolulu veterans, Kenyans Ibrahim Hussein and Cosma Ndeti, who went to win at Boston three times.

"The time was not impressive today, but people know that to win here is not easy," Branson said.

Erick Kimaiyo, the winner in 1996 and 1997, also bolted past Mbarak Hussein to finish second in 2:16:47, while Hussein came in third, eight seconds later.

The three set a 5:13-mile pace.

Muindi said he liked the conditions better this year.

"It's rainy and it's cool. Oh, I really like it," said Muindi. "But it was very slow going out and it was windy."

The designated "rabbit," Michigan steeplechaser John Mortimer, was assigned to set a 5-minute pace for the first 10 miles. Mortimer went 11 and then climbed on to the press truck.

But the pack didn't take his pace and let him assume such a huge lead that he wondered what was happening.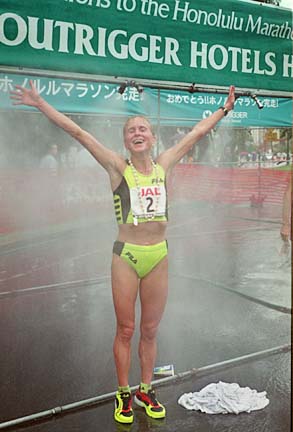 By Dennis Oda, Star-Bulletin
Women's winner Irina Bogacheva
celebrates with a refreshing shower.
---
Passing the Hilton Hawaiian Village, Mortimer ran alongside the pace vehicle and yelled to Honolulu Marathon Association president Jim Barahal, "What the hell are they doing?"

Barahal responded, "Just keep doing what you're doing."

Barahal said he thought that the weather was so bad before the race at 5 a.m. that the runners decided to be conservative.

"They ran 1:09:30 for the half marathon and then they ran faster on the way in, but there's only so much you can do in these conditions," he said.

"I love running with Jimmy," said a gracious Hussein, whose victory last year was his first in a marathon. "When it (the pace) slows down, he will pick it up. He's not scared. I lost but I'm very happy for him."

Bogacheva was visibly disappointed that stomach problems she suffered on Diamond Head caused her to miss breaking the course record by 23 seconds.

The race record of 2:31:01 was set by Carla Beurskens in 1986 but Beurskens established a slower record when the course was changed in 1992.

"I run by myself after first mile," said Bogacheva, who held the lead from that point. "No one to help me."

Greg Meyer, the 1983 Boston Marathon winner who broadcast the women's race, said Bogacheva's complaints seemed well-founded because not only did she lead the women almost all the way, but she could not seem to even find a man on the course who would help pace her. "She made her own race," Meyer said.

Meyer said that Russian Svetlana Zakharova, the 1997 winner, moved up to Bogacheva's shoulder at 13 or 14 miles but the Kyrgyzstani woman gradually moved farther and farther ahead.

Bogacheva had the fastest winning time here since 1993, when Beurskens clocked 2:32:20.

Zakharova finished second in 2:34:28, while 1992 Olympic 10,000-meter gold medalist Deratu Tulu was third in 2:40:51.

In the men's race, Hussein had Kimaiyo on his right shoulder and Muindi to his left, half a stride off the lead, coming over the top of Diamond Head.

"I tried to control the pace," said Hussein. "I looked back and Jimmy looked very good. Erick was laboring a little."

But Kimaiyo jumped into the lead coming down Diamond Head, with Hussein inches behind and Muindi in third.

The runners hit 25 miles in 2:11:00 with Hussein back in a slight lead and Kimaiyo and Muindi nearly pulling even.

All three entered the park at about even pace.

Muindi said he thought Hussein and Kimaiyo began their kick too early in the stretch. "I was just waiting," he said.

Muindi's 2:16:45 was the slowest winning time since 1995, when Thungwane won in 2:16:08.

---



E-mail to Sports Editor
---
---
© 1999 Honolulu Star-Bulletin
https://archives.starbulletin.com