[News]
[Business]
[Features]
[Sports]
[Editorial]
[Do It!]
[Info]
[Classified Ads]
[Home]


OBITUARIES and
WEATHER in the
news section daily.




Calendars & Events







Most recent columns



To March 18, 1996
PAST WEEK:
| M | T | W | T | F | S |






Aloha Worldwide

Join SETI team

1998 Election

Legislature

SAT Scores

Pet Quarantine







Phone numbers, e-mail addresses, subscription info



E-mail notifier



---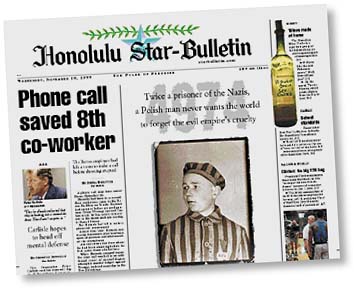 Sign up for our e-mail news notifier



Celebration 2000 - Your guide to the party of the century

---
Starbulletin.com publishes online editions Monday through Saturday.
Starbulletin.com publishes articles written by our staff and
selected articles of particular interest to our readers.
Entire contents of this Web site © copyright 1999 by
Honolulu Star-Bulletin. All rights reserved.

---
Featured on:




XEROX SHOOTINGS; Phone call saved 8th worker; Prosecutor opposes mental defense; Mourners gather for Mark; Other memorials set; 4974 - Polish Auschwitz survivor; Berlin Wall commemorated; Kapiolani trees felled; Teacher union: Standards vague; School board ponders force; Hawaii Stevedores cited; Army murder trial; Shinseki: Army not ready; Manila renews Marcos efforts; Pot advocate pleads innocent; Newswatch; Kokua Line; Corky's Hawaii; Weather; Island Images; Obituaries; Whatever Happened To...




Local vintages; DeLima song stars Bulletin; HIFF: 'Tempting Heart'; Hawaii's Kitchen; Stuffs; Hawaii; Honolulu Lite; By Request; Health Options



Riley Wallace: Screen & Roll 'em; Football: 'Dogs bone up on 'Bows; Wahine Volleyball: Asst. coach Kang; ILH: Warriors ready for Saints; Soccer outlook optimistic; An Honest Day's Word; Bodytalk; Hawaii Sumotori; Sports Notebook; Prep Notebook; Hawaii Beat; Scoreboard; Hawaii Sports Broadcasts




Carbon credits' isle potential extolled; Tax haul down in October; Business Briefs; Hawaii Stocks; Closing Market Report; Mortgage Rates




Mexico's ruling party holds its first primary; Health-care decisions; Capitol View; Corky; Letters to the Editor