[News]
[Business]
[Features]
[Sports]
[Editorial]
[Do It!]
[Info]
[Classified Ads]
[Home]


OBITUARIES and
WEATHER in the
news section daily.







Most recent columns



To March 18, 1996
PAST WEEK:
| M | T | W | T | F | S |






Aloha Worldwide

Join SETI team

1998 Election

Legislature

SAT Scores

Pet Quarantine







Phone numbers, e-mail addresses, subscription info



E-mail notifier



---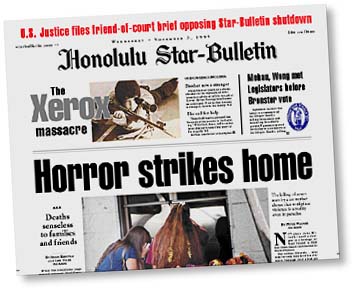 Sign up for our e-mail news notifier

---
Starbulletin.com publishes online editions Monday through Saturday.
Starbulletin.com publishes articles written by our staff and
selected articles of particular interest to our readers.
Entire contents of this Web site © copyright 1999 by
Honolulu Star-Bulletin. All rights reserved.

---
Featured on:




XEROX SHOOTINGS: Horror strikes home; Suspect denied permits; Deaths senseless to family, friends; Xerox CEO arriving; Anatomy of a tragedy; Anatomy - Timeline; Anatomy - 911 call; Calls for security; Workers urged to get help; Staff, police keep kids calm;
PLUS: Mehau, Wong met Legislators on Bronster; $1 million UH donor critical; Job security key to privatization; Maui economic summit; Newswatch; Kokua Line; Corky's Hawaii; Weather; Island Images; Obituaries; Whatever Happened To...




Calendars & Events




Fridge fright!; Tween-age comedy showcases isle talent; Hawaii's Kitchen; Stuffs; Hawaii; Honolulu Lite; By Request; Good For You; Morsels; Health




Spartans happy to be home; '79 Wahine: Mitchell's choice; NCAA berth within reach for soccer Wahine; Bodytalk; Sports Notebook; Hawaii Beat; Scoreboard; Hawaii Sports Broadcasts



Dealer says Chevron inflated gas prices; Home sales up for 28th straight month; Business Briefs; Hawaii Stocks; Closing Market Report; Mortgage Rates



Hawaii stunned by worst multiple killing; Return to Oslo; Capitol View; Corky; Letters to the Editor