---
Monday, August 9, 1999
FBI: Shirt found
near Ireland holds
her blood


Prosecutors seek to place
murder suspect Pauline at the remote
trail where the woman
was dumped

By Dana Williams
Star-Bulletin

HILO -- An FBI agent testified yesterday that a large T-shirt found near Dana Ireland in 1991 was stained with Ireland's blood.

Other witnesses have testified that the light blue shirt belonged to Frank Pauline Jr., the man on trial for Ireland's murder.

If jurors accept that the shirt belonged to Pauline, and that it was found stained with Ireland's blood, prosecutors might successfully link the defendant to the crime scene.

Yesterday's testimony came as prosecutors were preparing to wrap up their case against Pauline, who is charged with murder, sexual assault and kidnapping in the attack on Ireland.

Ireland was riding a bicycle to her parents' Vacationland rental home on Christmas Eve 1991, when she was struck by a car, abducted, beaten, raped and abandoned near a remote fishing trail. She died at Hilo Hospital just as Christmas Day was beginning.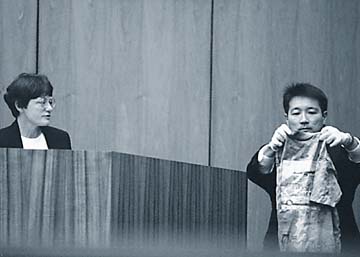 Associated Press
FBI special agent Audrey Lynch, a forensic serologist, or one
who studies blood, testifies that a bloodstained blue T-shirt, held
by Prosecutor Lincoln Ashida, contains the blood of Dana Ireland.
Other witnesses have testified that suspect Frank Pauline Jr.
owned the same type of shirt.
---
Investigators found the T-shirt near the fishing trail, and in January 1992 they sent it to the FBI lab in Washington, D.C., for analysis.

Yesterday, deputy prosecuting attorney Lincoln Ashida wore protective gloves as he held the heavily stained shirt in front of FBI special agent Audrey Lynch.

Lynch had conducted tests on the shirt shortly after the crime, and through DNA matching, linked the blood on the shirt to Ireland.

Lynch said other items found at the scene were also stained with Ireland's blood. A piece of gauze that had been used to try to stop her bleeding, a child-size black shoe, Ireland's socks and underpants all had blood, Lynch said.

Lynch said she also examined swabs taken from Ireland's body. She said semen was found on some of the swabs, as well as on Ireland's underpants.

But Lynch said the DNA sample from the semen was "insufficient or degraded," and investigators were unable to use it for identification purposes.

Lynch was to return to the witness stand when the trial resumes today.

Also yesterday, defense attorney Clifford Hunt questioned accident reconstructionist Kenneth Baker, who said that a Volkswagen bug was involved in the crash with Ireland. The defense has argued that either a pickup truck or a van struck Ireland.

The front bumper from a Volks-wagen bug in police custody was carried into the courtroom yesterday. Baker pointed out scratches on the right side of the bumper, and said those scratches could have been caused by a crash with Ireland's bicycle.

---



E-mail to City Desk
---
---
© 1999 Honolulu Star-Bulletin
https://archives.starbulletin.com