---
Thursday, July 29, 1999
Witness identifies
wrong man


Pauline's appearance has
changed a lot since his alleged
|boasting in 1991 about the
rape and killing

By Rod Thompson
Star-Bulletin

HILO -- The testimony against Frank Pauline Jr. was stunning.

A neighbor named William Chung testified yesterday that Pauline, the day after Ireland was attacked, spoke in almost boastful words about killing her because she refused to have sex with Pauline and others.

Then Chung stumbled. Asked to identify Pauline, he pointed out a state prison guard instead.

Pauline's appearance has changed substantially since 1991.
AFTER: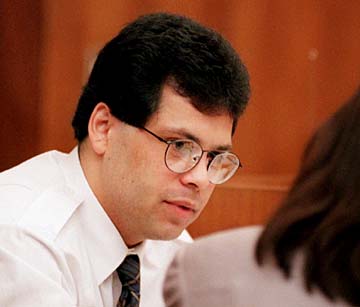 Courtroom pool photo
Frank Pauline Jr. as he appears in court.
---
BEFORE: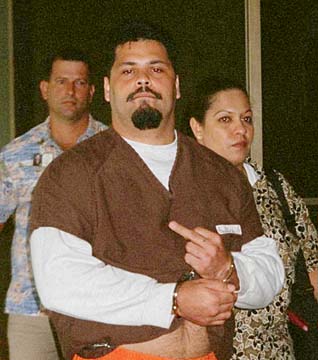 By Rod Thompson, Star-Bulletin
Frank Pauline Jr. as he appeared in July, 1997.
---
He has lost weight, shaved his goatee, and started wearing glasses, dress shirts and ties.

But the impression was that Chung didn't know the man he was identifying.

Defense attorney Clifford Hunt didn't bother to ask Chung any questions.

Chung was dismissed and walked out.

In his testimony, Chung said Pauline described being with some friends in a car. He didn't name the friends or the place.

The car stopped, and someone among them told Ireland several times that he wanted to have sex with her, Chung said Pauline told him. Ireland said no several times.

They followed her, then "whacked" her with a baseball bat and "stomped her brains out."

The testimony clashed with previous testimony, which has said Ireland was hit -- if by anything -- with a tire iron, not a bat.

Chung made no mention of her being run over by a car, unlike numerous other witnesses.

When asked to identify Pauline, Chung pointed to the 40ish guard and mentioned the man's fringe of gray hair.

Pauline is 26, with jet black hair.

It appeared the confusion might be cleared up when Chung's brother Andre was called to the witness stand a while later.

Andre Chung immediately identified Pauline correctly. The prosecution asked him nothing else.

On cross-examination, Hunt asked Andre Chung if Deputy Prosecutor Charlene Iboshi coached him as to whom he should identify.

He said she asked him only a general question about whether he could identify Pauline.

Hunt asked if Andre Chung talked to his brother William after William's testimony. Andre said he did.

"No further questions," Hunt said.

---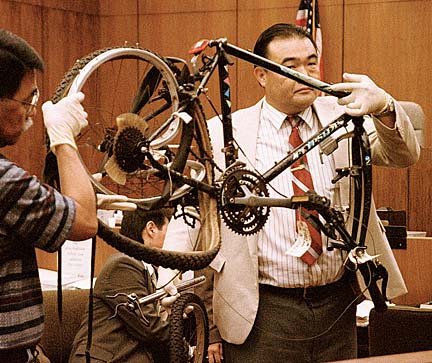 Courtroom pool photo
Sandy Ireland's crushed bicycle--the one her
sister Dana was last seen riding.
---
Ireland struggled
against aid efforts


In pain, she flailed her arms
about and was hard to settle,
a paramedic says

By Rod Thompson
Star-Bulletin

HILO -- Dana Ireland came out of a Hilo Hospital operating room close to death, nursing supervisor Mary Sakanashi testified.

Even as Ireland started to slip away and the hospital staff applied cardiopulmonary resuscitation, they took swabs from her body which showed the presence of sperm from a sexual assault, testimony yesterday indicated.

The findings are expected to lead to later testimony on DNA, crucial because DNA results were negative for all suspects in the case, including Frank Pauline Jr., 26, currently being tried for Ireland's murder.

Sakanashi saw Ireland in the last moments of her life.

"She had come from the operating room basically in a moribund situation -- close to death," Sakanashi said.

Dr. Ruben Casile took three swabs from Ireland's vagina, she said. Sakanashi prepared a "wet" slide, a "dry" slide, and put the third swab in a test tube to grow a culture later. Ireland died shortly afterward, Sakanashi said.

Yesterday's testimony began with Fire Department paramedic John Kahili telling how an ambulance in Keaau went to where Ireland lay injured in Waawaa. It took 40 minutes to arrive, he said.

"She was conscious but she wasn't very coherent," he said. "She was confused, combative. She was very hard to settle ... flailing her hands, trying to sit up."

She had a U-shaped gash on her head that revealed her skull, he said.

But he was unable to remember the exact shape, a point that could be significant for jurors trying to decide if the gash was caused by a blow from a tire iron wielded by Pauline, as prosecutors say, or by a piece of metal from the car that struck her, as the defense says.

Nurse Reggie Agliam testified about Ireland's arrival at the hospital emergency room. He said her blood pressure was so low he could barely measure it.

Ireland was taken to the operating room. Agliam and Sakanashi testified she was given four units of blood. The amount is equal to about a half-gallon.

After the vaginal swabs were taken and the two slides were made, two of the swabs were thrown away, Sakanashi said. The third was placed in the test tube.

Sakanashi called police who signed evidence papers, and the slides and test tube were then taken to the hospital laboratory in a locked box, she said.

Former hospital technologist Warren Sako said he found sperm on the slides.

The "wet" slide would have been discarded soon after examination, he said. The "dry" slide, which he called a stained slide, would be kept for a week and then thrown away, he said.

Later, Jim Ingham, husband of Ireland's sister, Sandy, testified about coming on the scene of the crushed bicycle on a street near their home. Later at the hospital, he saw Ireland as an ambulance brought her in.

"She was in a great deal of pain," he said.

She had been strapped down but was struggling against the straps, he said.

---



E-mail to City Desk
---
---
© 1999 Honolulu Star-Bulletin
https://archives.starbulletin.com