[News]
[Business]
[Features]
[Sports]
[Editorial]
[Do It!]
[Info]
[Stylebook]
[Classified Ads]
[Home]


OBITUARIES and
WEATHER in the
news section daily.




Most recent columns



To March 18, 1996
PAST WEEK:
| M | T | W | T | F | S |






Aloha Worldwide

Join SETI team

1998 Election

Legislature

SAT Scores

Stylebook







Phone numbers, e-mail addresses, subscription info

JULY 15 BREAKING NEWS: BATALONA CAPTURED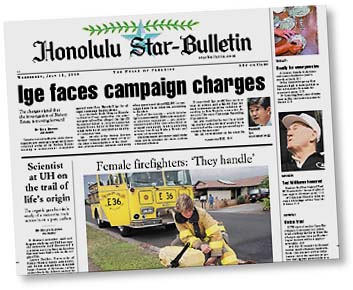 ---
Starbulletin.com publishes online editions Monday through Saturday.
Starbulletin.com publishes articles written by our staff and
selected articles of particular interest to our readers.
Entire contents of this Web site © copyright 1999 by
Honolulu Star-Bulletin. All rights reserved.

---
Featured on:




Sen. Ige arrested; UPW trial; Wahine firefighters; Bank suspect; UH scientist studies origins; UH team's wild ride; UH regent's disclosure; Court janitor killed; Joy Modafferi held; Moviegoers dislike restrictions; Seed corn research; Sacred Falls trespassing; Coconut Grove traffic; Kokua Line; Whatever Happened To...






Hurricane, Y2K - Canned and ready; Stoned fruit good for grill; Stuffs; Hawaii; Honolulu Lite; By Request; Good For You




What's happening in Honolulu?
UpdatedThursdays




Kaipo McGuire's hope is special teams; Akebono leads at 10-1; An Honest Day's Word; Bodytalk; Hawaii Beat; Scoreboard



Selling in tough economy; BancWest earnings; Real estate bargains; Pacific Century workers buyout; Mainland rice glut; Hawaii Stocks; Mortgage Rates



State bar association should evaluate judges; High-tech let-down; Governor and Senate; Capitol View; Letters to the Editor