---
Monday, June 21, 1999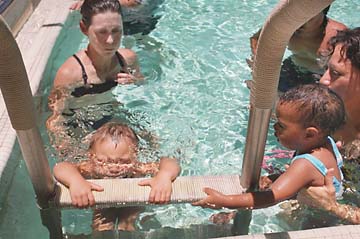 By Kathryn Bender, Star-Bulletin
Today marks the beginning of the first day of summer and parents
are preparing their infants and toddlers on how to be safe in the water.
2-year-old Bailey Monick tries a faceful of water for mom, Pat,
just behind, and also to show off to Puaka'ilima Thomas, 20 months.
---
Summer fun starts
with water safety


Water adjustment classes for
tots and parents together prepare
the way for learning to swim

By Leila Fujimori
Star-Bulletin

Twenty-month-old Puaka'ilima Thompson showed off her swim strokes to dad while mom Loretta held her during class in the YWCA Laniakea pool.

"She's always been a water baby," said Elijah Thomas, her father. "At the end of the class she might scream because she won't want to get out."

Pua's classmate, Keli'i Harbert, 3, was having fun jumping into the outdoor pool to mom Maria's waiting arms and playing a whale by holding his breath under water, then shooting above the surface -- with mom's help, of course.

Keli'i and Pua are among the many Hawaii youngsters, some as young as 6 months old, taking the first steps in learning to swim through parent-tot classes. Students learn to blow bubbles, put their faces in the water, float, kick, but do not swim under water.

These water adjustment classes help them get used to the water and swim instruction while their parents are with them. So when these youngsters take swim lessons without their moms and dads, they are better adjusted than their uninitiated classmates, instructors say.

"If you bring kids in at 3 years of age, it's the first time they're away from their parents and they're going to start crying," said Keawe Peters, a swim instructor at the YWCA. But the parent-tot class graduates never cry.

Fear is a common obstacle in teaching a child to swim.

"I've worked with some kids who are just rigid," said Debbie Bickell, a swimming teacher for 25 years.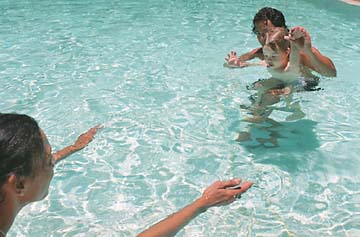 By Kathryn Bender, Star-Bulletin
Kalani Matsuura works with 3-year-old Keli'i Harbert, in
getting him to swim to his mother, Maria.
---
Bickell, Nuuanu YMCA's youth department director, suspects parents may instill fear in their children by telling them: " "Don't go near the water because you can't swim.' Or "Stay away from the deep end.' "

So she recommends parents start their kids from ages 6 months to 3 years before such fears set in. The YWCA starts babies from 9 months.

But an emergency pediatrician Linda Rosen warns that swimming classes for children under 3 may be harmful if parents believe their infants or toddlers know how to swim.

"You don't want to get a false sense of security," emphasized Rosen of the Kapiolani Medical Center for Women and Children.

She said many believe babies can swim because they bob to the surface due to their high body fat. Rosen referred to a "60 Minutes" program in which California babies were shown swimming under water like fish. Some gulped large amounts of water and suffered seizures from water intoxication.

The American Red Cross discourages swim classes that allow children under 3 to be submerged because it might cause ear infections, said Mary Meinel of the Hawaii chapter.

Though experts may disagree on whether children should start learn to swim at 6 months or 6 years, most would agree that drownings can be prevented if children learn to swim.

Ralph Goto, city ocean safety administrator, estimates only about half of Hawaii's youth know how to swim. Goto is involved with the Swim Coalition, a group lobbying the state Legislature to provide swim lessons for every child in Hawaii.

Goto said the coalition of public and private agencies is pretesting children at swim classes this summer to find out their swim skills.

Drowning is the second leading cause of deaths by unintentional injuries among young people. Sixty-one percent of drowning victims of those 14 and younger were below age 5 from 1984 to 1997 in Hawaii, said Dan Galanis of the state Department of Health.

But not to be overlooked are near-drownings, Galanis added. There were 516 children, 14 and younger, rescued by Oahu lifeguards from 1996 to 1997.




Water safety guidelines

Here are some guidelines from the American Academy of Pediatrics:

Basic rules

Do not let your child swim alone.

Forbid your child from diving into water unless OK'd by an adult who knows the depth of the water.

Do not let your child use blow-up toys or mattresses in water above his or her waist.

Water wings and other blow-up swimming aids should not be used in place of life vests. They can give a false sense of security and can be dangerous if they deflate suddenly or if your child slips out of them.

Never leave a small child alone in or near a pool.

Keep toys away from the pool so that your child is not tempted to reach for them.

Empty blow-up pools and put them away after each use.

For pool owners

Have a fence around pool or spa that:

Completely separates the pool from the house and play area of the yard.

Has four sides, not including the wall of the house.

Stands at least 48 inches tall and does not have more than 4 inches between the slats (in chain-link fences, the diamond spaces should not be bigger than 1-1/2 inches).

Has a gate that opens away from the pool so that, if unlatched, it closes when a toddler leans against it.

Has a self-closing and self-latching gate that is in good working order. Latches should be higher than a child can reach.



E-mail to City Desk
---
---
© 1999 Honolulu Star-Bulletin
https://archives.starbulletin.com