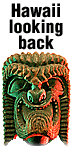 [News]
[Business]
[Features]
[Sports]
[Editorial]
[Do It!]
[Info]
[Stylebook]
[Classified Ads]
[Home]


OBITUARIES and
WEATHER in the
news section daily.




Most recent columns



To March 18, 1996
PAST WEEK:
| M | T | W | T | F | S |






Aloha Worldwide

1998 Election

SAT Scores

Stylebook





Phone numbers, e-mail addresses, subscription info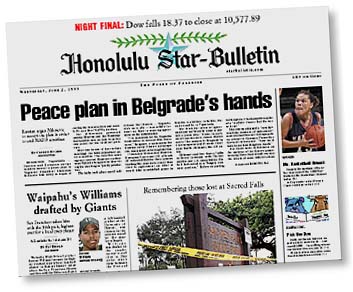 1999 Legislature Online Directory
---
This site is designed for use with a frames-capable browser
like Netscape Navigator or Microsoft Internet Explorer and a larger screen.
If you use a different browser or have a smaller screen, you'll probably be happier
with our No-Frames Directory. The content is the same.
Download: [Netscape] [Microsoft]

---
Starbulletin.com publishes online editions Monday through Saturday.
Starbulletin.com publishes articles written by our staff and
selected articles of particular interest to our readers.
Entire contents of this Web site © copyright 1999 by
Honolulu Star-Bulletin. All rights reserved.

---
Featured on:




Giants draft Williams; Ireland confessions; Jackpot winner; Sacred Falls; Trustees meet groups; Judge to Appeals; Koko Head; Makali'i; Ewa Villages; Stolen car; Weed & Seed; Lahaina fires; Kokua Line; Corky's Hawaii; Island Images; Whatever Happened To...






Sprout yourself some energy; Hawaii's Kitchen; Stuffs; Hawaii; Honolulu Lite; By Request; Simply Ono




What's happening in Honolulu?
UpdatedThursdays




Williams anxious to go; Ms. Basketball Hawaii; Coach of the Year; An Honest Day's Word; Bodytalk; Sports Notebook; Prep Notebook; Hawaii Beat; Scoreboard



Ex-HTA chief a dental CEO; Harbor projects funded; Outrigger renaming hotels; Business Briefs; Executive Profile; Hawaii Stocks; Mortgage Rates



Entertainment media shouldn't be regulated; Computer hackers must be stopped; Capitol View; Corky; Letters to the Editor