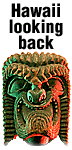 [News]
[Business]
[Features]
[Sports]
[Editorial]
[Do It!]
[Info]
[Stylebook]
[Classified Ads]
[Home]


OBITUARIES and
WEATHER in the
news section daily.






To March 18, 1996
PAST WEEK:
| M | T | W | T | F | S |






Aloha Worldwide

1998 Election

SAT Scores

Stylebook



Phone numbers, e-mail addresses, subscription info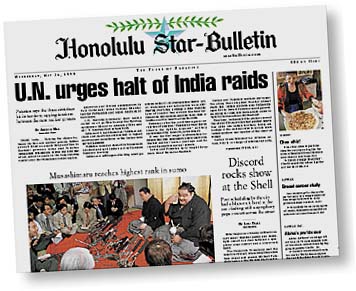 1999 Legislature Online Directory
---
This site is designed for use with a frames-capable browser
like Netscape Navigator or Microsoft Internet Explorer and a larger screen.
If you use a different browser or have a smaller screen, you'll probably be happier
with our No-Frames Directory. The content is the same.
Download: [Netscape] [Microsoft]

---
Starbulletin.com publishes online editions Monday through Saturday.
Starbulletin.com publishes articles written by our staff and
selected articles of particular interest to our readers.
Entire contents of this Web site © copyright 1999 by
Honolulu Star-Bulletin. All rights reserved.

---
Featured on:




Poll - Bronster ouster political; Residents assail lawmakers; Estate defends condo; Schweitzers plead innocent; Shell show discord; Judges fare well; Stroke victim rebounds; Housing, bus fares, wastewater; Asteroid contingency; Cancer study; Kalihi school; Pearl Harbor; Rescue hampered; Scheblein 'unfit'; Kokua Line; Corky's Hawaii; Whatever Happened...






Kim Chee-whiz, Hawaii's Kitchen; Stuffs; Hawaii; Honolulu Lite; By Request; Health Options




What's happening in Honolulu?
UpdatedThursdays




Rex Rundgren no 'Runt'; Musashimaru yokozuna; Base'Bows gain respect; Canoe race to roots; St. Louis reinstates Torres; An Honest Day's Word; Bodytalk; Hawaii Beat; Prep Notebook; Scoreboard



Aloha Air net ascends; 'Famous' Amos a Keebler elf; Millennium events planned; Debt-doging Kailua tenant; Business Briefs; Executive Profile; Hawaii Stocks; Mortgage Rates



Chinese espionage stands fully revealed; Sumo champ Musashimaru; Capitol View; Corky; Letters to the Editor