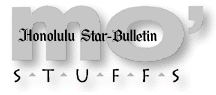 ---
Monday, May 17, 1999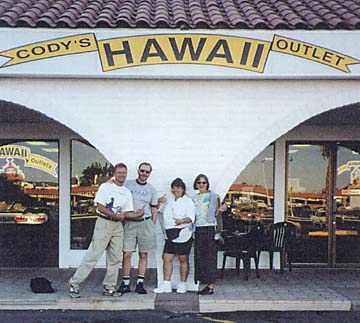 The Search for Signs of
Hawaiian Life in the Universe
Viva Hawaii! Bishop Museum archivist DeSoto Brown, a
collector of all things Hawaiian, snapped a group of friends
outside this Hawaiian-products store in Las Vegas. "It was
next to the Liberace Museum, which we were really there to
see," said Brown. "But these people were from Hawaii, and
they were homesick, and they walked around in the store,
saying, Ooooh, look at that! Crack seed! Shoyu!"
---
The Search for Signs of Hawaiian Life in the Universe is just that -- we're looking for evidence of Hawaiiana everywhere but Hawaii. Send snapshots and a description to TSFSOHLITU, Today Department, Honolulu Star-Bulletin, P.O. Box 3080, Honolulu, Hawaii 96813, or e-mail JPEGS or TIFFs to features@starbulletin.com
---
Green jacket mark of a winner
Norman Kitazaki of Pearl City is curious about what pro golfers wear. "Right after the Masters Golf Tournament was over, new champion (Jose Maria) Olazabal was being fitted with the green jacket. He made a comment -- 'the jacket was the old one given in 1994!' "

Kitazaki went on to wonder if a new jacket is presented every year, or if one size fits all.

How's this for an answer? It was an old jacket, but not the one Olazabal wore when winning the Masters in 1994.

When the tournament was created in 1934, winners got only the usual slap on the back. Members of the Augusta national Golf Club, however, were encouraged to buy and wear kelly-green sports coats so fans could recognize members.

But when Sam Snead won in 1949, somebody got the bright idea of awarding the winner an honorary membership, and with it, the green jacket. Members wear their jackets only at the club, and can't take them home. They hang in a private cedar-lined closet. Winners can take them home for a year, and wear them to golf-related events, but have to return them after a year.

Gary Player was the only exception. He took his jacket home to South Africa and dared Augusta officials to come get it. They asked him not to wear it out on the street.

The jackets are custom-made for the champions after the Masters, but at the tournament, a selection of generic sizes are kept for the photo-op, when last year's winner helps this year's don the coat.

So, Olazabal's jacket is his old one, the one he wears when hanging out in Augusta, but not the one he wore when victorious in 1994.
---
Burl Burlingame


Click for online
calendars and events.
---
Send WatDat? questions, stories
or any other story ideas or comments to:
Features, Honolulu Star-Bulletin, P.O. Box 3080,
Honolulu, HI 96802 or send a fax to 523-8509
or E-mail to features@starbulletin.com.
Please include your phone number.
E-mail to Features Editor
---
---
© 1999 Honolulu Star-Bulletin
https://archives.starbulletin.com