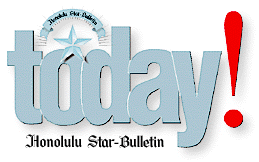 ---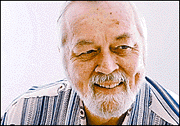 Hawaii

By Dave Donnelly
Monday, May 17, 1999
---
Couple on that
Ventura Hwy.

DOES it label one an old-timer when each and every start of the week the Mamas and the Papas' song "Monday, Monday" comes to mind? If so, I plead guilty ... The much heralded governor of Minnehaha, Jesse Ventura, has helped cause a lot of grief in one island household. Iona Ventura of Rolf Advertising finds herself constantly being called "Iona 'The Body' Ventura." Not that she doesn't have the resources to back it up. A model with John Robert Powers for 10 years, Iona still works out regularly at the 24 Hour Fitness Center. And not to be left out of the equation, her husband, Greg, now has to answer to "Ace Ventura," and he's not even a pet detective, though he's often on the lookout for video flaws at the production company where he works, Sight + Sound Studios ...

SPEAKING of bodies, that brings us quite logically to the lone isle female to get a regular role in "Baywatch Hawaii." She's Stacy Kamano, and is managed by More Models honcho Sri Rusden and her husband, Ruz. In fact, Sri was very proud that More Models represented four of the eight finalists for a role on the show. And while Stacy can look like a sultry Hollywood hardbody, she's in reality a sweet young woman who grew up in Waimanalo and doesn't seem likely to forget her humble roots ...

Hawaii Hollywood stops

YOU know about "Hollywood stops," surely. That's where motorists slow down at a red light, stop sign or whatever and then continue, usually (but not always) with a right turn. Hawaii Theatre manager Burton White has become all too familiar with such things. First, a speaker at a Hawaii Theatre function was hit by a moving car in the crosswalk just outside the lobby. Then just last week, White himself was hit by a motorist in a hurry outside his downtown condo. Luckily, both pedestrians came out OK, and Burton was able to celebrate his birthday at the Hawaiian Regent listening to one of his favorites, Aunty Genoa Keawe ...

IN a recent Mother's Day item about actress Kelly Preston, I referred to her mother as Mrs. Peter Palzis. Well, she's still Kelly's mom, but is now known as Linda Carlson and would like friends to know she hasn't remarried her ex-husband ... Have you noticed that multi-million dollar yacht, "P'Zazz,' docked off the Aloha Tower Marketplace? It belongs to actor/playwright Peter Ustinov who's involved in the construction of an America's Cup boat being built in Hawaii ... Speaking of Aloha Tower, KHON-TV morning news reporter Manolo Morales was at Don Ho's Island Grill one morning last week sampling the popular Lobster Fried Rice as prepared by chef Mariano Lalica. After a time, the two realized they'd worked together many moons ago, washing dishes and busing tables in their youth at Stuart Anderson's Cattle Company ...

Centenarian rites

FAMILY and friends of Peggy Bridges gathered Saturday at Kawaiahao Church, where she'd been a member for 40 years, to say their farewells. The venerable lady was 103 years old. Friends reminisced about she drove until she was 95, chauffeuring "old lady" friends (in their 60s and 70s) to and from church. Waikiki entertainers Keith & Carmen Haugen, who had sung at her last four birthday parties, noted that they'd known Peggy "only since she was 100." Not often you get to say that of anyone ... And sorry to learn of the death at 81 of Duke Heatherly, oldtime Honolulu bandleader and songwriter ...

---




Dave Donnelly has been writing on happenings
in Hawaii for the Star-Bulletin since 1968.
His columns run Monday through Friday.

Contact Dave by e-mail: donnelly@kestrok.com.
E-mail to Features Editor
---
---
© 1999 Honolulu Star-Bulletin
https://archives.starbulletin.com