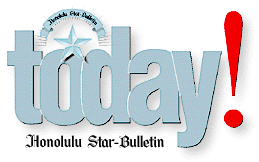 ---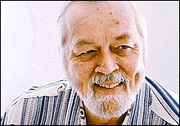 Hawaii

By Dave Donnelly
Wednesday, May 12, 1999
---
Dynamics duo
weds in style

EVERYONE loves a good wedding story, and Success Dynamics president Ron Martin's nuptials were at least different. He and bride Masae Yoshii were married on the lawn at Martin's Tantalus estate. She wore traditional western garb and he a specially designed wedding shorts ensemble -- he has this thing about shorts. But for the second half of the reception, Masae changed into an off-white wedding kimono which her mother and sister had brought from Japan, and Martin seemed to be emulating Anjin-san in "Shogun," when he donned a Japanese yukata. A sudden rainstorm managed to soak many of the guests, especially blind singer B.B. Shawn who was left standing in the rain while the other musicians raced to save the electronic equipment. Martin is hoping the rain was a good luck blessing, since this is his sixth (and, he vows, last) marriage. Success Dynamics indeed! ...

THE Kakaako fireman who's going to be a regular on "Baywatch," Kala'i Miller, was best pal at Iolani with Kelii Peltier, son of Star-Bulletin senior employee Trinidad Peltier. Everyone called the crazy pair "Kelii and Kolohe." ... Speaking of local actors, Matty Liu, who was hoping for a slot on "Baywatch," flies in next week from L.A. for an episode of "Pacific Blue" ...

Indy pendants?

THE American Hawaii Cruise folks are readying a celebration to mark the 1,000th voyage of the SS Independence in Hawaiian waters. The event is set for Aug. 14, and the cruise people are looking for mementos, memorabilia, photos or other souvenirs from the first cruise in June 1982. So check out your old scrapbooks or memory bins and AHC would love to borrow them or make copies. Call food and beverage manager Jeff Olson at 538-7601 if you have memories to share ...

WHERE else would Don Ho take his mom, Honey, on Mother's Day but to Don Ho's Island Grill to listen to the first of Dick Jensen's regular Sunday gigs there? With them was GOP leader Linda Lingle, looking anything but defeated ... The Dunes at Maui Lani, new golf course owned by Bill Mills in Central Maui, is holding a family day and concert there this weekend, featuring entertainment from Na Leo Pilimehana to the "Brown Bags to Stardom" finalists ...

TODAY'S the day Hawaiian Water Adventure Park officials announce the grand opening date of the $14 million attraction, the only water park of its kind in the state ... Producer/director Scott Culbertson and photog Michael Yasutake of Golden Tapa Productions have received an Emmy nomination for outstanding achievement. The show will be in San Francisco May 22 ...

Chefs a dozen

THERE'S no such thing as too many chefs if they're among the best in the country. That will be in evidence July 24-28 at the 10th "Cuisines of the Sun" at the Mauna Lani Bay Hotel. One of the distinguished dozen is Lidia Bastianich of Felida's in New York, just named "Best Chef in New York" at the prestigious James Beard Foundation annual awards dinner. Other visiting chefs include Jeremiah Tower of Stars and Michael Mina of Aqua, both in S.F.; Lee Hefter of Spago in Beverly Hills; Ming Tsai of Blue Ginger and Todd English of Olives, both in Boston; and Francois Payard, who owns his own patisserie and bistro in New York. They'll be joined by local chefs Roy Yamaguchi, Alan Wong, Philippe and Pierre Padovani and the Mauna Lani's duo of Pat Saito and Phil Sassaman ...

---




Dave Donnelly has been writing on happenings
in Hawaii for the Star-Bulletin since 1968.
His columns run Monday through Friday.

Contact Dave by e-mail: donnelly@kestrok.com.
E-mail to Features Editor
---
---
© 1999 Honolulu Star-Bulletin
https://archives.starbulletin.com