---
Tuesday, April 20, 1999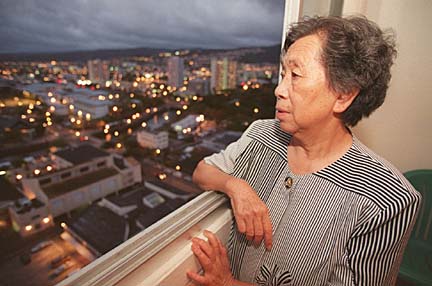 By George F. Lee, Star-Bulletin
Mauna Kea Tower resident Shao Qun Lin looks out over the
city from her 21st-floor apartment and contemplates the
possible loss of her affordable home.
---
Housing
crisis threatens Honolulu's poor


Section 8 housing agreements
are about to expire, and could
leave residents without
affordable homes

By Gordon Y.K. Pang
Star-Bulletin

Shao Qun Lin, her fingers crippled with arthritis, can earn only about $200 a month as a dishwasher, and receives some $400 in various government benefits.

Lin, 66, pays $140 rent for her one-bedroom apartment, with the rest subsidized through federal housing assistance.

Like her neighbors in Chinatown's Maunakea Tower Apartments, Lin is now worried if she'll be able to stay in her apartment after August, when a 20-year Section 8 agreement between her landlord and federal housing officials expires.

Without a Section 8 agreement, the landlord could raise rents to market rates or even convert the building to a fee-simple condominium project. Under Section 8 rules, renters pay no more than 30 percent of their income for rent.

"I may have to go back to China," Lin said.

The Affordable Housing and Homeless Alliance says the 380-unit Maunakea Tower, on Maunakea Street across from the Chinatown Cultural Plaza Shopping Center, represents the largest number of Section 8 units in a single complex which could be converted to market housing in the coming year. The agency fears some 2,000 of 3,274 Section 8 units statewide will go the same way.

Kathleen Hasegawa, executive director of the Affordable Housing and Homeless Alliance, said the Section 8 program was attractive to developers in the 1970s because of incentives such as low-cost loans and rent subsidies.

But 20 years later, even with Hawaii's poor real estate market, it doesn't make sense to keep the units in Section 8, said Maunakea Tower resident James Del Rio, a self-employed Realtor."It costs $120,000 to build these units," he said. "Apartments are much more efficient to convert than to build new."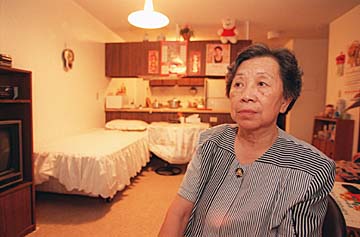 By George F. Lee, Star-Bulletin
Mauna Kea Tower resident Shao Qun Lin pays $140
month for her one bedroom apartment.
---
HAPI Management Inc. has not said what will happen come August. No one from the California-based firm could be reached immediately for comment.

The housing alliance, along with the Legal Aid Society of Hawaii, is attempting to band the residents of various Section 8 buildings together to lobby the Legislature to create incentives that would convince the landowners to keep their units in Section 8.

Federal help is also being sought by the national office.

The housing alliance and Legal Aid were to hold news conferences today in 20 U.S. cities, including Honolulu, to bring attention to the issue.

The local news conference was to take place at the McCully Circle Apartments, a 99-unit building which is under a Section 8 agreement through February 2000.

Hasegawa said that on average, rents for apartments that convert out of Section 8 go up 57 percent.

"It's a train wreck in slow motion," said Craig Castellanet, a Legal Aid official. For many of those tenants whose apartments will convert, "this will relegate them to slum housing."

A bill introduced in the state Senate would provide some protection, Castellanet said.

The measure would require landowners to give tenants a year's notice if they decide not to renew Section 8 status.

The bill also would require a landowner choosing to sell a previously Section 8 complex to give first right of purchase to a government, nonprofit or tenants' interest group.

Castellanet said the state also loses when Section 8 agreements are discontinued because it would need to pick up the burden caused by the lost subsidies.

Chun Ching Tsang, 74, said she won't have anywhere to go if her rent goes up. With Social Security, food stamps and other benefits, she estimates her total monthly income is about $500.

She pays $120 a month for her one-bedroom unit at Maunakea Tower.

With food, medical and utility bills, Tsang said, there's no extra money for a rent increase.

Tsang, who came from China in 1975, said she has adult children. But she is reluctant to ask them for financial help when they now have their own families to raise.

"Everyone has to help themselves," she said.
E-mail to City Desk
---
---
© 1999 Honolulu Star-Bulletin
https://archives.starbulletin.com