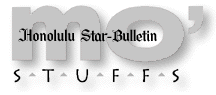 ---
Tuesday, April 20, 1999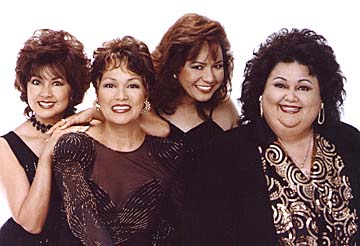 From left, Carole Kai, Melveen Leed, Nohelani Cypriano
and Loyal Garner bring back a taste of "Waikiki, the Way it Was!"
---
Who gets top billing?
VHI's got its divas. And we have a few of our own. Sharing the stage for the June 4 "Waikiki, the Way it Was!" will be Melveen Leed, Loyal Garner, Carole Kai and Nohelani Cypriano.

The event, 7:30 to 11:30 p.m. at the Sheraton Waikiki Hawaii Ballroom will feature music of the '60s and '70s. In addition to the performance, the evening includes a '60s and '70s costume contest with cash prizes, sharing of yearbook pictures on large screens, drinks, pupus and an after-show party with Augie Ray.

Tickets are $20 in advance at Tower Records-Kahala and Pearl Kai, Tower Video on Keeaumoku, and Records Hawaii. The price at the door will be $25.

For more information, call 931-8178 at the Sheraton.

Free tickets for Everest veterans
The Polynesian Cultural Center would like to invite Hawaii residents who have been at 17,000 feet or higher on Mount Everest to attend the Hawaii premiere of the IMAX film "Everest."

The 45-minute film contains the first large-format footage ever shot on the mountain and is the top grossing IMAX film ever.

Polynesian Cultural Center has won the exclusive rights to show "Everest" in Hawaii. On the evenings of May 14 and 15, PCC will host gala fund-raisers that will include screenings of "Everest," a presentation by photographer Brad Ohlund on the making of the film, dinner and other entertainment.

PCC is offering pairs of tickets for either evening to Hawaii adventurers who can document their visit to Everest.

Anyone else who would like tickets to the premiere can call 1 (877) PCC-1411. Cost is $65 and proceeds benefit Bishop Museum and the Polynesian Cultural Center Foundation.

Bus transportation will be provided to and from PCC on May 14 and 15. Buses will leave Bishop Museum at 6 p.m.

For more information, call Peter Rosegg at 539-5720.

Season set for Nuuanu catfish
The state Department of Land and Natural Resources will reopen Nuuanu reservoir No. 4 on May 8 for weekend channel catfish fishing.

The limit will be set at two catfish. A state fishing license and an entry fishing card are required.

Applications for entry fishing cards are available at 1151 Punchbowl St., room 130. Anglers must submit applications by 4 p.m. this Friday.

Fishing will continue consecutive weekends until all those with assigned fishing times have been accommodated.

For more information, call DLNR at 587-0100.

On TV today
"Crisis in Kosovo: An MSNBC Town Meeting," 4 p.m., MSNBC. NBC's Tom Brokaw anchors a "town meeting" on Kosovo from the Woodrow Wilson School of International Relations at Princeton University in Princeton, N.J.

"King of the Hill," 7 p.m., KHON /Fox. When the congregation welcomes their new female minister with a potluck dinner, Bobby accidentally incinerates the church.

"Dateline NBC," 9 p.m., KHNL/NBC. Correspondent Chris Hansen reports on a 10-month long investigation that raised some troubling questions about our justice system and about one Texas crime lab in particular.






Click for online
calendars and events.
---
Send WatDat? questions, stories
or any other story ideas or comments to:
Features, Honolulu Star-Bulletin, P.O. Box 3080,
Honolulu, HI 96802 or send a fax to 523-8509
or E-mail to features@starbulletin.com.
Please include your phone number.
E-mail to Features Editor
---
---
© 1999 Honolulu Star-Bulletin
https://archives.starbulletin.com