---
Wednesday, February 17, 1999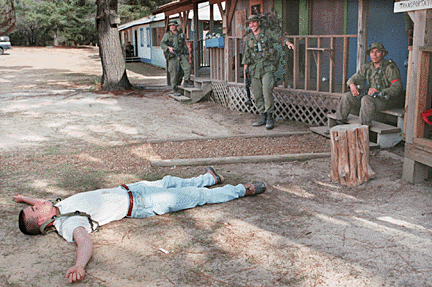 By Kathryn Bender, Star-Bulletin
James Murphy of Fort Shafter, playing an off-duty police
officer in the mythical village of Carnis, lies "dead" after being
shot by rebel insurgents during combat readiness
exercises at Fort Polk, La.
---



Part one | two | of two parts

Dead serious


Soldiers learn about vital
peacekeeping missions through a
simulated war between
mythical countries

Where Japanese Americans trained in 1943.

By Gregg K. Kakesako
Star-Bulletin

FORT POLK, LA. -- Without warning, the rebel insurgents rolled into the remote island village of Carnis, catching everyone off guard just as supper was being served.

Immediately, the townspeople were split: some of them taken into custody, tied, jailed and threatened with execution because of their ethnic backgrounds; others, working collaboratively with the insurgents trading information.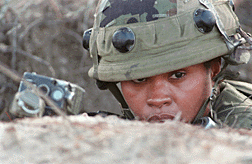 By Kathryn Bender, Star-Bulletin
Spec. Tonia Mondine of the 25th MP Company.
---
Sentries armed with machine guns and heavy mortars were posted on the outskirts of the tiny village. A sign welcoming visitors listed its population as 34.

Such was the role-playing scenario posed to Hawaii soldiers of the 25th Infantry Division from Schofield Barracks. Their mission: to patrol this village of Carnis, near a buffer zone established by the United Nations between the warring mythical countries of Cortina and Acadia.

The presence of the division's 3rd Brigade, or Blue Force, in the zone and in neighboring villages was supposed to ease the hostilities.

But because the 25th Division brigade commander, Col. Mark O'Neill, was slow to react, probably preoccupied with getting into the "box" or training area here at the Joint Readiness Training Center, military planners decided to crank up the heat with more complications.

"In the beginning they (commanders) tend to ignore the community because they are focused on getting into the 'box' and to marshall their forces to begin the training," said Maj. John King, adjutant for the JRTC operations group which runs the exercise, in briefing reporters on the center's overall purpose.

It would take O'Neill five days before his Blue Force patrols would enter Carnis; all the while, the insurgents lobbed mortars and direct artillery rounds on O'Neill and his tactic operations center and support area, inflicting heavy damage.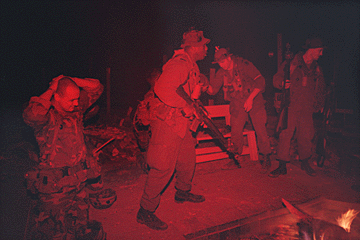 By Kathryn Bender, Star-Bulletin
Four soldiers were captured by enemy forces
when they left their post due to boredom.
---
Making their presence known was one of many tasks O'Neill and his staff needed to learn to become peacekeepers.

"Sometimes commanders are slow to assimilate into the battlefield," given the many demands placed on the brigade all at once, said King. "Peace enforcement is something they have to work on right away."

And that's just what O'Neill and the 3,800 soldiers from the 3rd "Bronco" Brigade and the 25th Infantry Division headquarters staff have been doing since arriving here late last month. The actual role-playing exercise at JRTC, which began Feb. 5 and ends today, cost $3.5 million to $4 million to run. The division is to return to Hawaii next week.

The 25th Division planners set aside $4.7 million for the exercise, but the amount does not cover sending the Hawaii soldiers and their equipment to Fort Polk, said Maj. William Bunting.

The peace-enforcement training is tailored for today's evolving world of conflicts, where hot spots like Haiti, Somalia, Bosnia and now Kosovo have become more common, and the emphasis is on peace-keeping. Today, military planners have committed more than 7,000 soldiers to peace operations worldwide, the bulk of them in Bosnia.

Col. Harrison Lobdell III, chief of staff for the 25th Division, said the three-week training will "force officers to think outside of their comfort zone."

"The situations they will find themselves in are not so cut and dry," Lobdell said. "They are very ambiguous ... It's a constant balancing act for the soldier. He has to constantly weigh his particular mission against the situation he faces, placing that into context with the larger picture.

"It requires everyone to clearly understand the rules of engagement and to clearly understand why they are there. It's terrific training for small unit leaders. It raises the stress level, but it's absolutely the best training they can get."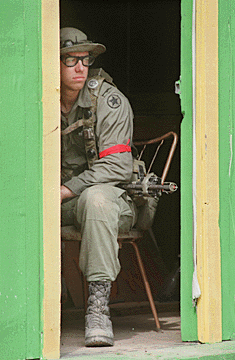 By Kathryn Bender, Star-Bulletin
Pfc. Jason Gregory waits for some action.
---
The JRTC, designed to sharpen the skills of light infantry forces, is one of the Army's two training areas. The National Training Center at Fort Irwin in southern California focuses on the Army's mechanized forces and its desert operations.

Originally started at Fort Chaffee, Ark., in 1987, the JRTC moved here in 1993. At Fort Polk, nearly 700 members of the JRTC are assigned the duty of portraying the "opposition forces," or "enemy foes," in the 10 exercises held annually. The opposition force studies the tactics, doctrines and techniques of any given hostile force.

Besides having to deal with numerous belligerent forces, division leaders must also cope with non-governmental entities, such as the Red Cross; reporters and cameramen who have access to almost all troubled areas; diplomats and displaced citizens.

At the JRTC, established as a military postgraduate combat facility, battlefield commanders are given the tools, such as naval and air support, they would actually use in a real-world situation. The emphasis here is on realism, with help by Hollywood special-effects experts to simulate a tank being caught in a minefield or a mortar or artillery shelling.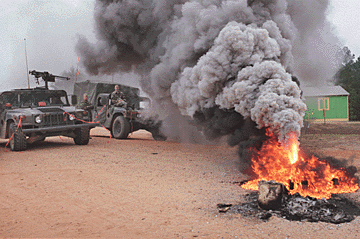 By Kathryn Bender, Star-Bulletin
These vehicles are out of commission, done in by land mines.
---
All of the players -- from the soldiers down to Fort Polk's contract workers hired to be civilians, Red Cross workers, or news people -- are outfitted with the military's version of laser tag: special harnesses of the Multiple Integrated Laser Engagement System and diodes that register when a player is "wounded" or "killed."

"Wounded" soldiers are medevaced to the rear area like a real-world casualty, and the division then has to work to replace the soldier. A "wounded" or "killed" civilian by a U.S. soldier could result in an international incident.

To add to the realism, refugees from Bosnia were hired as townspeople for one exercise to give the soldiers a better feel of what they would encounter during an often-times confusing battlefield where they are no clear lines.

Sgt. David Jones, 26, whose role during the exercise was to portray a civilian, said the training gave him "a good impression of what the needs of the civilians are and the problems they face."

Staff Sgt. Brian Kerkovo, a member of A Company, 2nd Battalion, 27th Infantry, appreciated the realism after being at the JRTC three times. "I like the way they go about it," said Kerkovo, 29. "Instead of just fighting, we are trying to do something and separate people to keep them from fighting.

"We have to try to deal with each side's demands and keep them apart."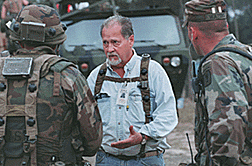 By Kathryn Bender, Star-Bulletin
Members of the 25th Infantry work out the movement of supplies.
---
"We all know about Bosnia, and now there's Kosovo," said Sgt. James Murphy, 24, referring to the Serbian province where 2,200 Marines will be sent during an initial peacekeeping deployment to set the stage for Army troops who would get the long-term job.

Movements of key military units and vehicles are monitored throughout the entire training via an elaborate satellite tracking system which is displayed on 90 monitors in the operations center. The movement of a single Army company of soldiers can be plotted and followed.

Nearly 450 observer controllers, assigned to every facet of the 25th Division's operations, monitor and critique each move. Continual feedback to the units is supposed to give the soldiers a better understanding of how the battle is being fought, how their unit is doing and finally, what they can do better.

"We try to make this the hardest fight," said the JRTC's King. "We try to make their life hell. If we succeed, we will make their life on the battlefield later much more easier."




The scenario

Where: Mythical island of Aragon in the Atlantic Ocean
Who: 25th Division, 3rd Brigade Broncos
Mission: Separate belligerent forces; establish a zone of separation; negotiate with nongovernmental agencies, such as the Red Cross, World Food Bank, World Health Organization and other international organizations to bring peace
Forces: Republic of Cortina in the north and Republic of Acadia in south
Participants: 5,500 soldiers, sailors, airmen and Marines
Period: Feb. 5-17




---

Hawaii's Japanese
American soldiers remember
Fort Claiborne

By Gregg K. Kakesako
Star-Bulletin

ALEXANDRIA, LA. -- It's no longer on any Louisiana map.

But even if the map makers may have forgotten, the remnants of its past can still be seen today.

"The streets and sidewalks are still there," said Donald S. Bingham, Fort Polk historian. "The foundations of the barracks still remain and there are stairs that go up to nowhere."

Bingham, the one-man curator of Fort Polk's Historic Holding for the past 15 years, is referring to Fort Claiborne, which has distinct ties to Hawaii. From April 16, 1943, to June 3, 1943, Japanese American soldiers from Hawaii, all volunteer members of the 100th Battalion, trained here before shipping out to Italy.

The 100th originally consisted of about 1,400 Japanese Americans serving in the Hawaii National Guard who were disarmed after the bombing of Pearl Harbor on Dec. 7, 1941, then rearmed a few days later and ordered to patrol beaches.

In late May 1942, they were rounded up from various posts, disarmed and segregated from the other troops and shipped to Camp McCoy in Wisconsin, where they trained for seven months and later at Camp Shelby in Mississippi.

"But they never stayed in any of the barracks here," said Bingham, "they just camped in tents in the field."

During that period, Bingham said, the 100th Battalion participated in the 3rd Army's Louisiana Maneuvers 2. There were 26 such Army training exercises designed to simulate combat between 1940-44 in western Louisiana and eastern Texas. More than 30,000 square miles were used.

After participating in the massive World War II training exercise, the 100th Battalion did not return to Camp Shelby right away but stayed at Claiborne, about 40 miles east of Fort Polk.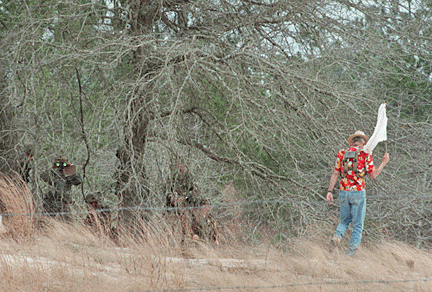 By Kathryn Bender, Star-Bulletin
Soldiers peer through binoculars, at left of photo, as
the mayor of Carnis walks by carrying a white flag
---
None of the one-story tar paper and wood buildings remain. There are still pieces of a military police guard-post where Bingham believes the nisei soldiers may have slept in canvas tents on what was the southern end of the camp grounds.

Highway 112 runs through Fort Claiborne and part of the facility is inaccessible since it still contains ordnance from when it was used as a bombing range as part of England Air Force Base. That base has since closed and has been converted into a private industrial park and a housing complex.

Bingham said he believes the soldiers of the 100th Battalion -- one of WWII's highest-decorated units that it was known as the "Purple Heart Battalion" -- may have rode a train to get to Fort Polk's ranges since none existed at Claiborne.

But Ray Nosaka, a 100th Battalion member, said they were trucked wherever they went.

"It was hot. We were rationed water," said Nosaka, 82, "and we used to sneak off to steal water from the wells. There was a lot of snakes, jiggers and ticks. We learned a lot."

"We only had C-rations, but there were a lot of wild pigs and we would catch them and cook them."

Fort Polk's Historic Holding, which is a classification below an Army museum, does not have any artifacts relating to the nisei unit among its 1,000 items.

However, Bingham has included some of his father's personal papers, orders and other office mementoes in the collection since he was a member of the 34th Infantry's "Red Bull" Division. The 100th was attached to the 34th during its first months in the European war before being assigned as the first battalion of the 442nd Regimental Combat Team on June 10, 1944.

Fort Claiborne, named after Louisiana's first governor, was opened in February 1941 when the Red Bull Division arrived but closed in November 1946. The reason it's not on any map: It's now a part of Kisatchie National Park.
E-mail to City Desk
---
---
© 1999 Honolulu Star-Bulletin
https://archives.starbulletin.com