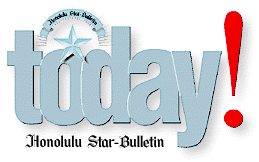 ---
Tuesday, January 19, 1999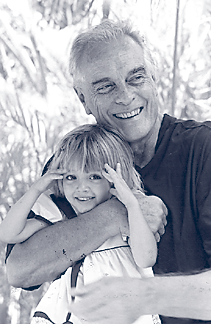 By Olivier Koning, Courtesy of Gardner McKay
Gardner McKay with granddaughter Cheyenne Petree.
---
'I'm free
and I feel it;
I feel good'


Writer Gardner McKay
talks about his pursuit
of success

By John Berger
Special to the Star-Bulletin

IT'S been a long gestation and a welcome birth for Gardner McKay's new novel, "Toyer." The book was purchased by Little, Brown & Co. almost two years ago. The official publication date of Jan. 13 was pushed back. "Toyer" should be on the shelves in local book stores today.

"I'm free and I feel it. I feel good. I've got other deadlines now to think about," McKay said shortly after returning to Honolulu last Friday. The author had been working on an abridged version of the book for use on his weekly Hawaii Public Radio program, "Stories in the Wind."

Little, Brown & Co. is launching "Toyer" -- about a man who preys on women -- with a first printing of 200,000 hardback copies, a $200,000 national television campaign and full-color, full-page ads in national magazines. Vanity Fair has already come calling. The book is being printed with 12 different jackets. Plans are already in motion for publication in Germany and Japan. An unabridged audio version is also in production.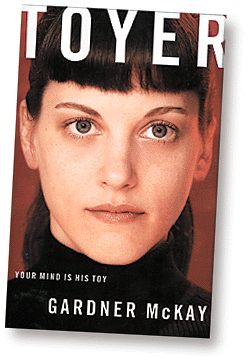 Little, Brown & Co.
"Toyer," a book about a man who preys on women, is
being printed with 12 different jackets, each with a
different woman's portrait.
---
"The best-seller thing was something I didn't even try to do. Being published would have been enough. I'm kind of numb, but like any writer who's been writing as long as I have -- and I'm not being humble, believe me -- I'm just delighted when other people see what I see in my work.

"You're so close to it that it's nice once in a while to have that. It's no longer even a confirmation. I know I'm good, and why shouldn't I be good? I've been doing it for 30 or 40 years, and I'm an artist and that's that.

"One just gets pleasantly pleased at the end of the day that one has succeeded. That's all you have as a writer. We don't need much money. The writing is truly the reward."

McKay's resume is colorful and eclectic. Some remember him as a television star. Others know him as a sculptor, photographer, teacher, drama critic and/or radio personality. For all his varied accomplishments, the art of working with words has fascinated him almost his entire life. He completed two more books while "Toyer" was in production.

"Language is something that I've been working on for years and years and years, and something that I've arrived at and feel very, very comfortable at. It takes a lot of rewriting but that's one of my great pleasures. I condensed a couple of chapters and they came together like drops of water do on an oilcloth tablecloth."

"Toyer" began as a two-character play. McKay says the play has been staged in several countries but is used most often in acting workshops "because it's such a challenge." He adds the script and the published novel have only a few lines in common.

"There's a lot of anger in the book, I think. It could be muted but I tried to get it out. The book was written out of anger (and) not written so much out of love. That's its birth, and then I really got to like everyone in there. Everyone. Strange as that may seem."

He concedes "Toyer" may become controversial because of its subject matter, but notes the story contains several strong and resourceful female characters who take the lead in hunting Toyer. Beyond that, it's up to the reader to assess the intricate interplay between the sexual, psychological and literary components of the story.

"I think on first impression that there may seem to be woman bashing, but if you read the book, you'll find that there is a great respect for women in it."

---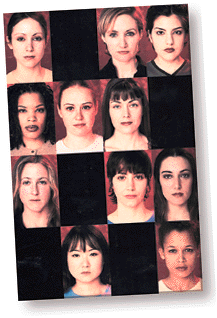 Art, action blend
in 'Toyer'

By John Berger
Special to the Star-Bulletin

THERE'S a type of "artsy" fiction written at least in part to show how imaginatively and consistently an author can coin clever phrases and images. There's also well-written mass-market fiction in which the characters and the action is the main thing. Gardner McKay weaves those two dissimilar genres together in "Toyer."

---

Toyer: By Gardner McKay, 453 pages, Little, Brown & Co., $24

---

Give him a few pages to set the scene and establish the premise, and from there, "Toyer" is almost impossible to put down.

Read it once for the story. Read it at least twice more to appreciate McKay's use of language, plot and characterization.

Be warned that this is a story about a man who preys on women in a frightening way. He isn't exactly a serial killer and he doesn't rape his victims. That makes him all the more horrifying. Los Angeles knows him as Toyer, a name bestowed upon him in the belief that he toys with his victims before attacking them.

When a copycat sicko commits a similar but more gory crime, Toyer contacts the media to let it be known that he didn't do it. He's not that kind of guy.

More messages follow. Eventually, Toyer strikes a deal with a Los Angeles newspaper: He will provide exclusive first-person accounts of his activities for publication. All proceeds -- including subsequent book and film rights -- will fund the lifelong life-support programs required to maintain his permanently comatose victims.

McKay skillfully comments on the American fascination with serial criminals, the ethical conflicts faced by the electronic and print media in covering heinous crimes, loopholes in the American criminal justice system and the experiences of young actors struggling to survive in L.A.

The author weaves all these different issues and ideas together without forcing his characters to become billboards for various political agendas.

The story picks up momentum as most first-rate thrillers do, yet never loses its impact.

The outcome remains in doubt until the final page. Some may find it tragic. Mind games can be played both ways.

It would be impossible to discuss the problematic elements in the solution of the story without spoiling the experience of reading "Toyer" for the first time.

Some may agree that Toyer's motivation is a bit too pat. No one who reads this book will ever forget him.






Click for online
calendars and events.
E-mail to Features Editor
---
---
© 1999 Honolulu Star-Bulletin
https://archives.starbulletin.com