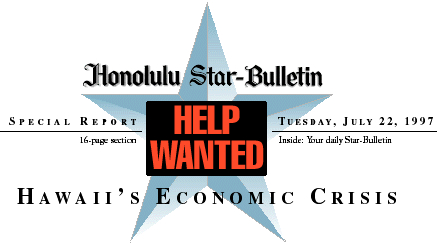 ---

By Craig T. Kojima, Star-Bulletin
Crazy Shirts worker Cindy Tom listens to Tom Chock of
WorkHawaii, a government/business partnership that provides
job counseling and placement services at its South King Street
employment resource center. Tom, the mother of two boys,
says she's worried about her future now that Crazy Shirts
plans to close its Halawa factory and lay off 140 workers
next year. For a story on the exodus of Crazy Shirts and
other local businesses, see Page 4.

---




Down. And out?


Layoffs. Bankruptcies. Foreclosures.
For six years and counting, isle residents have
felt the effects of a sour economy.
With no obvious remedy in sight, where
do we go from here?

By Ed Lynch
Star-Bulletin Business Editor

Nearly seven years into an economic slump, Hawaii is waiting for the recovery to begin.

As the economy sags under the weight of overdependence on one industry, as bankruptcies and foreclosures pile up to record heights, as businesses bail out of the state or just call it quits, as college grads leave to join the mainland economic boom, Hawaii waits.

Certainly, enough blame has been passed around: legislators unsympathetic to business; unions with too much power; tax-exempt estates holding too much land. Etc. etc. etc. But these complaints are nothing new, and the state has always managed to enjoy plenty of prosperous years following previous downturns. So why not now?

Star-Bulletin reporters have searched for answers.

We've talked to everyone from the state's power brokers to working people who are just plain broke to develop a panoramic view on a topic that affects virtually every facet of life in Hawaii.

"Help Wanted: Hawaii's Economic Crisis," is the story of a state whose economy has fundamentally changed, but whose people and institutions have largely failed to adapt.

But we didn't just focus on where Hawaii's economy is today and how it got there. We also looked at where the opportunities are and how to take advantage of them. And we examined some success stories -- both inside and outside Hawaii -- with the hope that it would provide ideas for the state's private and public sectors.

---
Part 1

The state's economy has changed. And many companies have responded by moving, taking precious jobs with them.
Part 2

Many factors have contributed to the economic slide. But Hawaii's inability to adapt has hurt the most.
Part 3

The slump has sent record numbers of residents into bankruptcy. Pick any profession and you'll find people struggling.
Part 4

Hawaii must be open to new ideas to break out of the downturn. There are plenty of them out there.
---

Wanted: Your comments
What needs to be done to help Hawaii emerge from
its prolonged slump? Write to us at Letters to the
Editor/Economy, P.O. Box 3080, Honolulu, HI 96802
or e-mail us at editor@starbulletin.com and share
your suggestions. Please include your
daytime telephone number.
---
No Frames Directory:
|1|2|3|4|5|6|7|8|9|10|11|12|13|14|15|16|
Economy Special Section Home Page
Order a printed copy of this report

[starbulletin.com Home Page]
[Letter to the Editor] [Feedback]
---
© 1997 Honolulu Star-Bulletin
http://archives.starbulletin.com