Big Isle lava destroys 41st home in Royal Gardens
»
Quiet Haleakala still considered active
HILO » Lava destroyed an unoccupied house in a remnant portion of Royal Gardens subdivision before sundown Sunday, said resident Dean Schneider.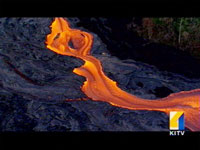 Some of the show could only be seen by air.
Schneider's girlfriend, Sandra Mary Stevens, bought the house in 2006, and the two had planned to retire there someday, Schneider said.
The remains of the house on King Street were also seen late Sunday afternoon during a helicopter flight by Hilo videographer Mick Kalber, who reported the destruction to Hawaii County Civil Defense yesterday.
Quince Mento, head of Civil Defense, said the house was the 41st destroyed in Royal Gardens, which has been overrun by lava numerous times since East Rift eruptions began in 1983.
Schneider, who lives in a nearby structure that he describes as a pavilion, said the one-story King Street house had termites but that the roof did not leak.
Schneider's pavilion was scorched by a brush fire caused by lava about a week ago but survived.
The main feature of the King Street property was a full 8,000-gallon water tank, he said. Stevens bought the property for $12,000, and Schneider was in the process of paying her half of that price, he said.
Schneider took the loss of his girlfriend's house in stride, comparing it to an accident he could not control.