Quiet Haleakala still considered active
Erupt: Watching for volcanic vengeance
»
Big Isle lava destroys 41st home
STORY SUMMARY »
Although there has been no activity for centuries, scientists are constantly monitoring potential eruption activity at Haleakala on Maui.
Several eruptions have taken place at Haleakala within the past 1,000 years, and it is still considered an active volcano.
Geologist David Sherrod said Haleakala is capable of erupting again.
Several volcanoes on the Big Island and Maui are considered active and subject to monitoring.
One of the latest techniques is to use global positioning systems and satellite technology to measure whether Haleakala has grown, indicating potential volcanic activity.
---
FULL STORY »
KAHIKINUI, Maui » Kevan Kamibayashi points to a dark finger of land running into the sea off the southwestern slope of Haleakala, where the Maui volcano last erupted 500 years ago.
It doesn't look like it now, but an eruption could happen again.
The relatively short span since the last eruption is a major reason why scientists classify Haleakala as an "active volcano," or one that could erupt again, and continue to measure its activity, as they did last week.
"That's hardly a blip in time for Haleakala," said Kamibayashi, a physical science technician with the Hawaiian Volcano Observatory.
Since regular testing with satellites began in 1996, Haleakala has shown no signs of activity.
But scientists note that there have been cases in which a volcano has erupted after thousands of years of inactivity, including the May 2 eruption of Chaiten in Chile.
Scientists estimated the previous eruption of Chaiten occurred more than 9,000 years ago.
Haleakala has erupted several times in the last 1,000 years, in locations such as its crater, Hana, and southwestern Maui, according to scientists.
About 300 to 500 years ago, there were eruptions at Hanamanioa and Keonehunehune in the southwestern region.
An eruption at Kalua o Lapa near Ahihi-Kinau in the southwest rift occurred 430 to 530 years ago.
"This is a volcano capable of erupting again," said geologist David Sherrod, who conducted a study of Haleakala for the U.S. Geological Survey.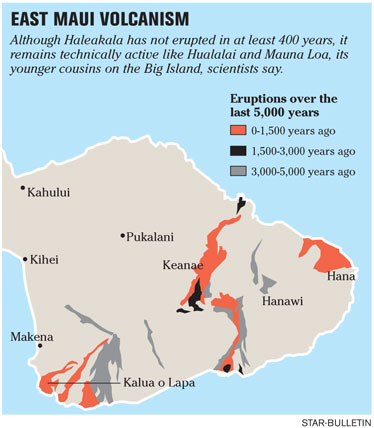 In the Hawaiian Islands, scientists consider six volcanoes to be active, including Haleakala; the Big Island's Hualalai, Mauna Loa, Mauna Kea and Kilauea; and the undersea volcano Loihi.
Geophysicist Michael Poland said scientists consider volcanoes to be active if they have erupted since the last ice age about 10,000 to 15,000 years ago.
"It's a judgment call based on the geologic history of a volcano," Poland said.
The eruptions that formed Oahu occurred 3 million to 3.5 million years ago along the Waianae range and 800,000 years to 2 million years ago along the Koolau range.
On Kauai, volcanic activity occurred as far back as 5.5 million years ago and as late as 150,000 years ago.
The latest volcanic activity occurred about 1 million to 1.5 million years ago on Lanai, about 1 million years ago on Kahoolawe and about 400,000 years ago on Molokai, scientists estimated.
Techniques to measure activity have become increasingly sophisticated in the last couple of decades.
Kamibayashi said some scientists measure volcanic activity through sound waves and air content.
Scientists said they know of no air vents emitting sulfur on Haleakala, an indicator of activity.
Through the use of a global positioning system technology, Kamibayashi is measuring activity by seeing whether Haleakala has physically grown, another indicator of activity.
Scientists have established 11 locations in and around Haleakala to measure any growth of the mountain.
Kamibayashi said with satellites, scientists are able to measure distances tens of miles apart without requiring line-of-sight instruments.
Sherrod said the study of volcanoes has been refined as newer techniques have been developed.
Until the late 1990s, scientists thought the latest eruption on Maui occurred at Kalua o Lapa, about 2.5 miles south of Makena, in 1790.
Sherrod said the dates were based on differences in charts produced by geographers with explorers La Perouse in 1786 and Vancouver in 1793. But radiocarbon dating showed the ages of the flows took place sometime between 1480 and 1600.
What does the frequency of eruptions mean for places such as Maui and the Big Island?
Sherrod said he would not want to put a nuclear power plant in an area known to have frequent volcanic activity, but that he is also not the person who has to make decisions about land-use planning.