| | |
| --- | --- |
| | Island Mele |
---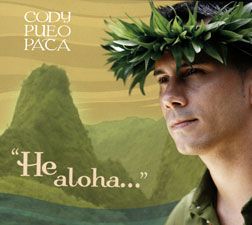 He aloha...
Cody Pueo Pata
(Ululoa Productions - UL 115)
Falsetto vocalist Cody Pueo Pata established himself statewide when he won the Frank B. Shaner Hawaiian Falsetto Singing Contest in 1999 and then recorded and released a superb debut album, "E Ho'i Na Wai," in 2001. This long-awaited follow-up could easily earn Pata his first Na Hoku Hanohano Award and perhaps get him to the Grammys as well.
Pata celebrates several cherished traditions with these beautiful recordings. They include standards by Charles E. King, Mary Kawena Pukui and Lot Kauwa, and an assortment of newly written songs, most of the latter by Pata. The arrangements feature two talented guest musicians whose work enhances the traditionalist elements. That's Hoku winner Aaron Sala on piano, and Jeff Au Hoy on steel guitar, with Au Hoy adding embellishments to the melody in the old Hawaiian style rather than dominating it.
Pata apparently intends his music to be enjoyed primarily by friends, then by others fluent in Hawaiian. The Hawaiian lyrics for some selections are included in the beautifully illustrated liner notes, but English translations are not. Pata's brief notes about each song provide hints about their meaning and significance.
---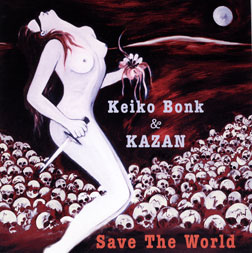 Save The World
Keiko bonk & Kazan
(Fragile Flower - No serial)
Keiko Bonk was an expatriate rocker who returned from New York for a concert at the Wave Waikiki long before she became involved in Big Island politics. Bonk picks up where she left off with this collection of sparse alt-rock originals. Political themes predominate, and few of Bonk's tunes would play well in Bush America.
Bonk and her band -- Mojo Koolstra (guitar), Gun-so Kawai (bass) and Dave Fernholz (drums) -- set the mood with the first song, "Down with the Empire," and amplify it with "Brave & Bold" and "Is God American?" The quartet adds a plea for nonviolence with another anti-war, anti-military song, "Love on Your Side," and comments on the mind-set of those happy with the status quo in "Save the World."
Bonk taps into lighter and more seductive subject matter with "Sex," and features Koolstra on "Kazan," a song honoring the goddess Pele. A straight alt-rock bar band sound predominates, but the quartet uses a soothing semiacoustic arrangement when delivering a plea for peace in "Brave & Bold."
---

The 86 List
The 86 List
(No label, no serial)
Loud, rude and aggressive, 86 List (
see Nightcrawlers for CD release party
) addresses several problems of interest to Hawaii's semiunderground punk music scene with 10 powerful pieces of high-energy buzz-saw rock. Two of them, "HPD" and "Chinatown," protest the end of rock shows at Coffee Talk and the exile of punk clubs to "the crack dealers and hookers hood." Another, "Seventeen," attacks "the older members of the punk scene" who suppress the "youth energy" of teen punkers, while "Paper Thin Unity" attacks an unnamed individual who "gave up the one thing we all cared about ... for money and stability." That person probably knows that the song is about him (or her)!
The trio comments on America's foreign policy with "Imperial Nation," a call for political transparency and an end to corruption, and shares a battle cry for building a perfect world with "Song of Rights," but focuses otherwise on local issues and personal experiences.
"Too Free for Me -- Live" is a memento of a show last summer and shows that they're as good "live" as in the studio.
The arrangements are basic buzz-saw rock, and the execution is solid throughout. The lyrics are harsh and honest. The album should be finalist in the rock album category at the Hoku Awards next year.
John Berger
, who has covered the local entertainment scene since 1972, writes reviews of recordings produced by Hawaii artists. See the Star-Bulletin's Today section on Fridays for the latest reviews. Reach John Berger at
jberger@starbulletin.com
.